Popovich likens shutdown to 'children fighting over toys'
San Antonio coach calls government leaders "children fighting over their toys," says government shutdown is about "winning and losing."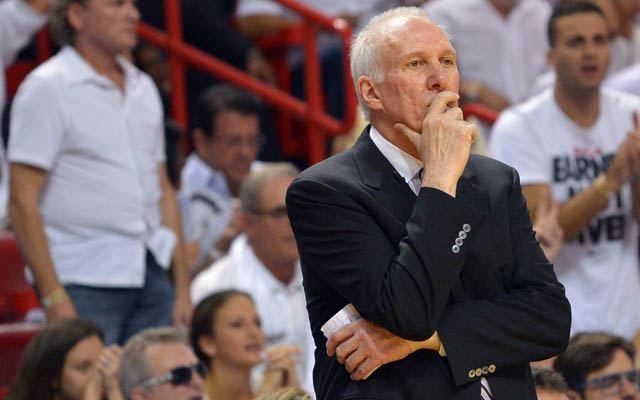 San Antonio Spurs coach Gregg Popovich has never been shy about giving his opinion. He doesn't like giving his opinion very often, but he's not shy about it. In the past, the Air Force Academy graduate and four-time NBA champion has said he's spoken with his team about the 2012 election and that he tries to discuss things that are outside of basketball with them. 
The latest non-basketball topic? The shutdown of the United States government, which has gone on for two weeks with Republicans and Democrats divided on several fiscal issues, and which has forced thousands of workers to be furloughed due to Congress' inability to reach a compromise. When asked whether he had discussed the shutdown with his team, Popovich said no, in part because the team's international players, "think (the United States is) pretty silly." 
"We talk about a lot of things with the team," Popovich said. "We haven't gotten really specific with the shutdown... Most foreigners think we're pretty silly... and they're correct. It's children fighting over their toys, so to speak. It's got nothing to do with the public or what's good for the country. It's about winning and losing, and that doesn't do any of us much good. Hopefully they're going to get to some sort of agreement in the next couple of days that might be good for the American people. 
"It's funny how each of them talks about what the American people want. The leaders from one side, they talk and say 'The American People want...' How the hell do these people know what they want? They live in a fishbowl. And then the other side says the same thing. It's kind of comical, if it wasn't so dramatically devastating for so many people." 
Popovich, who has never stated his political party or if he has one, donated $5,000 to President Barack Obama's political campaign for re-election in 2012. Popovich didn't just come out in the pregame availability before Monday's preseason game vs. the Nuggets and blast away. He was asked a question and he answered it. 
For more on the government shutdown, check out the latest at CBS News. 
And now if you'll excuse me, I'm going to watch our comment section burn to the ground. 
T.J. Warren gets paid big money by the Suns in a four-year deal

Melo didn't hold back on his feelings about President Donald Trump and urges for help in Puerto...

The Wizards star says the NFL won't change until important players like Brady and Rodgers speak...
Popovich spoke at length about sports, race, culture, and politics during Spurs media day on...

Carmelo Anthony finds the idea of coming off the bench very funny

Several teams spoke about Trump's recent comments about protests and the Warriors' White House...