Popovich says he hates 3-pointers, Duncan wants to play point guard
San Antonio head coach Gregg Popovich had some fun with the media on Saturday.
• 2 min read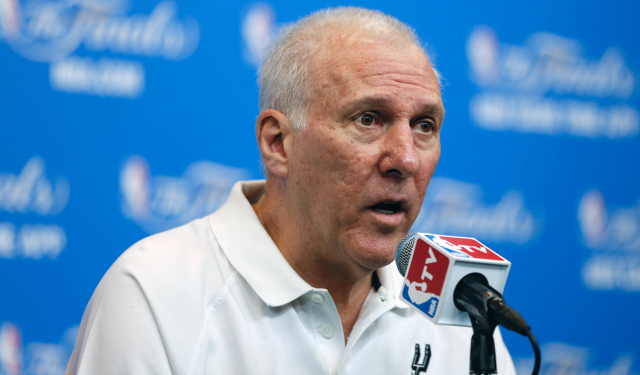 More postseason coverage: Playoff schedule, results | Latest news, notes
Gregg Popovich press conferences are always entertaining. On Saturday afternoon, his media session started with a question about how the proliferation of three-point shooting has changed how the San Antonio Spurs head coach approaches offense and defense. He said that, at this point, everyone has to deal with the three-pointer, but he'd rather not have to.
"I hate it," Popovich said. "To me, it's not basketball. But you gotta use it."
He went on to say that "it feels like cheating," and that all shots should be worth two points. Nevertheless, the Spurs are stacked with shooters and own the best three-point percentage in both the regular season and the playoffs. He might not like it, but San Antonio doesn't underestimate its importance.
Popovich also joked about Tim Duncan, the wannabe point guard. This caused a series of follow-up questions, with tongue-in-cheek responses. 
"The only thing Timmy's ever demanded is he wants to play the point," he said. "And he thinks I've held him back. True story."
It was hard to tell how serious he was being, but when asked to elaborate, Popovich said that you see Duncan bringing the ball up in transition every once in a while, and he'll take three more dribbles than he needs to. When Duncan took his turn at the podium, a reporter asked if Popovich should have played him at point guard.
"I've been arguing that point for years now," he said, "and I'm going to get your name and card and I'll get you in a room with him."
On NBA TV, ex-Spurs swingman Brent Barry described Duncan getting excited in practice when he got to be a playmaker after grabbing a defensive rebound. 
"Are we still talking about that? I can't believe they brought it up in the NBA Finals," a smiling Tony Parker said to laughs. "It's been a joke that Timmy thinks he's a great quarterback, like he'd be a good passer. I disagree with that. I want to keep my spot.
"Obviously, Timmy is a great passer," Parker continued. "And so every time that Timmy takes the ball and he brings it up, I have to leave him alone at least once every 10 games." 
The Cavaliers, you might have heard, are slipping

Here's how to watch Jimmy Butler and the Wolves take on Blake Griffin and the Clippers

James Harden, Chris Paul take on one of the hottest teams in the Eastern Conference
We've got all the scores, highlights and news from all of Sunday's games

The Rockets beat the Warriors 116-108 on Saturday night

The Cavaliers gave up 148 points in their loss Saturday afternoon to the Thunder