Popovich says Kawhi Leonard will be the 'face of the Spurs' in the future
Gregg Popovich says Kawhi Leonard will be the "face of the Spurs" in the future.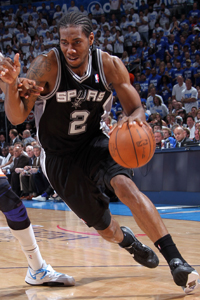 Is Leonard the key to the Spurs' future?
(Getty Images)
Gregg Popovich said in a mailbag with Spurs.com that he expects Kawhi Leonard to take the reins for the Spurs after this run of the Big 3 is over. 
Question: What kind of season do you see Kawhi Leonard having next season? Also, where do you see him in five years?

GP: I think he's going to be a star. And as time goes on, he'll be the face of the Spurs I think. At both ends of the court, he is really a special player. And what makes me be so confident about him is that he wants it so badly. He wants to be a good player, I mean a great player. He comes early, he stays late, and he's coachable, he's just like a sponge. When you consider he's only had one year of college and no training camp yet, you can see that he's going to be something else.
via Coach Pop Mailbag: 8/30/12 (Page 2) | THE OFFICIAL SITE OF THE SAN ANTONIO SPURS.
That's a pretty big statement from a guy who isn't prone to big statements. Leonard was spectacular last year for the Spurs, starting for the top seed in the West in your rookie season is nothing to sneeze at. He brought the defense everyone expected with his length but also showed both an outside touch from the corners and an ability to create off the dribble.
But can he make that next step to create his own offense, when he's the focal point? Can he deliver the kind of production they'll need once Tim Duncan and Manu Ginobili have gone? These are things we'll want to watch. Making the jump from roleplayer to primary option is a considerable one, but one within Leonard's reach. For a guy they snagged in the middle of the first round for George Hill, Leonard's proven to somehow be worth even more than they bargained for. 
Have we mentioned the Spurs are good at this? 
The NBA TV analyst and ex-Raptors coach doesn't look back in anger

Jackson is reportedly unable to make the trip from Montana

The Rockets are on fire, and my money is on Durant to join LeBron and Harden in the MVP ra...
Then-Lakers owner Jerry Buss eventually shot down the idea

Bryant will have both No. 8 and No. 24 raised to the Staples Center rafters on Monday

The Lakers will be retiring Kobe Bryant's No. 8 and No. 24 jerseys at halftime