Popovich to coach West All-Stars
San Antonio Spurs coach Gregg Popovich will coach the Western Conference All-Stars during the All-Star game, after securing the best record in the West through Monday.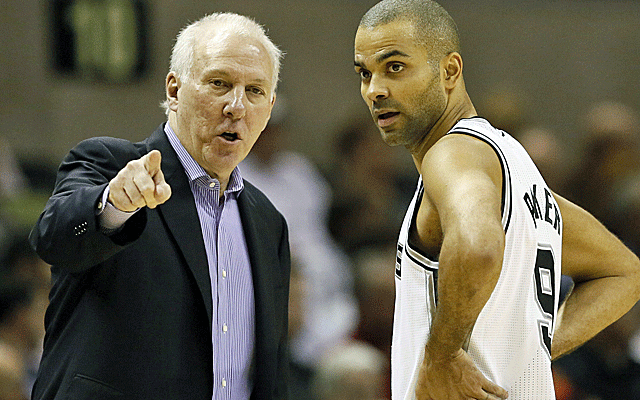 Pop and Parker will be in Houston for All-Star Weekend.
(Getty Images)
The NBA announced Wednesday night that San Antonio coach Greg Popovich, by virtue of his team having the best record in the Western Conference come Monday, will coach the West squad in the NBA All-Star Game. 
Now, this is old news for Popovich. He's done this before. This will be his third time coaching the best of the best (and Dwight Howard). Popovich is also well-known for being surly and unwelcoming to the pomp and circumstance of NBA entertainment life. But his reaction to the appointment? 
Pop calls All-Star coaching gig "a heck of an opportunity to enjoy amazing talent. Thats not just a BS or trite statement. Its true."
via Twitter / danmccarneysaen: Pop calls All-Star coaching ....
That's pretty incredible, and a classy statement from Pop. That said, the question naturally must be asked -- will he rest his starters?
Popovich joins two of his players, Tim Duncan and Tony Parker, on the All-Star team. The East coach will likely go down to the wire, with Miami's Erik Spoesltra currently with a 1 1/2-game advantage over New York's Mike Woodson.
Trump rescinded Curry's invitation to the White House after Curry said he wasn't interested...

Silver said he was hoping Warriors would get chance to share their views directly with the...

Along with the Thunder, those were the three teams most involved in the Anthony trade talk...
LeBron said he was frustrated by the President's recent actions

A look at the various actors and elements in the latest sensational blockbuster trade in the...

Blockbuster deal doesn't change the Thunder's projected finish in the West