Pop's Way: Spurs thrive with Duncan, 'D,' adaptability, family atmosphere
Gregg Popovich can thank Tim Duncan for his success, but Pop's knack for finding players who fit and fostering a close-knit attitude are just as important to a 17-year run of excellence.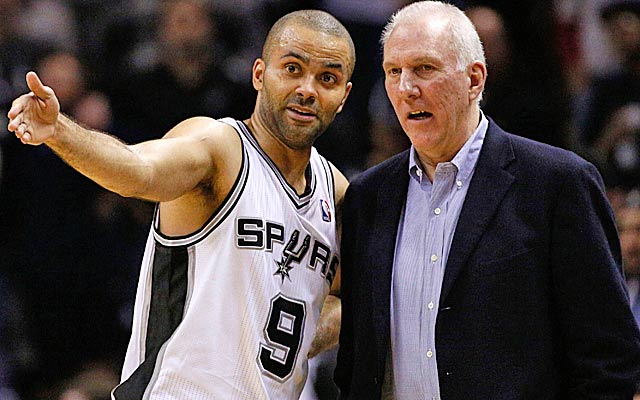 More NBA: Power Rankings | Expert Picks | Latest news, notes
DALLAS -- A few days ago, after the Spurs had seen the quietest 19-game winning streak in NBA history come to an end, Gregg Popovich gathered his players on the practice floor. Surely, the topic must have been setting sturdier screens, making harder cuts or achieving better floor balance in transition defense.
Actually, no. Pop wanted to talk about the Civil Rights Act of 1964.
The landmark federal law outlawing discrimination and enforcing equal voting rights was passed 50 years ago this summer. If you have to ask why a basketball coach who very clearly discriminates against a certain segment of the population -- sideline reporters -- was telling his team about this in the waning days of his 15th consecutive 50-win season, well, you don't know Pop.
But who really knows Pop? Who really knows the Spurs? They are a modern marvel, the living, breathing expression of sustained greatness -- yet their essence escapes us. Their success has spanned two generations of players who've passed through and adhered to the San Antonio Way. Theirs is a stubborn, unyielding (some would say boring) way of winning that has withstood the test of time and reinvented itself again and again with new supporting personnel producing the same methodical results.
But do we really know the Spurs? Do we really know why their way of doing things has produced four championships and five Finals appearances since they drafted Tim Duncan No. 1 in 1997? No, we don't know them -- at least not as well as we should. If we strive to, we better hurry up. We better do what Popovich never does.
We better take a step back and appreciate them. We better enjoy them before they're gone.
"I think that we know full well what kind of run we've been on for a very long time and that we've been very fortunate in a lot of ways," Popovich was telling me in the hallway outside the visiting locker room at American Airlines Center on Thursday night, when the Spurs beat the Mavs 109-100. They clinched home-court advantage throughout the playoffs the next night with a victory over the Suns, rallying from a 21-point deficit without Duncan and Manu Ginobili.
"We know that can't continue forever, because that's not the nature of the beast," Popovich said. "But to look ahead and mourn when that day comes is kind of a waste of time. So we just try to be the best team that we can each year; and that doesn't mean you're going to win a championship every year. Those are pretty tough to win. A lot tougher than most people think."
Mourning was allowed after last summer's crushing Finals loss in Game 7 in Miami, of course. It should've been the Spurs' fifth championship, until Ray Allen happened in the corner in the final seconds of Game 6. But Popovich made sure that even such a calamity was dealt with swiftly and head on, and then buried forever.
"I'm motivated to try to win this year," Duncan said. "What happened last year is gone."
Not quite forgotten, but put in its proper place.
"If we kept going back to that, we could never move forward," Popovich said. "So we attacked it, faced it, put it up front at the beginning of training camp and did our work and our catharsis then. And now you just move forward. Looking back and looking ahead doesn't help. But being in the moment and doing what you have to do is really the key."
That's the closest you'll get to clarity from Popovich about what, exactly, have been the key ingredients in the Spurs' recipe for success all these years. There was no TV camera and no microphone in the hallway outside the locker room Thursday night, but Popovich Popoviched me a little bit anyway when I started prying.
"You're asking me about the essence of why we've been successful?" Popovich said, and the lecture was under way. "That's the confluence of a lot of factors. I don't think I can answer that in three minutes. That's kind of a huge question. That's almost a book."
Should be; no question. Also, another book could be written dispelling all the myths about the greatest basketball team of our generation.
Contrary to popular belief, the Spurs are not old. Aside from Duncan, a 17-year veteran who turns 38 this month, the average NBA experience of the other 14 players on the roster is 5.3 years -- and that includes Tony Parker (12), Ginobili (11) and Boris Diaw (10).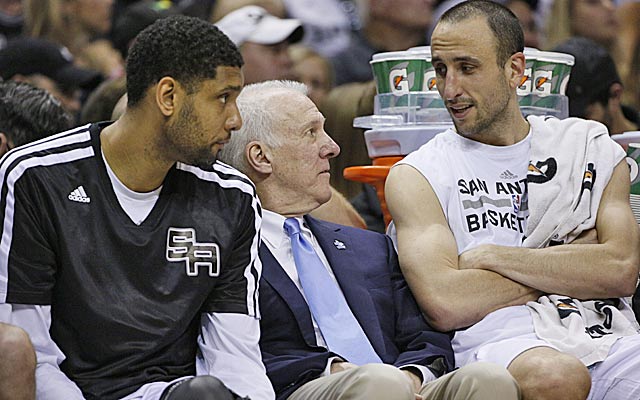 They haven't been doing the same thing for 17 years; it only seems that way. For proof, we turn to Steve Kerr, who played for Popovich on the Spurs' first two championship teams and now is a basketball broadcaster. (So are Avery Johnson, Sean Elliott, Malik Rose, Steve Smith, Bruce Bowen and Brent Barry. All won championships with the Spurs. So did Danny Ferry, who is well into his general managing career -- now with the Atlanta Hawks -- and Jacque Vaughn, the coach of the Orlando Magic. Time flies.)
"In the early years, Pop was much more of a dump-it-inside-to-Duncan-and-David-Robinson kind of coach. Very vanilla," Kerr said. "Surround the big guys with 3-point shooters and rely on defense. You have to note that Pop has evolved a lot as a coach during his time, and the beauty of it is that he's had Duncan pretty much the whole time. And of course, Duncan has been so open to change; as Pop has changed, Duncan has changed right along with him."
Enter Parker and Ginobili, not to mention Father Time, who wasn't about to allow the best power forward in the history of basketball to dominate the sport forever. Father Time, as they say, is undefeated.
"The team really changed and the style changed -- more penetration, more ball movement -- and all of that occurred while the league was changing, with stretch 4s and rules changes," Kerr said. "Pop's run has spanned two different offensive eras in the NBA and many different changes within the Spurs themselves."
The team kept changing, kept evolving.
As Duncan aged, Popovich handed the keys to Parker, who has been one of the league's most elegant and effective point guards for more than a decade. For each of their past four runs to the Finals, the core was constant. But Popovich and general manager R.C. Buford have developed an uncanny method for drafting or acquiring the perfect complementary players -- players who they had reason to believe would deliver and finish proper screens, cut to the basket, get back on defense and make reasonable efforts to stop the man in front of them.
For the better part of 17 years, no team in basketball has spun a better or more purposeful revolving door.
"Coaches are never satisfied with how well players cut or set screens or play transition D or select uncontested shots rather than contested shots, because it's not a perfect game," Popovich said. "... Now, when you're selecting a player, if you can find a guy that shows some proclivity or innate desire and ability to do those things and to care, that helps you.
"So when you're scouting players," he continued, "when you're doing background checks on players, when you're talking to people about a player, you want to know how he reacts with his teammates. How does he react in practices? What kind of effort does he put in? How fundamentally sound is he? Do mistakes bother him? Can he be coached? Can he be criticized? Can you show him film? Does he want to get better? All those kinds of questions you try to answer ahead of time. It's still a bit subjective and you can be fooled, but in general, if you can get answers to all those questions in the positive, you're in pretty good shape."
So over the years, in came Bruce Bowen, Robert Horry and Barry. In came Matt Bonner, Michael Finley and Fabricio Oberto. In what presumably is now the final chapter with the Duncan-Parker-Ginobili core, here are Kawhi Leonard, Danny Green, Tiago Splitter, Boris Diaw, Marco Belinelli and Patty Mills. The final crossroads, Kerr said, came after San Antonio lost to Phoenix and Memphis in back-to-back playoffs in 2010 and '11.
"It just felt like Duncan was starting to fade and it felt like his time was almost done, and I think a couple of things happened," Kerr said.
The first was that shift in offensive focus away from Duncan to Parker, which saved some wear and tear on Duncan's aging body and ailing knees. The second was the 2011 trade that sent George Hill -- approaching the expiration date of his rookie contract -- to Indiana for Leonard, the 15th pick in the draft who remains on his rookie deal today. Not only was it a sound personnel move, but it was also a prime example of sensible, small-market asset management.
"Now they were able to compete with the super athletic teams in the league, like Oklahoma City and Miami, because you have a guy you can throw at LeBron [James] and Kevin Durant," Kerr said.
On Thursday night, Leonard eviscerated the rival Mavs with 16 points and 16 rebounds -- six of those extending possessions on the offensive end.
"Kawhi is a monster," Popovich said. "He's just going through the roof with his skills and basic fundamentals of the game -- 50-50 balls, important rebounds. ... It's amazing to watch the young kid keep getting better and better." Popovich scoffs at the notion that anything changed after those back-to-back postseason losses to Phoenix and Memphis -- "We didn't change any of our basic philosophies after either of those losses," he said -- but there other wrinkles worth noting. After starting only eight games in his first two seasons in San Antonio, Splitter moved into the starting lineup alongside Duncan last season -- further reducing the physical demands on the Spurs' centerpiece.
Splitter's paint presence and Leonard's wing defense restored Popovich's defensive foundation. After barely cracking the top third in defensive efficiency in 2010-11 and '11-12, San Antonio was third last season and is third again this season.
"We all know that the last team standing is a pretty good defensive club," Popovich said. "You don't get there by playing poor defense."
Said Kerr: "If you're looking for two guys who sort of changed the equation, it's Leonard and Splitter. Then, the brilliance of the offensive guys like Diaw and Danny Green and Mills -- adding these guys, developing them and working them into the way they play."
Mills, a 25-year-old Australian who calls everyone "Mate," is the Spurs' latest find. Selected by Portland with a 2009 second-round pick acquired in the three-team trade that sent Omer Asik to the Bulls, Mills never found his niche with the Trail Blazers. He kicked around the D-League until Popovich and Buford signed him as a free agent in March 2012.
Popovich couldn't have been clearer about what Mills had to do if he wanted to stick around -- play better on-ball, full-court defense, make better decisions and improve his conditioning. Pop knew he could shoot, a fact that was reinforced on Thursday night when Mills -- starting for the injured Parker -- put up 26 points, including 6-of-11 shooting from 3-point range.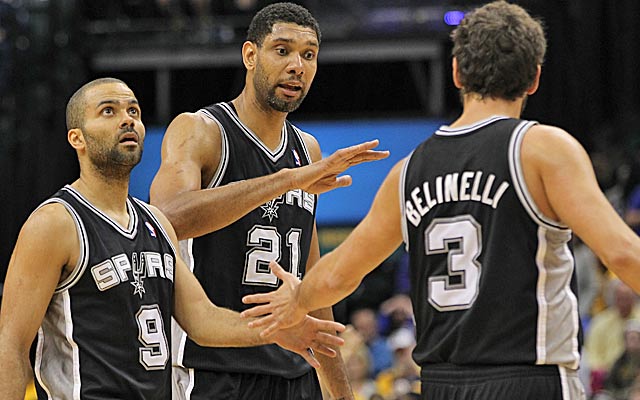 "When I first had the opportunity to come, I jumped at it because I know this opportunity doesn't come around to be part of a team like this," Mills said. "And then last year, I really sat down and I thought to myself, 'What can I do to be a part of this team? I really want to be someone who contributes to this team.' That was my motivation to improve my game and improve my fitness base."
Belinelli, who'd bounced among four teams in six seasons before landing with the Spurs as a free agent last summer, had a similar experience. After the Spurs lost another of their famous finds, Gary Neal, as a free agent to the Bucks, they reeled in Belinelli on a cheaper deal. When he arrived, Belinelli found a kindred spirit, Ginobili, who could explain to him in Italian exactly what Popovich wanted.
"In the beginning, I just tried to understand the game, move without the ball, set good screens for my teammates," Belinelli said. "He wants defense and smart players. That's it."
Averaging 16.2 points on a 36-minute basis and shooting a career-high .489 from the field, Belinelli has never been more effective or efficient -- or felt better about his circumstance.
"I'm really honored to be part of this team and play with these guys," Belinelli said. "They know how to win championships."
Whether you're a 25-year-old kid from Australia, a 28-year-old journeyman from Italy or a 25-year-old rookie from Argentina (as Ginobili was in 2002), Popovich has a way of making you feel like you belong. He has a gift for personally connecting with his players in a way that somehow softens his constant harping on fundamentals, decision-making, footwork and ball movement.
"Players are human beings and they need to be aware that people care about them," Popovich said. "When somebody believes they're cared for, they're going to give more."
Pop's personal touch is rare, but not unique. Doc Rivers connects with his players this way. And though he isn't coaching anymore, Phil Jackson does, too.
There's a famous story about Jackson summoning Jud Buechler to his office one day after practice in Chicago. Buechler, an end-of-the-bench guy on a team with Michael Jordan and Scottie Pippen, thought he must have been traded or waived or was otherwise in trouble. Instead, Jackson proceeded to ask him how his wife liked the Chicago suburbs, if they'd found a nice place to live and good schools for their children. As one NBA executive related the anecdote to me recently, Buechler was floored.
"You called me into your office to ask how my family is doing? That's it?" Buechler said.
"Yeah," Jackson replied. "Is that OK?"
Popovich, the hardened military man who was trained in Air Force intelligence, has a little Zen up his sleeve, too.
"Both Pop and R.C., too, have that philosophy," Ginobili said. "They think that if your family is good, happy in the city and used to everything, you are happy too. And it's true. ... Pop is great. He sometimes lets us bring our wives on a trip and asks about your family often. Of course, after 12 years, I know him and his family really well and he knows mine. But in the beginning, when I was a young kid from Argentina who had no clue what was going on in this country, it was good to feel appreciated and to feel he cared about my family."
That connection isn't necessarily the secret to the Spurs' success, but it helps. It helps when it's time to leave the past behind and when it's time to reflect on the good times.
"Maybe at this point or during the playoffs, you don't have time," Ginobili said. "... But once the season is over, preseason and stuff, we look around at the fact that Pop, Tim, Tony and me, we've played together 700 games, 800 games? Twelve years; that's incredible. I don't think that ever happened in the league.
"We do feel very lucky and we appreciate the whole situation."
At the same time, he knows that someday -- someday soon -- it must end.
"I wish I could put time in a box and relive it down the road in 10 years," Ginobili said. "We know it's impossible. Yes, we think about this, how it has a deadline. It's going to end sooner or later; sooner than later. Once it's over and you've got time to step back and see the whole picture, you really appreciate it. I'm going to be 50, 60, even 70 and look back and say, 'This was amazing. What an amazing run.'"
We've got all the scores, highlights and news from all of Sunday's games

The Rockets beat the Warriors 116-108 on Saturday night

The Cavaliers gave up 148 points in their loss Saturday afternoon to the Thunder
Blatt made the comment before coaching in the All-Star Game in Turkey

Is this rock bottom for the Cavaliers because it sure feels like it is

Wade, as he's done so many times in his career, threw it up to LeBron for the thunderous f...