Power Tankings: An epic tankathon awaits us this month
The Philadelphia 76ers and Milwaukee Bucks are treating us to one of the most impressive tanking battles we've ever seen.
The Milwaukee Bucks were quite the surprise this season. They were built to make a run at the playoffs in a weak Eastern Conference. They ended up being so horribly inept that they took a couple of initial injuries and just crumbled into dust this season. They took the place of a Phoenix Suns team that wasn't supposed to be all that successful but surprised everybody by not only being competitive, but currently stand 10 games over .500 in mid-March.
We needed a team for the Philadelphia 76ers to challenge. At some point, we knew they weren't going to be able to challenge teams on the basketball court with grandiose tanking plans seemingly set in stone on draft night. The Bucks stepped to the table and have given the Sixers a big goal to reach by the end of the season. They need to fall below a fairly inept Bucks team that still sits 2.5 games behind the Sixers in the standings.
That's why this 20-game losing streak can be described as clutch tanking. They have needed a big effort to get below the Bucks and a historic losing streak is just the thing to give them a great chance at finishing with the worst record and the best lottery odds. When this streak started, they were 6.5 games ahead of the Bucks. Now, they've shaved it down to 2.5 games as the Bucks are still putting up a fight. It's going to come down to the wire and this is why Power Tankings are done. 
As always, the winner gets Master P's gold tank and the best lottery odds: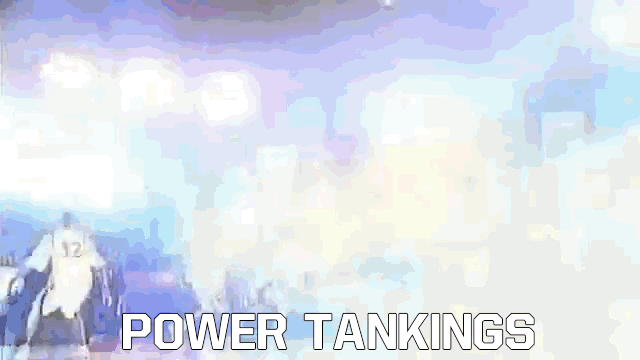 Here are the Week 21 Power Tankings:
Record: 15-51 (0-4 last week), Net Rating: -11.6 points per 100 possessions
20 losses in a row. They're just the 11th team in NBA history to lose 20 games in a row and they've tied the franchise record for losses in a row with the 1972-73 team that won an NBA record low of nine games. What started out as but a mere poor attempt at humor, the hope for them losing an NBA record 28 straight games is very much on the table right now. Sure, the Sixers screwed around with too many meaningless wins in the regular season that have left them still ahead of the Bucks after all these months, but they're trying to rectify the situation.
The lineup they've employed the most during this streak is a Michael Carter-Williams, James Anderson, Hollis Thompson, Thaddeus Young, and Henry Sims lineup. It's getting beaten by 10.0 points per 100 possessions, which isn't all that bad. The second most used lineup happened before the trade deadline with MCW, Anderson, Young, Evan Turner, and Spencer Hawes. That lineup was getting destroyed by 28.3 points per 100. It's amazing to know that while it's gotten better since the trade deadline, the streak hasn't wavered in any way.
Record: 22-45 (0-4 last week), Net Rating: -7.6 points per 100 possessions
Jazz have won just one game in their last 10 contests and look to be much more like the team we saw open the season 1-14. Their losses to the Mavericks, Pacers, and Hawks were all close, but the rest of them haven't been much in doubt. It could just be a random collective lull for the Jazz, but this stretch of games has been so bad against teams like Cleveland, Milwaukee, and the Knicks that it's more than fair to question Utah's focus at this point in the season. Maybe they shouldn't have focus? Maybe tanking out is the way to go?
I've been concerned with the development/growth/impact of Derrick Favors all season, not seeing a leap you'd hope he makes after signing a contract extension this past fall. Instead, he's been just OK and his impact during this bad stretch of 10 games has been unacceptable. The team can't defend with him on the court right now and they certainly can't score at all, either. You'd like to see young guys shine, even if a team is losing games like this. That's not happening in Utah. 
Record: 13-54 (1-4 last week), Net Rating: -8.8 points per 100 possessions
As I'm writing the Power Tankings post, I'm also watching a movie called The Purge. It involves Ethan Hawke as the protagonist. The government in the world of this movie allows a 12-hour time period in which all crime is legal. You can rob people. You can murder people. You can park at a meter and not pay for it. You can tear the tags off of mattresses if you'd like. Whatever you want to do, do it in this 12-hour window and you're good. There's a weird juxtaposition in this movie too.
There is a man a psychotic group of people chase into the home of Ethan Hawke's family. The family has the tough decision of giving this man up to the group and letting them kill him or being subjected to the entire family being murdered by this group. I won't give away the ending, but this is a poorly executed movie that has a premise with such promise. What does this have to do with the Bucks? Not a whole lot, but at least I saved you from reading two paragraphs about this Bucks team.
Record: 22-44 (0-2 last week), Net Rating: -6.2 points per 100 possessions
When I do the Power Tankings post, I always make sure to update the net ratings and records before I start writing the blurbs for each team. It's the easiest way for me to make sure I'm up to date with everything and have all of the information to know if a team should move down or up the rankings. I knew the Lakers had some bad losses this week, but I couldn't quite remember how many games they had played. When I saw their net rating had dropped by nearly a full point in just one week and they only played two games, I was truly in awe of just how bad they were in their two losses -- a combined 63 points of futility.
Record: 19-48 (0-3 last week), Net Rating: -5.2 points per 100 possessions
The nice thing about the five-game losing streak of the Orlando Magic this past week and a half has been how close all five games are. While they've certainly had plenty of inept moments this season, the Magic are still working hard to be competitive in games. The 12-point loss to the Rockets recently was their worst performance. Sure, they lost to the Bucks and that's never acceptable during this season, but they also had a relatively close loss to the Spurs too. The Wizards needed overtime to dispatch the Magic and Denver needed a big effort from Kenneth Faried to do the same.
All of these close losses this late in the season could end up giving Victor Oladipo the advantage in Rookie of the Year voting. Recency bias is a real thing; if you don't agree, just go look at any sports conversation on Twitter right now. Voters will remember him playing well in an environment that wasn't a 20-game losing streak and that will resonate. Not saying he wouldn't deserve a victory in the award race, but this last stretch of being competitive could definitely improve his chances.
Record: 22-45 (0-4 last week), Net Rating: -5.2 points per 100 possessions
See that video? The Celtics were down two and ran a sideline out of bounds play to get Kris Humphries a turnaround 20-footer. He ended up hitting it and sent the game into overtime. The Celtics lost by one point, making it look like they're not tanking. But you don't give Humphries that shot attempt if you're actually trying to win the game. It's not Mark Madsen taking seven 3-pointers in two overtime periods but it's not far from it.
Record: 23-44 (1-3 last week), Net Rating: -2.8 points per 100 possessions
I've been of the firm belief that the Sacramento Kings were losing games organically under Michael Malone this season. It's why I've tried to avoid putting them in Power Tankings; he's making sure guys play defense or they don't get on the floor. He's making sure guys are earning their minutes and he's not just throwing anything out there. But then I witnessed firsthand Sunday night him playing Travis Outlaw as a shooting guard. They went to Outlaw several times on offense.
Granted, Outlaw was being guarded by Kevin Martin, but there were still several plays in which Outlaw had his number called. I can't in good conscience keep them out of Power Tankings if this stuff is happening in March; I don't care how bad of a defender Martin is. 
Record: 33-32 (2-1 last week), Net Rating: -5.2 points per 100 possessions
Hear me out on this. The Wolves are still technically in the playoff race. They're 5.5 games out of the 8-seed with 17 games left and two teams to leapfrog. But considering moving ahead of the Phoenix Suns would mean they lose their 2014 first round pick, the team might get creative at some point down the stretch and rest guys who don't need that much rest. They're currently 4.5 games behind the Suns and have to avoid being the last team out of the playoffs unless they want to lose their pick to Phoenix.
Keeping an eye on: Phoenix Suns
Record: 38-28 (2-2 last week), Net Rating: -5.2 points per 100 possessions
The Suns are a long way from tanking, and I promised myself I wouldn't include them back in Power Tankings this season because of their incredible fight and success. But if they start sliding a bit and find themselves realistically out of the playoffs with the Wolves within reach, what would keep them from giving Goran Dragic and company a couple of games off to heal up? Wouldn't it behoove the Suns to finish behind the Wolves if they're going to miss the playoffs? They could tank games and get themselves a second lottery pick and a fourth first round pick.
It's just something to keep an eye on because they're still just one game out of eighth.
Mirotic was hospitalized with facial fractures after an altercation with Portis during pra...

Irving had some choice words for a fan who heckled him in Philadelphia

Several teams were reportedly interested in Nelson after he was waived by the Nuggets
Cousins got into a heated exchange with a fan during the Pelicans' season opener

Mike McClure, a DFS pro with more than $1M in winnings, gives optimal DraftKings and FanDuel...

Bryant said that execution is the key to taking on 'the big guys'