Power Tankings: Is it time to start getting ahead of the game?
The Milwaukee Bucks, Philadelphia 76ers and Utah Jazz are staples here. Is it time to add a resident of the Staples Center? Are the Cavs back in this?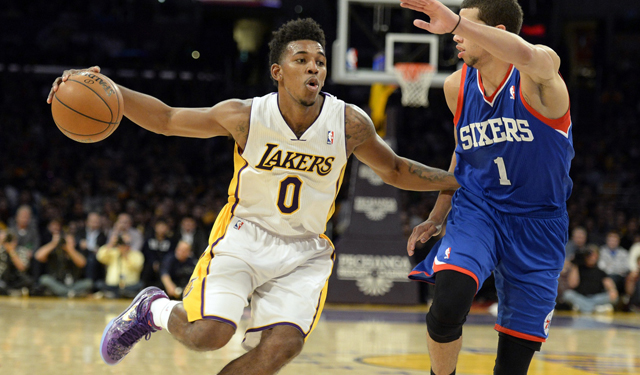 As we inch closer and closer to the halfway point of the 2013-14 season, it means we also inch closer and closer to the tanking season. That's the biggest thing to always remember when it comes to the great tankfests of seasons past; it never really gets going until the second half of the season when you've sold the majority of your game tickets and are no longer fooling the owner into thinking things could turn around. Once the calendar turns and you've played a few more games, you come to the realization that you're in this for the ping pong balls and nothing else.
You start playing the young guys more to develop them, you look to ship your veterans out for future assets, and you hope you have a great broadcasting team that can keep the fans interested when they opt for their television sets over your plastic seats. We're not quite there yet. We still have enough teams in the Eastern Conference eyeing that playoff revenue because even the Philadelphia 76ers and New York Knicks , both at 9-21, are just four games out of the eighth seed in the East.
We'll probably need another month before we get full-on tanking efforts from the regulars in this weeky feature. Until then, let's appreciate the dedicated few that insist on residing on this page.
Here are the Week 10 Power Tankings:
Record: 6-24 (0-3 this week), Net Rating: -9.1 points per 100 possessions
We don't get many moments like this early in the season, so it's refreshing when you can see a team go for a 2-point shot when they need a 3-pointer to tie the game. But who wants to play double overtime anyway? These guys don't get overtime pay, so you're basically just wasting the night away. I applaud Khris Middleton for making sure both of his feet were inside the 3-point line on that shot. He still gets the thrill of knocking down the buzzer-beater without having to delay dinner plans any longer.
After the scare of nearly winning that game against the Bobcats, the Bucks promptly dropped a game to the battered Nets by double digits before being blown out by the Timberwolves at home. It's always important to get back on track after struggling to execute your game plan and that's exactly what the Bucks were able to do to finish off the week. The next 10 games put Andrew Wiggins even more on the radar -- at Lakers, at Jazz, at Suns, home for the Warriors and Bulls, at Thunder, at Raptors, home for Grizzlies, at Rockets, at Spurs.
Record: 9-21 (1-1 this week), Net Rating: -8.8 points per 100 possessions
This was a weird week for the 76ers. They played Sat., Dec. 21, and then didn't play again until Sat., Dec. 28. A week off to get some practice time in, heal some bumps and bruises, and enjoy the holiday. Perhaps that was the reason they were fresh enough to split a back-to-back with the Suns and the Lakers this weekend with both games on the road. They're currently 1-1 on their five-game road trip (technically six games but one of them was in Milwaukee a week before the Phoenix game).
In order to avoid tying the worst 82-game season in NBA history, the Sixers have to win one of their next 52 games. That seems completely doable. They'll still want to try to keep pace with the Bucks and the Jazz though so they can't go nuts and run off six or seven wins in the next 52. 
Record: 9-24 (1-2 this week), Net Rating: -10.5 points per 100 possessions
Over the past 10 games, the Utah Jazz are .500. This is what you call progress. Amazingly, they still manage to have the worst net rating in the NBA, although they've done a decent job of shaving tenths of points off seemingly each week for a while now. However, there is something really odd about the Jazz right now that I'm not sure helps them tank or helps them avoid tanking. They've hardly played the lineup of Trey Burke , Alec Burks ,  Gordon Hayward , Enes Kanter  and Derrick Favors . Part of the reason for that was Burke's injury to begin the season.
According to NBA.com/stats, the Jazz have only used this lineup for 15 total minutes on the season. That doesn't seem right. This is your entire core right here with loads of youth and potential waiting to gel together. In the 15 minutes they've been on the court together, they've killed. The lineup is shooting 52.2 percent from the field and 50.0 percent from 3-point range. They have a net rating of plus-21.9. Why aren't we seeing this more from Ty Corbin? How do we subscribe to more of this lineup? 
Record: 10-20 (0-4 this week), Net Rating: -6.1 points per 100 possessions
I can already tell the Cavs are going to be my roller-coaster team of the 2013-14 season. I was ready to write them out of Power Tankings completely a couple of weeks ago. They had won five out of six and looked to be back on track with Andrew Bynum inside. Now we have murmurs that Bynum is done in Cleveland because of his attitude, nobody wants to trade for him, and the Cavs are barely giving Kyrie Irving the ball at the end of close games. Against the Celtics, he didn't even touch the ball on one of the final possessions, which seems like a weird strategy if you want to win.
So maybe they don't want to win? Maybe they are tanking? Or they're not tanking and they'll pull it together? I have no idea where this ride is going. I just know there are a lot of ups and downs, we're spinning like corkscrews trying to figure out this organization, and I'm pretty sure I ate too much cotton candy and am going to be sick. 
Record: 9-21 (1-3 this week), Net Rating: -4.7 points per 100 possessions
Sure, the Knicks were 9-19 but they had a home-and-home, back-to-back against the Toronto Raptors this weekend that should have started the process of righting the ship. It wasn't going to be an easy task but a task that they should accomplish nonetheless. Then we had  Carmelo Anthony miss a couple of games with his sprained ankle and we realized just how unwatchable this team is without Melo on the floor. Back-to-back double-digit losses to the Raptors with Kyle Lowry treating them like they owe him money.
Keeping an eye on:

Los Angeles Lakers
Record: 13-18 (0-4 this week), Net Rating: -3.4 points per 100 possessions
The injuries are simply too much for a scrappy, confident bunch and a coach that likes to squeeze the most production he can out of average players to overcome right now. Kobe Bryant has the knee fracture, Steve Nash is powerless without the Phoenix Suns' warlock trainers,  Xavier Henry just hurt his knee, Steve Blake still has a torn ligament in his elbow, and Pau Gasol is suffering from everything that can end your voyage in Oregon Trail. With it looking like weeks until the Lakers can be truly competitive again, is it time to start looking at putting a young superstar next to Bryant in his final couple of years?
I'm not saying you tank with Kobe. He wouldn't go for that. But with him out, maybe you just lose a bunch of games "on accident" or constantly sneak into the loss column like you're playing Red Light, Green Light with Bryant as the overseer.  Every time he looks away, you just inch back toward a loss. Eventually, he won't be able to stop them and you may even end up throwing Jabari Parker or Andrew Wiggins next to him next year. Wouldn't that be fun? 
A look at the context of the schedule and who plays who when, and how far they travel during...

Durant took on rapper Lil Dicky and actually might have lost

A report that James would once again be leaving Cleveland made the rounds on Wednesday
Known for his 'take that for data' rant, the Grizzlies coach touched on a number of important...

Wade's days with the Chicago Bulls appear to be numbered

Misty Suri will reportedly keep his job with the New Orleans Pelicans