Power Tankings: They want to be a part of it, New York, New York
The number one Power Tankings slot isn't reserved for the Bucks or the Sixers or the Jazz this week. One big shot proved to be the winner.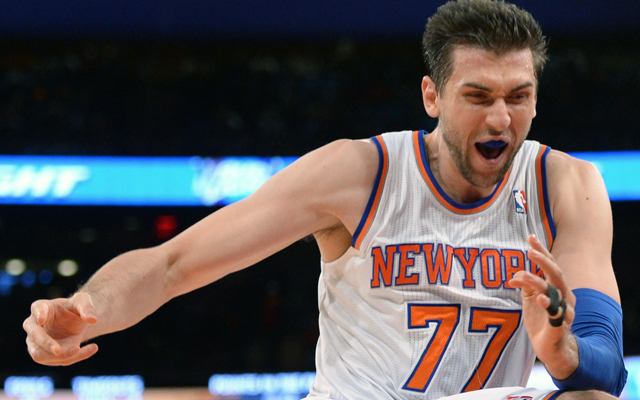 The power of tanking is a pretty incredible thing. It can be so subtle at times in which you don't even realize a franchise is tanking. It's like Haley Joel Osment seeing deceased people while Bruce Willis looks perplexed for 90 minutes because somehow he doesn't know he's dead either. There is a "Sixth Sense" to tanking. When the story takes a turn and the tanking becomes obvious, the audience has a big reaction. That's where things get interesting with tanking in the NBA.
The fun part about this past week is nobody saw the New York Knicks playing the tanking card without a first round pick at their disposal. That's what made the moment so surreal. The  Milwaukee Bucks couldn't believe they were being out-tanked. I'd imagine the Philadelphia 76ers probably watched the game film of "the shot" and had Sam Hinkie berating them about learning how you're supposed to acquired lottery odds. The Utah Jazz had to have seen what  Andrea Bargnani did and yelled at Enes Kanter to figure out a way to start doing this stuff. 
When you throw your hat in the tanking ring without actually benefitting from the tanking process, you've changed the game. This was a moment for the ages and it's being rewarded, even if it doesn't make sense.
Here are the Week 9 Power Tankings:
Record: 8-18 (1-2 this week), Net Rating: -3.2 points per 100 possessions
It makes no sense that the New York Knicks would be tanking. They don't own their 2014 first round pick; the Denver Nuggets own it. So what would be the incentive for tanking during this 2014 season? I honestly can't answer that. And yet, this shot existed during a win over the Milwaukee Bucks. Up two points with nothing but game clock running down and Andrea Bargnani launched this epic attempt that caused Tyson Chandler to be apoplectic. It's the weirdest tanking move in the history of the league. Mark Madsen taking seven 3-pointers in two overtime periods years ago made sense. 
This one was just too Knicks to fail at the end.
Record: 8-20 (1-2 this week), Net Rating: -9.2 points per 100 possessions
Thanks to an Evan Turner winning layup against the Brooklyn Nets, the Sixers avoided what would be a nine-game losing streak right now after losing to the Bucks. I still think the Bucks are a worse team at the moment but the loss in the head-to-head matchup has big implications for potential coin flips at the end of the season when we're all jockeying for beer pong balls. It doesn't get any easier for Philly either. 
Wait, that would imply this organization wants to win. It does get easier for Philly to accomplish their season goal. The loss to the Bucks started a six-game road stretch (although they'll be home for a few days for the holidays between the Bucks game and their next one). Philly now heads West like the Donner Party as they go to Phoenix, LA to face the Lakers, Denver, Sacramento, and Portland. Who gets sacrificed first so the team can eat when they're stuck in the Sierra Nevada mountains?
Record: 6-21 (1-2 this week), Net Rating: -8.8 points per 100 possessions
As much crap as I've given the Bucks this year for not being competitive or able to score, they had a really good week in terms of putting up a fight. A 1-2 record with both losses going to overtime and a 10-point victory over the Sixers. Other than the Sixers' win (which could hurt them in future coin flips for lottery odds), that's exactly how you want to tank. It sounds like the team has sold owner Herb Kohl on the process of being bad for a season in order to prepare for the future. If that's the case, we could see the youth movement in the rotation that we've all been waiting for.
They don't have an easy schedule coming up but it is a very manageable schedule and something that will be telling of whether or not they can start stringing victories together to be the competitive bunch many thought they'd be. They go to Charlotte and Brooklyn sandwiching the holiday. Then they're home for the Wolves before heading to face the Lakers, Jazz, and Suns. They could get Larry Sanders back in that time too. How much of a difference will it make? 
Record: 8-22 (2-2 this week), Net Rating: -10.8 points per 100 possessions
The Utah Jazz just went 2-2 on a four-game road trip and have won four out of their last seven games. Could they be turning the corner from tank-a-palooza to the pain in the hindquarters team so many people thought they'd be this season? Trey Burke had his first monster game in a win over the Magic with 30 points, eight assists, and seven rebounds. The impact he's had on their offense has been immense and it's starting to show with how they're responding around having a point guard that can actually find ways to get the ball into the basket.
Biggest question I have with them right now is what's going on with Enes Kanter? Minutes and production have fallen off dramatically during this stretch of success for the team. He's played just 17.5 minutes per game during the last seven games and is averaging 6.8 points and 4.7 rebounds. He's also only shot 38.8 percent from the field during this time. What happened to Kanter? Why the struggles? Why the lack of playing time? Is it conditioning? 
Keeping an eye on:

Chicago Bulls
Record: 10-16 (1-3 this week), Net Rating: -2.4 points per 100 possessions
Look at him, Gar Forman! Look at Jabari Parker! He's so silky. He's so pure. He's so much better than what you're left with on this roster as you await another Derrick Rose rehab project. Trade  Luol Deng . Tell Joakim Noah the plantar fasciitis is back and he just doesn't know it yet. Give  Carlos Boozer a Sharpie and tell him he can't play again until he permanently inks the hair on his head. Or have him go on a tour promoting GLH. Blow it all up, give D.J. Augustin the ball for the rest of the season, and let Marquis Teague lead your team in usage rating.
Go get Jabari Parker. Go pair him with Derrick Rose. Market it as "Chicago's own" basketball and make enough money to allow a future luxury tax season or two. What are you waiting for? This plan practically executes itself!
Wade's days with the Chicago Bulls appear to be numbered

Misty Suri will reportedly keep his job with the New Orleans Pelicans

The MVP has better things to do with his time, but the former NFL receiver isn't taking 'no'...
Randolph was arrested last week in Los Angeles on felony marijuana charges

Bagley wants to be in the 2018 NBA Draft and should be the No. 1 overall pick

Durant helped build the court in Manhattan as part of his community outreach program