Preview: Another round with Argentina stands in the way of Team USA's shot at gold
USA (6-0) takes on Argentina (4-2) in the semifinals Friday at 4:00 p.m. ET.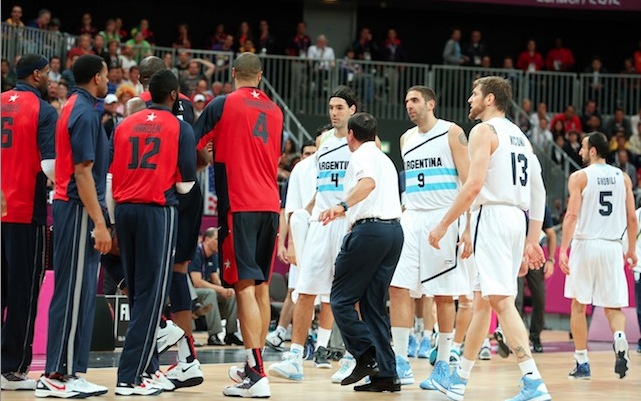 There won't be any love lost between the USA and Argentina.
(Getty Images)
It's almost like a playoff series. And the United States has a 2-0 series lead on Argentina, but for whatever reason the third game is now Game 7.
Win, and you play for gold. Lose, and it's disappointment (and a shot at bronze).
The U.S. and Argentina will be playing a third time in less than three weeks, with Team USA winning the first one -- and exhibition -- by six and the second by 29.
And of course, we all know what happened the last time around. Facundo Campazzo laid a low shot on Carmelo Anthony, bad blood boiled and it set up a nice little storyline for this re-re-match. These two teams aren't going to be all friendly-like Friday. There's a whole lot on the line to start with, the two countries have a little history already and then there's the whole CrotchshotGate thing.
But Argentina presents a very real danger for the United States. Beating a team three consecutive times is a challenge. Especially when it's one that's as tight and talented as Argentina. They have a gamechanger in Manu Ginobili, can score on the block and proven record against Team USA. In reality, this game might be a bigger threat to the U.S. than a potential gold medal game against Spain.
USA (6-0) takes on Argentina (4-2) in the semifinals Friday at 4:00 p.m. ET.
How did they get here?
Argentina automatically qualified for the Olympics by winning the 2011 FIBA Americas Championship.
In London they opened with an impressive 102-79 win over Lithuania but followed that up with a somewhat surprising loss to France. They bounced back soundly beating Tunisia and Nigeria and then were blown out by the United States.
In the quarterfinals, Argentina won a tough, physical game against Brazil to advance to the semifinals.
Do they have a history of winning?
Argentina has appeared in the Olympics six times, winning gold (2004) and bronze (2008). They've established themselves as one of the premier international teams, consistently ranking in top five in the world rankings. They've won gold once at the FIBA World Cup (1950) and silver once (2002).
And take note of this: They beat the U.S. in that 2002 World Cup and eliminated them from gold medal contention in 2004 in Athens. By advancing to the semifinals, Argentina will have yet another shot at a medal guaranteed.
Who are their best players?
The Argentines have NBA talent, and some pretty good NBA talent at that. Ginobili is as much of a threat as any player in the tournament. Luis Scola can dominate a game on the block. And while Andres Nocioni and Carlos Delfino aren't household names, they are certainly good players.
Plus, Pablo Prigioni, who has signed to play with the Knicks next season and didn't play in the last game against the United States.
You definitely know some of these players. There's Manu Ginobili, one of the NBA's best players. There's Luis Scola, a top line NBA forward and one of the best international players in the world. There's Andres Nocioni and Carlos Delfino, two NBA level players.
What do the match-ups look like?
Like most any other team, Argentina doesn't hold any obvious advantage over Team USA. Scola presents potential problems on the block with his ability to score.
Like the NBA, there's not really anyone on the U.S. roster that matches up well with Ginobili. His ability to create looks out of nothing and hit tough shots isn't something Team USA can expect to cover.
With Nocioni and Delfino, Argentina has a little perimeter size to possibly defend LeBron, Durant and Melo, but they aren't exactly known defensive stoppers. But they do have some size and length there, at least more than a lot of other teams.
Does Argentina have a chance against the United States?
It's about praying that run never comes. Because to date, when the U.S. has needed it, someone has caught fire to finish off a pesky opponent. Against Argentina in group play, it was Kevin Durant. Agaisnt Australia in the knockout round, it was Kobe Bryant. And with Team USA possessing a number of threats capable of doing it at any time, Argentina has to just weather every storm.
This game likely will be tight heading to the fourth quarter. Where the U.S. is so dominant is with its depth, able to just roll out packed lineup after packed lineup. Argentina can't do that. They have to get near perfect performances from Ginobili and Scola, as well as hot shooting nights from a few other players like Nocioni and Delfino.
If Argentina is within 10 starting the fourth, they're going to have a very real chance. Ginobili is maybe the best crunchtime player in the tournament and he can make enough crazy plays to win it for the Argentines.
Still, the U.S. is a 25.5 point favorite. That doesn't necessarily mean anything though. Remember, they were favored by 35 against Lithuania, and that was a five-point game. Team USA could win by 30, win by five, or even lose by five. All are realistically on the table.
Porzingis is questionable for Carmelo Anthony's return to MSG on Saturday

The Spurs and Rockets will renew their in-state rivalry on Friday night

Anthony will play at Madison Square Garden on Saturday for the first time since being trad...
SportsLine's Mike McClure, a DFS pro with more than $1M in winnings, gives optimal lineup...

The Cavaliers won the much-anticipated matchup, 121-112

Two of the league's most interesting teams will meet on national TV on Friday night