Preview: Team USA continues group play against Tunisia
USA Basketball will take the court for its second game of the 2012 London Olympics against Tunisia.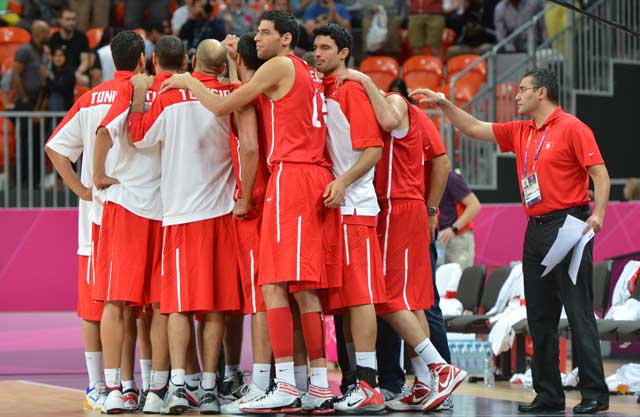 Tunisia is the longest of long shots against the United States in Olympics hoops.
(Getty Images)
The United States opened its defense of its 2008 Olympics Gold Medal by blowing out France on Sunday. Kevin Durant led the way with 22 points.
USA (1-0) continues play in Group A by taking on Tunisia (0-1) on Tuesday at 5:15 p.m. ET. 
How did they get here?
Tunisia is making its first appearance in the Olympics in 2012 after nearly a half-century of participation in the African Championship. Tunisia won the 2011 African Championship, defeating Angola, to earn its berth. Tunisia lost its opener to Nigeria 60-56.
Do they have a history of winning?
Not at all, although things have been looking up a bit lately. Tunisia took third in the 2009 African Championship and, as mentioned, won the 2011 African Championship. The 2009 bronze qualified Tunisia for its first World Championships, where they went 0-5. Tunisia is currently ranked No. 32 in FIBA's world basketball rankings, behind the likes of Panama, Uruguay, Jordan, Israel, Mexico and South Korea. Nevertheless, they are one of 12 teams vying for the 2012 Olympics gold medal.
Who are their best players?
Short answer: Tunisia does not feature a single NBA player on its roster. Still interested?
Tunisia's captain, 6-foot-7 wing Amine Rzig, plays professionally in Egypt and led his team in scoring against Nigeria with 18 points on 7-for-9 shooting in 24 minutes. 31-year-old point guard Marouan Kechrid, who plays professionally in Morocco, played all 40 minutes against Nigeria, scoring 12 points and dishing three assists on 4-for-11 shooting. Macram Ben Romdhane, a 6-foot-9 power forward, added 12 points and 12 rebounds in 33 minutes against Nigeria.
Aside from that trio, the rest of Tunisia's roster combined for 14 points on 6-for-33 shooting. Whoops. 
On the plus side, Tunisia did keep that game with Nigeria, whose roster includes Al-Farouq Aminu and Ike Diogu, pretty close.
What do the match-ups look like?
An unfair fight.
The United States starts arguably the four best players in basketball (LeBron James, Kevin Durant, Kobe Bryant and Chris Paul) plus the reigning Defensive Player of the Year (Tyson Chandler) while Tunisia will go with a squad that lacks any players currently playing in big-time European leagues. This is a hardwood version of David vs. Goliath, no question about it. It's not only possible that the United States' reserves could beat Tunisia, it's likely that a U-23 USA team could beat this Tunisia team and it's not even out of the question that a U-20 USA team could beat this squad.
This game could be a 40-minute long highlight reel, should coach Mike Krzyzewski allow it. A massive margin of victory for the Americans is not in question. 
Does Tunisia have a chance against the United States?
No.
For perspective, the oddsmakers set Tunisia as 1,000/1 odds to win gold, making them the longest shot in the entire field. For comparison's sake, Nigeria was the next closest at 500/1. The United States, meanwhile, entered as overwhelming 1/8 favorites. The two teams could play 10 times, or 100 times, or 1,000 times, or 8,000 times, and you would still take the USA to sweep as opposed to picking the unlikely upset.
A fairer question for Tunisia is whether they will be able to avoid going 0-for-5 in Group A before their inaugural Olympics is complete. Nigeria was certainly their best shot at a victory and losses to the United States, France and Argentina seem virtually certain. That leaves Lithuania, who got smoked by Argentina 102-79 on Sunday. Of course, Lithuania is currently ranked No. 5 in the world by FIBA, so the Tunisians are probably going home empty-handed. They won't likely mind too much; this is a group, considering their history, that is likely just happy to be here.
Gilbert said what was expected, but didn't necessarily sound all that confident

Altman addressed the media about Irving during his introductory news conference

Toronto's center has an uncertain future; can we still talk about this 25-year-old's poten...
Oakley was vague with his response on when he'd attend another Knicks home game

The NBA commissioner said expansion is 'inevitable,' but not a priority right now

The NBA social media world was buzzing after a leak of what looks like the Cavs' new jersey...