Preview: Team USA takes on France to kick off the 2012 Olympics
Enough of those meaningless exhibition runs for the United States. It's time to start the real deal. And it kicks off at 9:30 a.m. ET with Team USA taking on a very capable French squad.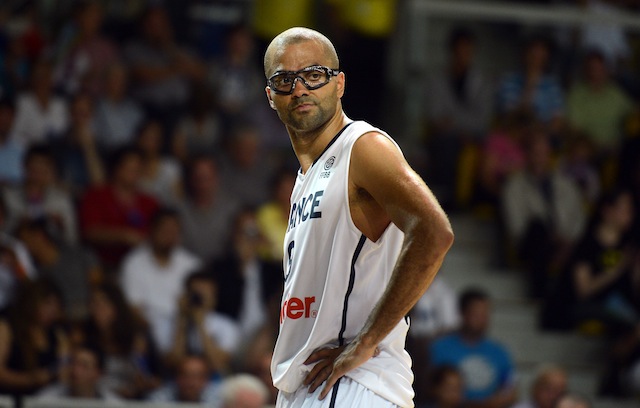 Tony Parker

and his glasses lead France into an opening matchup against Team USA.
(Getty Images)
Enough of those meaningless exhibition runs for the United States. It's time to start the real deal. And it kicks off at 9:30 a.m. ET with Team USA taking on a very capable French squad.
It's one that sports the second-most NBA talent in the Olympics behind Team USA, led by Tony Parker and Nicolas Batum . They aren't an international powerhouse by any means having qualified for only two Olympic games in the past 20 years (including 2012), but it's a country that has produced quality NBA players.
As exhibition games against Brazil and Argentina proved, the U.S. can't expect to walk over any team, but especially one with a player as dangerous as Parker. It will be a quality test out of the gates for Team USA and one in which an early statement could be made.
How did they get here?
The French team qualified for the Olympics by finishing second to Spain in the 2011 European Championships.
Do they have a history of winning?
France did not qualify for the Olympics in 2008, but in their history have medaled twice taking silver in 1948 and 2000. They have had eight Olympics appearances total. France has been extremely up and down in basketball, only going to the Olympics once in the last 20 years before this year.
Who are their best players?
France actually has a soild amount of pro-level talent and a good number of players you've probably heard of. They have the second most NBA players in the entire field behind the United States with six. There's Tony Parker -- who is wearing protective goggles after being hit in the eye with glass during a nightclub incident -- who of course is an NBA All-Star level player. There's Nicolas Batum, who just signed a huge new deal with the Blazers. There's Ronny Turiaf , Boris Diaw and Kevin Seraphin , all quality role players.
And there's Nando De Colo, who recently just signed with the San Antonio Spurs . Plus, don't overlook Mickael Gelabale, a former NBAer as well as Ali Traore and Yakhouba Diawara , solid players.
( Joakim Noah is part of the French national team as well but is out with an ankle injury.)
What do the matchups look like?
While France has some NBA talent, they lack in depth. Parker is really the only French player that could have a case to play for Team USA. France doesn't have a major advantage anywhere like Spain does on the interior. There's no real opportunity for them to create mismatches or anything.
They're a solid perimeter team that will rely heavily on good ball movement and shot making. Batum is a high level wing defender that can check scorers like LeBron James , Carmelo Anthony or Kevin Durant , but the problem is, there's only one Batum for France.
And while Parker obviously can create problems for anyone, the U.S. has Russell Westbrook , Chris Paul and Deron Williams to all use on him as well as versatile defenders like Andre Iguodala or Kobe Bryant as well.
Does France have a chance against the U.S.?
Absolutely a chance. Not a great one, but considering the fact Parker can often become an unstoppable offensive force, France could find a way to score along with Team USA. The problem is stopping the U.S. offensive attack, specifically in transition.
Some have pegged France as a sleeper in the tournament to medal, and with Group A appearing to be pretty open, the French should make a push to the knockout round.
Play this game 10 times and the U.S. probably wins 10 times. Play it 50, and France might find a way to win once. They have a shot, but they will need a near flawless performance and hope the U.S. settles from outside and goes cold.
The inaugural BIG3 season comes to a close Sunday with the championship game

Thomas was traded to Cleveland yet some fans are taking it out on him ... and his jerseys

The Celtics dealt the No. 1 pick to Cleveland as part of the Kyrie Irving-Isaiah Thomas tr...
Thompson was rumored to have been a point of discussion with the Cavs regarding Kyrie Irvi...

What the Celtics and Cavs look like after the Eastern Conference powers swap point men

Simmons was the No. 1 pick in the 2016 NBA Draft but did not play last season