Prokhorov says his five year Nets plan was inspired by Vladimir Lenin
Nets owner credits author of the "Red Terror" with inspiration for his plan to win an NBA championship. Like you do.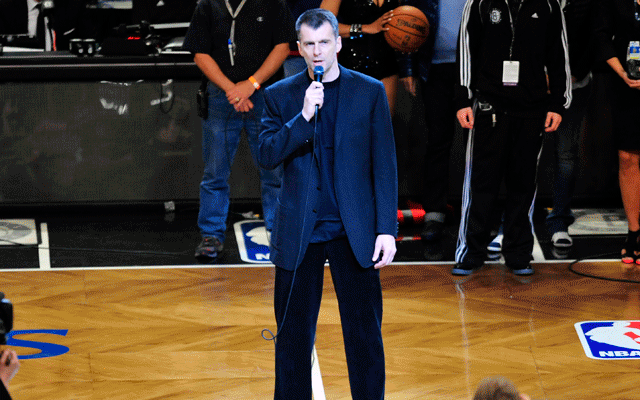 In an interview with NetsDaily.com, Nets owner Mikhail Prokhorov said his response was "hell yes" was when presented with the trade for Kevin Garnett and Paul Pierce, that his response to the question of whether the luxury tax concerns him is "heck no," and that his plan for the Nets was inspired by a former Russian leader... Vladimir Lenin.
SK: Why did you put a five year timetable on it when you first got here?

MP: You know, it was based on the Five Year Plan of Vladimir Lenin. But, it didn't work good in the Soviet economy, and I hope it will work much better here.
via Mikhail Prokhorov talks Nets with Sarah Kustok - NetsDaily.
So, uh... welll... Lenin was known or a great many things. He was a philosopher and political leader. Like anyone, he had a full and richly textured life. He aso signed the assassination orders of a great many people who disagreed with him. From ye old Wikipedia: 
In response to Fanya Kaplan's failed assassination of Lenin on 30 August 1918, and the successful assassination of the Petrograd Cheka chief Moisei Uritsky, Stalin proposed to Lenin "open and systematic mass terror . . . [against] . . . those responsible"; the Bolsheviks instructed Felix Dzerzhinsky to commence a Red Terror, announced in the 1 September 1918 issue of the Krasnaya Gazeta (Red Gazette). To that effect, among other acts, at Moscow, execution lists signed by Lenin authorised the shooting of 25 Tsarist ministers, civil servants, and 765 White Guards in September 1918. In his Diaries in Exile, 1935, Leon Trotsky recollected that Lenin authorised the execution of the Russian Royal Family. However, according to Greg King and Penny Wilson's investigation into the fate of the Romanovs, Trotsky's recollections on this matter, seventeen years after the events described, are unsubstantiated, inaccurate, and contradicted by what Trotsky himself said on other occasions Most historians say there is enough evidence to prove Lenin ordered the killings. According to the late Soviet historian Dmitri Volkogonov:[118]

"Indirect evidence shows that the order to execute the royal family was given verbally by Lenin and Sverdlov. The object of 'exterminating the entire Romanov kin' is confirmed by the almost simultaneous murders of Grand Duchess Yelizaveta Feodorovna, Grand Duke Sergei Mikhailovich, Prince Ivan Konstantinovich, Prince Konstantin Konstantinovich, Prince Igor Konstantinovich and Count Vladimir Paley (son of Grand Duke Paul Alexandrovich), all of them in Alapaevsk, a hundred miles from Yekaterinburg."

Professor Christopher Read states that though terror was employed at the height of the Civil War fighting, "from 1920 onwards the resort to terror was much reduced and disappeared from Lenin's mainstream discourses and practices". However, after a clerical insurrection in the town of Shuia, in a 19 March 1922 letter to Vyacheslav Molotov and the Politburo, Lenin delineated action against defiers of the decreed Bolshevik removal of Orthodox Church valuables: "We must... put down all resistance with such brutality that they will not forget it for several decades... The greater the number of representatives of the reactionary clergy and reactionary bourgeoisie we succeed in executing... the better." As a result of this letter, historian Orlando Figes estimates that perhaps 8,000 priests and laymen were executed. And the crushing of the revolts in Kronstadt and Tambov in 1921 resulted in tens of thousands of executions. Estimates for the total number of people killed in the Red Terror range from 50,000 to over a million.
via Vladimir Lenin - Wikipedia, the free encyclopedia.
Oh, that Prokhorov, what a kidder!
...Seriously, the dude's like a super villain. 
HT: SBNation
The Warriors are in control, but every team has reason for optimism as the preseason begins...

The Celtics point guard wanted to clarify his stance on whether the Earth is flat

Magic vows not to step in unless the rookie's off-court antics affect his on-court perform...
Russell was awarded the Presidential Medal of Freedom in 2011 by Barack Obama

T.J. Warren gets paid big money by the Suns in a four-year deal

Melo didn't hold back on his feelings about President Donald Trump and urges for help in Puerto...