Prospective Seattle owner reaches arena deal with city council
The Seattle city council has reportedly reached an agreement with prospective NBA owner Chris Hansen on an arena deal that would pave the way for a return of the league to Seattle. But what team is going to move there?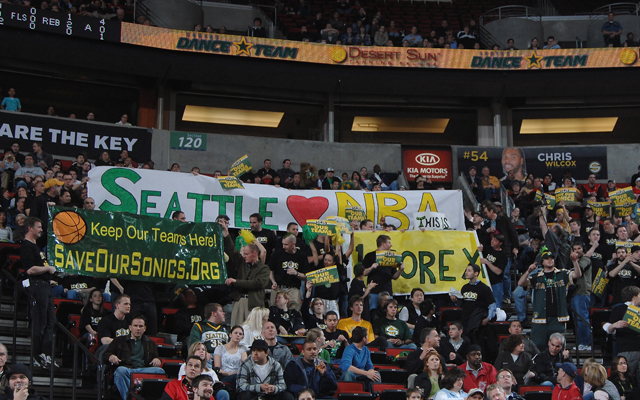 Seattle may have a new team soon.
(Getty Images)
This is not a small step forward. It is a major one. From King5.com in Seattle:


A deal has been reached between the Seattle City Council and the investor group led by Chris Hansen on the financial terms that would put a new sports arena near Safeco Field, multiple sources confirm.

An official announcement by city council members outlining the terms of the agreement is expected Tuesday.

A key multi-million dollar concession by Hansen, which could see his investor group spend more out-of-pocket to build the arena, appears to have brought reluctant councilmembers onboard with the project.
via Hansen, Seattle Council reach deal on financing new sports arena | KING5.com Seattle.
The city council confirmed the deal on Tuesday at a press conference.

The approval comes after the county approved the measure in July. Hansen's big compromise was in putting some of the money into a "transportation fund" and a few other select admissions. The city in return upped its bonded debt investment from $120 million to $140 million. It shows Hansen's commitment to the project. No small part of the deal is Hansen investing $7 million in Key Arena on renovations.

After a passing vote, according to King5.com, Hansen will be in a position to tell the NBA that Seattle is ready to host a franchise. It provides the NBA with a chance to cover for a massive PR hit that did net them an incredibly strong fanbase in Oklahoma City, but also burned a lot of bridges in the basketball-strong Pacific Northwest. A new team in Seattle will make everyone feel better.

Except for whoever they wind up stealing to replace the team they stole.

With the Bobcats an absolute mess of a franchise in an area that has never recovered from the damage former-Hornets owner George Shinn did, Charlotte has to be considered a target should owner Michael Jordan be unable to stabilize the team. The lease with Time Warner Arena is hefty, though, and would present a major roadblock.

Part of the prospective deal for the Grizzlies' new owner Robert Pera is Pera strengthening the lease with FedEx Arena, an already stable lock to keep the franchise in Memphis. If the deal between Pera and owner Michael Heisley falls through, however, anything could potentially happen, should Hansen be willing to fit the bill on whatever arena buyout is necessary.

Then there's the Kings.

Conversations are at an absolute standstill after the Maloofs walked out on what everyone thought was a deal to keep the team in Sacramento. The Maloofs have remained steadfast in not wanting to sell. But if things were to continue at an impasse, it's not inconceivable that the Maloofs would bail out and sell to Hansen, a scorched earth move from the family who is none-too-popular in Northern California at the moment.

Two other targets are the Bucks and Hawks. The Bucks have been losing money for quite a while and owner Herb Kohl is retiring from his political career. They just signed an exension on their deal with Milwaukee, but the lease isn't thought to be as ironclad as some other teams. Kohl's not short on cash, by any means, but eventually a losing proposition is a losing proposition. The effects of the new CBA are a pretty big question mark for teams like Milwaukee, though.

The Hawks' fractured ownership group had a deal for a new owner which fell through last fall. They're in the midst of a rebuilding move.

Anything is going to take time, though, and there's always the possibility of something unexpected happening. Expansion is extremely unlikely, however, given the state of the economy, the problem for the current teams to make money, and the perception that the talent base in the league is stretched too thin as it is.

One thing's for sure. Seattle is back on the NBA landscape, and is now a dorsal fin circling small market teams.
Hansen posted the following statement to the SonicsArena.com website:
As you have all read by now, we have reached an agreement with the City Council on the MOU. As I think you can all appreciate, this was a very difficult process and we really did our best to find a solution that addressed the needs of the City and County as well as the concerns of project opponents, while still making this a workable transaction from our perspective. In this regard, I would like to personally thank all of the City Council members for putting so much effort and thoughtfulness into the MOU and our negotiations over the last month. It really took a lot of effort to get this done and your City Council members and their staff really deserve a lot of credit for making this happen.

As I have said in the past, the democratic process is a unique part of our City's culture and one of the things that makes it great. Thus, even as I feel the initial transaction terms we offered were exceptional and amongst the best ever offered to a city for an Arena, I am truly happy that we were able to find the common ground to reach an agreement that addressed the concerns of both Councils and the various stakeholders in the SoDo neighborhood — that's what getting things done is all about.

But most of all, I would just like to thank all of you for all of your support. All of the emails and letters to council members, the turnout at the City and County Council hearings, the rally at Occidental Park, and the flood of Green and Gold throughout our City for the entire summer... Your voices were heard and your hearts spoke volumes. I really hope you all just appreciate how much it meant and what a difference each and every one of you made. Anyone who thinks Seattle doesn't have great sports fans with incredible passion doesn't know what they are talking about. As one fan told me at Bumbershoot last weekend, "they can tear out my heart bro, but they can never take my Sonic Soul."

And on that note, I would personally like to buy you all a beer at FX McRory's this Thursday from 5-7. First beer for everyone is on me.

— Chris Hansen
Another day, another social media beef for Embiid

We have all the latest scores, highlights and news from Wednesday's NBA games

Thomas spent a day with a 10-year-old girl whose family is also new to Cleveland
Barkley did not hold back with his opinion of the Big Baller Brand patriarch

LaVar Ball also made it clear he thinks his sons are being placed in 'a great situation'

The Thunder are just 12-14 on the season, despite the addition of Paul George and Carmelo...