Q&A: Is Doug McDermott ready for a breakout year under Hoiberg?
Doug McDermott had a rough rookie season, but a strong summer and a coaching change could have him on the right track.
Undeniably, Doug McDermott had kind of a rough rookie year. Drafted into a situation that was already pretty loaded at his position with a coach that had a penchant for not playing rookies, the former Creighton star and NCAA national player of the year had a very tenuous, inconsistent role for the Bulls prior to injuring his knee and falling out of the rotation entirely. He only ended up playing 36 games, averaging three points per game on 40 percent shooting from the field. 
While that maiden voyage didn't exactly go as planned, there's plenty of reason for optimism heading into McDermott's second season. Yeah, the rotation issues might stay the same after the Bulls largely brought back everyone from their team last year. However, McDermott could very much be the beneficiary of the coaching change in Chicago, as Fred Hoiberg -- who, oddly enough, went to the same high school as McDermott in Ames, Iowa back in the early 1990s -- takes over for Tom Thibodeau this season. Not only will Thibodeau's stinginess for young players disappear, but also Hoiberg's screen-heavy, spacing-based offense will be a much better fit for McDermott's skill set. 
This summer, McDermott really showed off that he still has a lot of potental, dropping 19 points per game on 49 percent shooting from the field in the Las Vegas Summer League. I got a chance to ask McDermott a few questions after the Bulls' final game, which he sat out for what he termed as standard "maintenance" reasons.
CBSSports.com: You're coming off of a rookie year where you didn't really get to play a lot. What do you think your role will look like next year given that the Bulls didn't really lose anyone?
McDermott: You know, you learn from those guys. A lot of veterans still. But I think I fit in with Coach Hoiberg's system pretty well, so I think it'll be a great experience getting to learn from someone like him. 
CBSSports.com: That's actually another thing I wanted to ask you about. Coach Hoiberg actually went to your high school if I remember correctly. That's kind of a weird and awesome coincidence for you, no?
McDermott: Yeah, it's awesome. It's great having a coach you can relate to, but even more having a guy that grew up in the same town as you is pretty cool. We didn't know each other a whole lot when I was growing up, but just having his presence around is pretty cool.
CBSSports.com: Did you have any experience at all with him beforehand? 
McDermott: I actually saw him at a couple of weddings, just with people that we knew mutually so we actually got to know each other a little bit there. So it was good to really get to know him a little beforehand.
CBSSports.com: What's the biggest thing you learned from your rookie year this year?
McDermott: Just patience. You know, you gotta wait your turn, especially on a good team. It's all about getting better every single day. You can't really worry. It's a marathon, not a sprint. You just have to put in your work and good things will happen. 
CBSSports.com: One thing I noticed here in summer league is that you were playing a bit more of the 4. Do you think that's going to be something you do more of throughout next season?
McDermott: Yeah, I think it'll kind of depend on matchups and stuff. And having a guy like Niko Mirotic, we can kind of play both the 3 or 4 and kind of run the same spots so being able to play with a guy like him, plus we have a lot of versatility out there so I think it'll be good. 
CBSSports.com: Final question: what's the biggest thing that you're working on this summer to try to improve or add to your game?
McDermott: Just being able to finish better at the rim. You can't really finish through guys at the rim in the NBA, especially a guy like me you have to have floaters and stepbacks and stuff like that. So I'm really trying to develop all of those things.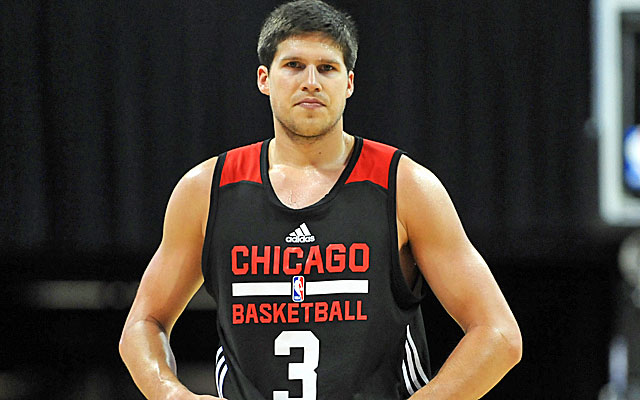 CBS Sports HQ Daily Newsletter
Get the best highlights and stories - yeah, just the good stuff handpicked by our team to start your day.
Please check the opt-in box to acknowledge that you would like to subscribe.
Thanks for signing up!
Keep an eye on your inbox for the latest sports news.
Sorry!
There was an error processing your subscription.
LeBron was on hand to support some of his new teammates in Vegas

Here are the top prizes left in the 2018 NBA offseason

All the info on the top names still on the market this offseason
Rivers lost his title as team president but says "I'm still involved in every decision, so...

NBA players from France show their national pride after the World Cup win

Eight teams remain alive in the NBA's Las Vegas Summer League