Q&A: Jrue Holiday on the Pelicans' learning curve
Pelicans guard sits down with CBSSports.com, says that the Pelicans are finally starting to meld together.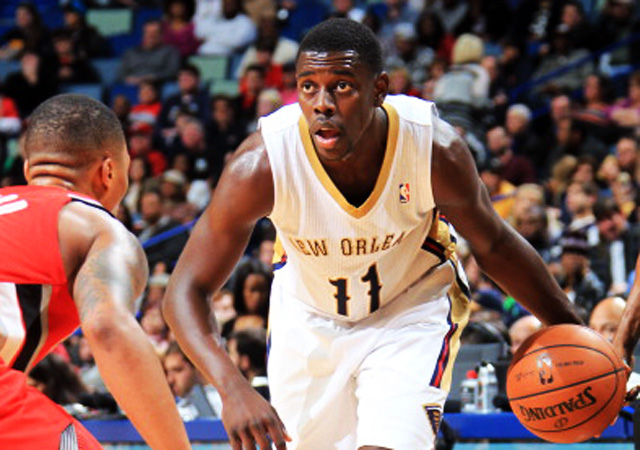 Jrue Holiday has, again, slipped under the radar. While everyone is understandably awed by Anthony Davis and his totally-not-human performance this season, the Pelicans are 7-5 thanks in part not only to the Brow's domination, but Jrue Holiday's performance at both ends. 
Holiday, an All-Star two years ago in Philadelphia, was traded to the Pelicans for two first round draft picks. The first became Nerlens Noel, who is pretty good but is not lifting the traveshamockery that is the Sixers in any tangible way, and the second Dario Saric, who won't be an NBA player for anywhere from eight months, to two years, to never. Either of those players could wind up more valuable than Holiday, but that's not really the point. The point is that Holiday himself is pretty darn good, and it's showing for the up and coming Birds in NOLA. 
Holiday is averaging 15.3 points and 6.8 assists playing next to two ball-dominant guards in Eric Gordon (who was lost indefinitely on Saturday with a torn labrum) and Tyreke Evans. The Pelicans are 12.7 points better with Holiday on the floor vs. off. Only Evans and Davis himself have made more of a plus/minus impact. And though the Pelicans' defense is a work in progress, Holiday's defense is huge part of their potential on that end. 
"I think he's underrated," Nuggets coach Brian Shaw said last week. "You know he was an All-star in Philly, then he was hurt last year and people forgot about him. I think Russell Westbrook, when he wants to defend, and Jrue Holiday are the two best defensive point guards on the ball just in terms of sliding their feet and their activity with their hands. "
"It starts with Jrue. The head of snake starts with him," coach Monty Williams said.
Holiday missed most of last season with an injury, just as he was starting to develop some chemistry with a Pelicans team that would wind up as arguably the most injury struck of any team last year. Williams has called Holiday a "free spirit," but there's a quiet relentlessness to Holiday's game that has inspired his former teammate Andre Iguodala to term him the best end-to-end on-ball defender in the game. 
CBSSports.com sat down with Holiday this week to talk about where the team is headed, about what he learned last year while dealing with his stress fracture injury, and what the Pelicans hope to be this season. 
Q: Is the chemistry getting there, finally, after not being able to play with each other for a year? Are you starting to finally feel comfortable together? 
Jrue Holiday: For sure. I think we're a lot more comfortable with each other. Now that we're healthy it's easier to be more cohesive as a team. I think we're starting to feel like we're playing together. We're all starting to get the game plan, to get the team basics and what the coaches want for us, and what we want for ourselves.
Q: What have been the learning moments for you guys this season? 
JH: I think the loss against Portland was big.  (The Pelicans blew a 16-point-lead in Portland, outscored 34-13 in the 4th). We learned a lot. Coming back that next game and winning (in Sacramento), that was big, especially executing down the stretch. That was big for us.
Q: What about that Portland loss stuck with you?
JH: We've got to execute, we had them up the whole game. There was one point where the momentum kind of swung and we couldn't get it back. We got sporadic, we can't do that, to get where we want to go. Obviously we have to go through that and learn that, but I know that was a big game for us. Because many of us haven't won in Portland.
Q: What was the hardest part of the injury process going on for so long?
JH: Not being able to play. I'm able to walk and do certain things, but couldn't get out there, run jump explosively. It was during the season, so I'm watching my teammates, and in close games or where we're struggling, that was really hard. But I learned a lot. I learned how much heart this team has, how hard we play, which is big, and how every single person wants to win.
Q: With the attention Anthony (Davis) is garnering defensively now, is it getting harder to get him the ball? 
JH: I think AD's going to take care of himself. He's the kind of player who sees double teams, he sees three guys on him and he makes a play. He actually makes it easier for us. Me, Tyreke and Eric on the perimeter we can all knock down that shot, or Ryan or Omer under the basket. But you're seeing him score over two, three guys. I think we're doing a better job of playing off Anthony, and seeing at how he attracts multiple guys.
Q: How do you prep for an opponent defensively? Do you do a lot of research or at this point have you played enough to where you just kind of know guys? 
JH: I think you know guys. Coaches give you stats where they get most of their shots, where they like it and things like that. You can't stop the top players but you can slow them down. I think it's a team thing. I think that's one of the biggest things where our team defense is getting really good, where we're not giving up as many threes in the corner, and really loading in the paint, where if you have someone like Carmelo or Ty Lawson or whoever, they see more than one guy. And the way we're rotating right now, it's fun. It's fun to play defense.
Q: What's the bggest thing that the improved communication on that end has done for you? 
JH: We just don't leave one person on an island. That's huge in this league. You can get torched for 40 on any night.
Q: Is this an offensive team or a defensive team? 
JH: I mean, we have a good balance, but obviously we have guys on this team that can score. I can put 'em up a little bit. We have guys on this team who can put up some big numbers, but every team in the league has guys like that. I think we're starting to become a much better defensive team which hopefully separates us.
Q: How much time do you spend figuring out where guys want and need the ball when you're throwing the pass? What's the process like for that?
JH: I think that's something that I figured out last year. I know how me and Ryan had season ending injuries, we had to figure that out again. I had to figure out where Ryan pops and where he likes the ball, but it's mostly instinctual. Playing with Tyreke and Eric, they make it clear where they want the ball.
Q: Are you guys finally starting to see what you're capable of, with the wins that are starting to come?
JH: We don't take it for granted, whatever the opponent's record is or ours is. We try and come out and execute and do our thing. 
CBS Sports HQ Daily Newsletter
Get the best highlights and stories - yeah, just the good stuff handpicked by our team to start your day.
Please check the opt-in box to acknowledge that you would like to subscribe.
Thanks for signing up!
Keep an eye on your inbox for the latest sports news.
Sorry!
There was an error processing your subscription.
Tensions ran high in the third quarter of Game 4

The Nets veteran forward made sure to back up some of his recent trash talking in the first...

The Thunder can even up the series with a win on Sunday
The NBA has a four-game playoff schedule on Saturday

The No. 2 seed Raptors can go up 3-1 on the Magic with a win on Sunday

SportsLine's advanced computer model simulated Saturday's Spurs vs. Nuggets game 10,000 ti...