Q&A: Trey Burke on floaters, Twitter and visualizing a win
Utah Jazz point guard talks about adjusting to life in the NBA and how his game is evolving at the NBA level.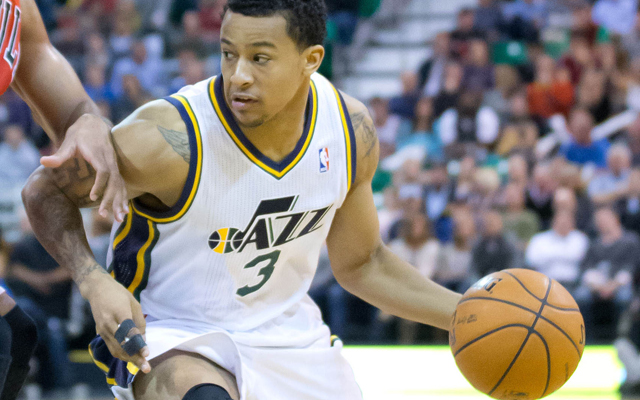 Utah Jazz point guard Trey Burke has had to be patient. Drafted ninth overall by the Wolves, he had to wait to find out where he was headed as he was traded to Utah. Then the 21-year-old suffered a broken finger in preseason that kept him out the first month of the season, ruining the start of what many expected to be a Rookie of the Year campaign. Now Burke is finding his way through the NBA season, learning to be the focal point of a rebuilding team, and learning an NBA offense.
Yet the youngster already is impressing fans and analysts. Averaging 16 points and five assists, Burke has had a remarkable impact on turning the Jazz around. In a win over Orlando on Wednesday, Burke had his best game yet, dropping 30 points, seven rebounds, and eight assists on fellow rookie Victor Oladipo. So who is the kid out of Michigan? CBSSports.com sat down with Utah's point guard of the future to find out what the toughest adjustment is, about visualizing your success, and whether his mom keeps his Twitter account in line.
CBS: So your mom is on Twitter, right?
Burke: Yeah I think so, she's a young mom and she likes to stay up with the trends. She's just enjoying herself. This is has always been one of her dreams, for me to make it to the NBA, so now that I'm here, I don't get on her about having a Twitter account. She's not on there tweeting anything crazy. She's just being more supportive.
CBS: Does that help keep you in line on there, knowing your mom is reading your tweets? I'm always worried my mom's going to yell at me for something I say on Twitter.
Burke: Absolutely and that's what it's all about. She keeps me in line, making sure I don't say nothing crazy in there so the NBA can't fine me.
CBS: What's been most surprising about the NBA life on a day-to-day basis?
Burke: Really it's the free time. It's so night and day from college. In college, everything's structured. In the NBA it's like you have a lot of free time and you have to use it wisely. A lot of the time you're in a hotel room all day. And rest is really the most important thing. Then, just trying to enjoy yourself and have fun.
CBS: Who's been a veteran that's taken a role in helping you adjust to the NBA?
Burke: John Lucas and Richard Jefferson. Those two guys are definitely helping me out. They've got a lot of experience in this league and John has a lot of experience in this league and overseas so it's not just on-cour stuff but it's off-court stuff. Making sure you don't make the wrong decisions and make the right decisions to build your brand. They've done a tremendous job helping me out.
CBS: You've said before how much you admired Allen Iverson. Is there a move you tried to emulate of his?
Burke: There's a couple of them. I'm not really trying them right now. I'm new to the NBA so I'm still trying to get comfortable. My whole game hasn't come out yet because I'm still trying to learn the offense. Just from watching him a lot, his hesitation, the change of speed, the crossover, using angle to get to certain spots on the floor to create shots, all of that helps because he was such a dynamic scorer at such a small size. It's helped me all the way to this point.
CBS: I know you and Jared Sullinger have been close since you were kids. Has he told you anything specific about how to prepare yourself for life out there every day in the league?
Burke: Jared always talks to me. He tells me a lot. We're talking all day. The main thing is not getting too down on yourself. He said you're going to have some off nights, you're going to have some high nights. Stay right there in the middle. Stay level-headed. Make sure you're getting better. Make sure you're putting the work in before and after practice. That's how the great players in this league succeed.
CBS: My full name is Matthew but the only people allowed to call me that are my wife and my mother. Do you take any grief from people about your real name, "Alfonso?"
Burke: I don't really take it personal when I hear it. A lot of people don't know; more people know now than they did, but I don't really take it personal. Teammates do it, some of the coaches. It's my real name but I've gone by Trey my whole life.
CBS: You've got a tattoo of minor-league MLB team the Columbus Clippers. What inspired that choice? (Burke is from Columbus, Ohio)
Burke: I just felt like it was something that represented where I was from. The symbol was definitely a representation of Columbus, Ohio. We don't have any pro sports team, and a lot of people don't know what the symbol means unless you're actually from there. It's just a way of me representing where I'm from; I never forget where I came from.
CBS: Ohio seems to be making more and more of a name for itself as an NBA pipeline lately.
Burke: Definitely. Ohio's known as a foootball state but there's a lot of up and coming young guys who have a chance to make it in this league and a lot of guys already in this league from Ohio. It's on its way up.
CBS: You said in an interview that the big adjustment to college is that you can't take a single possession off defensively. How's that adjustment in the NBA?
Burke: It's another level. I think college prepared me at a really high level. High school you can take some plays off on the defensive end. Not on purpose, but if your man gets tired, you can rest a little bit. But once you get to college and especially in the NBA, you can't do that. Even if my man gives the ball up, I'm on help side, helping my team out. I'm talking. Communication is really big in this league. There's a lot of areas in this league I'm getting better at. I'm excited to improve.
CBS: I've been really impressed with your pick and roll work early on. (Burke is sporting a .901 PPP in the 59th percentile in the pick and roll early on according to Synergy Sports.) What prepared you for those sets right out of the gate like that?
Burke: I just think preparing for it at the college level. We ran a lot of pick and roll at the college level, a lot of pro offensive sets. I think that prepared me. And I have great teammates around me as well. I've got guys who can put the ball on the rim and guys who can shoot it. Guys like Derrick (Favors) and Enes (Kanter), those are year-in-year-out big men that can score the ball. My job is just to make the right play, read the defense, shoot if it's there and make plays for my team.
CBS: You've got this kind of odd one-handed floater I've seen you use. Have you always had that or did you have to develop it?
Burke:Just working on it. I think it came naturally. I've always had a floater. When I was younger, that was a shot that I shot all the time, so it kind of developed naturally. And then watching the other good point guards in this league, you see them use it and be successful at it. Being a small guard in this league, you have to find ways to get your shot up in the trees. It's something I look for.
CBS: You said in an interview that the night before a game you would practice visualization techniques.
Burke:I still do that.
CBS: What kind of things are you trying to visualize when you do that?
Burke: It's everywhere. It's my imagination, really. Trying to visualize success on the court. Offensive end, defensive end. I definitely think it works because it's like you see the game before it happens. I read a lot of books and saw great NFL and basketball players do it and have success. I've gotten away from it a little bit, but I still plan on going back to it once I get more comfortable.
CBS: You read a lot on other professional athletes?
Burke: I really haven't had a lot of time traveling, but in the offseason I try to read a lot of books about how other athletes have been successful. I like to read about how they prepare themselves mentally. I think that's the biggest part of the game. Yeah, it's physical, but you have to be mentally prepared for each and every one of these contests.
CBS: OK, last question. What's the one video game you feel like you could never get sick of?
Burke: Call of Duty: Call of Duty: Ghost. As well as 2k. I'm a gamer, so I play 2k, Call of Duty, and Madden. I think I can play those games every day. It's in my hotel room right now and it takes up time when I'm not really doing anything.
Another day, another social media beef for Embiid

We have all the latest scores, highlights and news from Wednesday's NBA games

Thomas spent a day with a 10-year-old girl whose family is also new to Cleveland
Barkley did not hold back with his opinion of the Big Baller Brand patriarch

LaVar Ball also made it clear he thinks his sons are being placed in 'a great situation'

The Thunder are just 12-14 on the season, despite the addition of Paul George and Carmelo...