Q&A: Victor Oladipo on leadership, losing and being sick of 2nd place
Magic guard Victor Oladipo spoke to CBSSports.com about his rookie season and more in a Q&A.
• 9 min read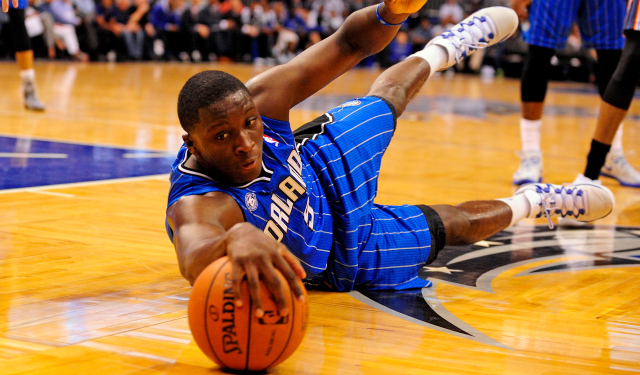 Victor Oladipo won't forget his freshman year. Indiana went 12-20 overall, 3-15 in the Big Ten. Unheralded, Oladipo mostly came off the bench, averaging seven points in 18 minutes per game. Unsatisfied, he stayed on campus for the summer, mostly in the gym, and improved like crazy. Expectations are different now that he's a No. 2 pick. His mentality isn't. 
At the end of his rookie season with the Orlando Magic, he was told to come back a leader. Hoosiers coach Tom Crean reminded him that he can't forget what got him there or let anyone outwork him. The Magic, who finished 23-59 last season, then cut ties with veteran guards Arron Afflalo and Jameer Nelson. The pressure is only piling up.
Spending time in Bloomington and training with the USA Basketball select team, Oladipo has been pushing himself. Now in Orlando, he spoke with us in between making superhero capes and delivering them to children with cancer in a collaboration with Allstate and Kids Beating Cancer. The following is a condensed transcript of the conversation.
Jameer is gone. Arron's gone. What does this mean for you?
Those are two big players for us that we lost. Two of our top leading scorers. So it definitely means I'm going to have to step up my game and lead the team. It definitely means I'm going to have to take on a leadership role and just try to help my team win, be a huge impact on winning. It's going to be a tough situation to be in, but at the end of the day I wouldn't rather be in any other position. I'm looking forward to every day I'm competing with my teammates and giving us an opportunity to win.
What makes a good leader?
I think what makes a good leader is the ability to not only lead but listen. Listen to what everybody else has to say, their opinions, and then giving yours and coming up with a solution. That's the biggest thing about being a leader, and those are the things I'm trying to acquire and learn.
Do you feel like you're the face of the team now?
I don't know. I mean, feel like I'm a part of a team. I feel like I'm a part of something bigger than myself … but yes, I do feel like I play a huge significance and then as a leader I have to take that role on. 
What was the best moment on the select team? 
I think the best moment was just going out there and putting on the jersey. Wearing those three letters across your chest and representing your country. Being able to do that was a blessing and an honor. Going out there and competing against the best in the world, the best in our league, is definitely an honor, too. It was great for me. Great exposure and a great experience as well.
Derrick Rose said in Vegas he thinks you're a great player, he's a fan of your game, he's there for you if you need anything. 
Shoot, it's really cool to even know that he was watching me and he watches my game 'cause I've definitely been watching him ever since I was in college and even younger than that. I'm looking forward to seeing what he does next year. I know he's going to come back stronger and better because I saw flashes of that in USA Basketball.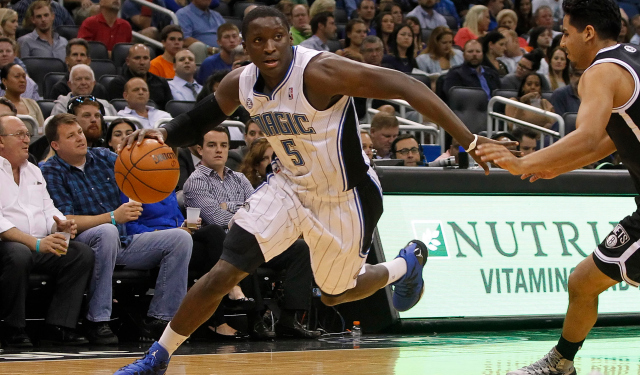 You were drafted second, you finished second in Rookie of the Year. Are you sick of second place yet?
Man, I'm so sick of it. But at the end of the day, it just makes me work even harder. I'm just going to keep working hard. That No. 2, that second place doesn't last very long.
Jabari Parker said a couple of weeks ago, "There's been a lot of second pick busts. I'm just trying not to be that bust." You relate?
Man, there's no question [laughs]. Man, there's been a lot of second pick busts. And there's no question I'm not trying to be one of them, and I know he has the same mentality, too. He's a great player and he's gonna have a great career. With me, man, I'm just getting better, man. I'm not paying no attention to being a bust 'cause I don't plan on being one. I'm just going to continue to keep getting better and keep attacking this game 'cause like I said before in my rookie year, I'm just trying to be one of the greatest to ever play.
What comes to mind when I say the names Aaron Gordon and Elfrid Payton?
Two players that we're definitely going to need this year. They're going to have to come in and play a big role for us and they're really good players, man. They defend at a high level and they're talented. Their ceiling is out of this world, so I'm looking forward to playing with them and growing with them as well. It's going to be fun.
Do you get extra pumped when you see your team drafting defensive guys?
Yeah. I mean, that's all I've been about when I was younger. That's all I'm about now. I feel like if you play defense, get enough defense, it creates for your offense. I think the biggest thing is about slowing people down in the league. If you have to defenders who can do that, it's big for your team. So I'm excited. 
What was it like to spend time in Bloomington with Cody Zeller, Dwyane Wade and like half of the Miami Heat?
It was huge. It was a great experience for me and definitely me and Cody. Us young players, first-year players, being able to experience that and just experience those guys. They're NBA champions. Numerous rings, too. More than one.
Wade knows that you've been compared to him all the time, right?
Yeah. Oh yeah. He does.
Does he talk trash, give you advice?
He gives me a little bit of advice and everything like that. He definitely does help me. He's always been helping me, ever since I was in college. And he didn't have to, so I've always appreciated that and looked up to him because of that. He's family, basically. It's pretty cool that he's always been helpful even when I was younger, to now. He's just so knowledgeable. He knows so much about the game. It's kind of hard not to listen to him when he speaks.
Do you remember what it was like when you first started talking to him?
I don't even know how to explain it. Growing up watching him, him being one of the greatest to ever play, one of the best in our league, it's just crazy. To be able to have that opportunity to talk to him at such a young age and befriend him at such a young age … it definitely motivated me to work even harder.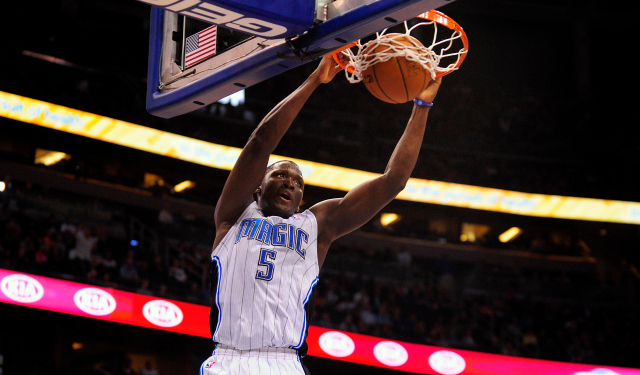 Guys always say the season's about staying even-keeled. Is that easier said than done?
It is one of the toughest things, actually, to be able to do that. Especially when you're losing games, man, it's tough. You're losing close games and not-so-close games. It's tough, you're going out and you're playing as hard as you can and you know you're still going to come up short. It's a tough feeling and a tough thing to handle. At the end of the day, you do have to keep an even keel throughout the whole thing 'cause if you get too high or you get too low, you could eventually break down. 
Do you ever stop and go, "Wow, this is amazing?"
Yeah, definitely. Pretty much every day of my life. I've been playing basketball since I was five years old. It's a crazy experience for me to be known as just an NBA player. But it's not even satisfying, I feel like I want so much more from this game. I feel like I haven't even scratched the surface of how good I can be, so I'm just going to continue to keep working until I reach my goal. Goals. 
What is the best moment of last year? What was the worst loss?
I think the best moment was probably my first game ever. Actually, it was at Indiana and all the Indiana people were there — I went to school there. I got a standing ovation when I checked in the game. It was my first ever game in the NBA and it was a crazy experience, one I'll never forget.
All the losses were the worst losses. They're all tough. All of them were the worst. Every loss feels the same. No matter if you lose by two or 20, they're all terrible. 
You've been decorating superhero capes, right? How's the morning been?
I'm at the Allstate Tom Joyner Family Reunion, and we have been giving it up for good [note: that's the slogan]. I think that's the main thing for today. That's pretty much what I'm all about is giving back to the community and giving it up for the kids. And we've been building capes, like you said, and giving it back to the kids at the children's hospital who have cancer so they feel like a superhero for a day.
How does your day progress from here?
I'm about to go to the hospital right now and hang out with the kids with cancer and just go have a good time … and give 'em the capes and interact with them. I think that's the biggest thing, to just interact with 'em and give 'em something that they'll never forget. Being able to put a smile on a kid's face, even for a day, it goes a long way.
Fergie: 'I'm a risk taker artistically, but clearly this rendition didn't strike the intended...

Victor Oladipo had a successful R&B album over the offseason and Jamie Foxx is a fan

Klay Thompson makes sure he stands out during All-Star Weekend
There's no shortage of moments to choose from

The Trail Blazers almost traded for Charles Barkley, but when they didn't, it put them in debt...

The self-proclaimed ASG snub Williams may be bitter about Butler requesting to sit out Sun...