Quarterly Report: Eastern Conference and the season of woe
Analyzing the awful Eastern Conference after the first quarter of the season.
by

Eye on Basketball staff

• 7 min read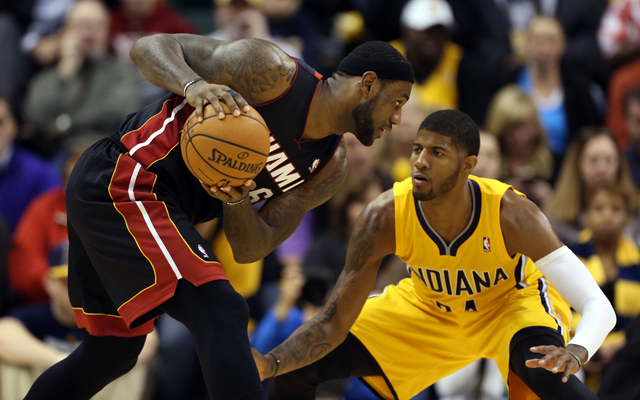 With over a quarter of the season gone, we thought we'd take stock of where the 30 teams are at this point. The Eastern Conference features two teams over. 500. Buckle up, kids. This won't be pretty.
Central Division by Matt Moore
Milwaukee Bucks: F-
There are like seven teams that are trying to tank, this one is trying not to and yet here they are. The offense is incomplete and inefficient, the best young player is out with a hurt hand sustained in a bar fight, the defense is a mess and their roster has no direction or purpose. When the fans launch a petition teling you that it's OK to lose, you have hit rock bottom.
We thought the problem with this team would be injuries, if anything. Instead, they just havnen't worked. Kyrie Irving has been uncharacteristically bad, the team has had internal strife, and nothing has come together for them. They've shown some signs of life recently, but overall they've been a mess. Not exactly the kind of team that's raising LeBron's eyebrows.
I mean, the Rose injury is the story, and there's really nothing more to be said about it. It is what it is, so to speak. What will be forgotten is that the Bulls were not very good before the injury. The offense is just such a mess. Yeah, Thibodeau has built another tremendous defense, but the offense has been far too much of a mess. It's such a waste, though. They had enough to evolve towards where they wanted to go. Instead the rest of their year is just going through the motions.
Detroit Pistons: D+
Detroit's about what you'd expect. They're largely inefficient and don't have a strong defensive scheme in place, yet. I will say their passing is better than expected. But they need to quit doing things which hurt their cause, like giving the ball to Josh Smith, ever.
Indiana Pacers: A+
They are more monsters than men. They have conquered nearly everything in front of them. They have the fircest defense in the league and their offensive weapons have made a leap. They are the best team in the league so far.
Atlantic Division by Zach Harper: 
Boston Celtics: F+
Where would this team be without Jordan Crawford? This is a legitimate question for a division-leading team a quarter of the way through the season. And that's not some snarky question in which you use your basketball hipster ways to try to pull one over on unsuspecting NBA fans. Where would the Celtics be without Crawford? They'd be so much worse than their 10-14 record. The Celtics will ride Crawford's renaissance until Rajon Rondo returns and then it's game-on for how they'll approach tanking/winning the division. Get excited, Celtics fans!
Brook Lopez has missed seven games. Paul Pierce has missed five games. Deron Williams has missed 11 games. Jason Terry has missed 11 games. Andrei Kirilenko has missed 18 games. Jason Kidd had Tyshawn Taylor hit him so he could spill a drink on the court for an impromptu timeout (it's just nice to see Tyshawn hit something on the court). They demoted lead assistant coach Lawrence Frank to being a reporter (not that kind of reporter). And yet this team is just one game out of the division lead with an 8-14 record. The 2013-14 Atlantic Division: catch the malaria!
There's a time in which you're with some friends in Las Vegas and you're all at the blackjack table. You have the one buddy who is louder than everybody at the table, pretending Red Bull and vodka is still a thing people drink, and just hemorrhaging money into the dealer's tray. He keeps going back to the ATM for more cash, even though he's running low on gambling bartering material. At a certain point, he busts out the credit card at the ATM and you start warning him about the fees that will come with using a credit card that doesn't have a pin. But he doesn't care. He has to make a run to safe face and earn back an amount of money he can't even keep track of anymore. This is essentially the Knicks right now. They could get out of their insane financial commitments in two years, start rebuilding, and change the culture of the organization. Or they could try to trade decent assets (future firsts and Iman Shumpert) in order to acquire a solid starting point guard (Kyle Lowry) and get themselves on track for a first round loss in the playoffs. Just let it go, James Dolan. Let it go.
The Raptors had a shot at being a playoff team and really trying to show the world that they can be successful as they begin to build a program. Instead, they opted to trade Rudy Gay, are apparently looking to deal Kyle Lowry, and could strip the team to start a full rebuild mode under Masai Ujiri. In the meantime, they're 7-13 on the season and could get really bad, really fast. I'm not sure going for the playoffs would have been the right move long-term and we don't know how the rebuild mode will go either. As of right now, they're banking on Amir Johnson and DeMar DeRozan to lead the way.
The 76ers are 7-13, which is far too good for what they were trying to be this season. They're in danger of not even coming close to approaching the worst record in the league since they're a few games ahead of the Utah Jazz and Milwaukee Bucks. This was not Sam Hinkie's plan. Be competitive? Sure. That's fun for the fans and can sell tickets. Finish with anything other than the worst record in the league? That's not how you increase your lottery odds. You had one job, Philly!
Southeast Division by Royce Young:
Orlando Magic: C-
Their plan is pretty outlined and winning in the present isn't part of it. But they also want to develop some of the young talent on their roster and improve steadily as they add to it. Victor Oladipo has shown flashes of brilliance, Nikola Vucevic is continuing to develop and if they intend to keep Arron Afflalo, they've got some really solid wing scoring. At 7-15, they're losing just enough to stay out of the conversation in the dismal East, while still setting a positive tone for their young players to develop under.
They're in the postseason right now, which is what their goal has been. But I don't think that included being 9-11 and only in because of how bad everyone else is around them. The Wizards said it all to me after their win against the Magic that got them to 9-9 with a game against the conference's worst team (the Bucks) coming next. They lost it in overtime, then lost again a couple nights later. Every day things change, but the Wizards are still the Wizards. The talent is there and the team has potential. John Wall's showing flashes, Bradley Beal is dynamite (but hurt) and with Nene and Marcin Gortat they present matchup issues. They just aren't consistently winning games which is that same old Wizard problem.
In some ways, they're the most pleasant surprise of the conference in the way they've developed into a good defensive team. In other ways, they're extremely frustrating because if they could just figure out how to put the ball in the basket, they could be firm playoff team. Al Jefferson was supposed to help that and while he has in some ways (when he plays), the halfcourt is a major issue for the Kitties. When they splurged this summer on Jefferson, it seemed like they were trying to take a step forward from "bad" to "mediocre." They're 10-12 at the quarter mark, which feels pretty mediocre to me, but always a decent step forward for an organization that's only tasted defeat the past few seasons.
Atlanta Hawks: C+
Cover up their record and you might say, "Wow, third in the East!" Well, they're 11-11 and most definitely not anything near a true contender, but they have been somewhat of a pleasant surprise in the East. Jeff Teague continues to progress towards being a franchise point guard, Paul Millsap might've been the best contract signed over the summer and with a healthy roster, they're competitive. And in the East, competitive means top four right now. The Hawks are trying to carve a way out of mediocrity while not completely bottoming out. The vision is there and the team is decent. But what's the next step?
Miami Heat: A-
I think they really deserve some credit for their start. So they're 16-6 and have ceded the regular season East to the Pacers it appears. But any time you're coming off back-to-back champions, especially with the way they won that last one, there's bound to be severe hangover. The Heat are too darn good not to win games, and while they've lacked focus at times, mostly, they've been good. And can you blame them for tuning out a bit sometimes? They ain't 'bout this December stuff anymore. It's about the road to April, May and June for them. This is just filler.
Kobe Bryant had a solid piece of advice for back in 2016 when he left OKC for Golden State

Not many games, but still plenty of action and intrigue Sunday in the Association

An old rivalry is reignited between LeBron James and the Cavaliers and John Wall and the W...
SportsLine's Mike McClure, a DFS pro with more than $1M in winnings, gives optimal lineup...

LeBron had 29 points, 11 rebounds, and 10 assists in the Cavs' 109-100 win over the Jazz

The montage showed Carmelo's best Knicks moments before playing the Thunder game