Questions continue about long minutes for Bulls starters
Joakim Noah and Luol Deng play heavy minutes for the Bulls, regardless of the result. Is this a good approach?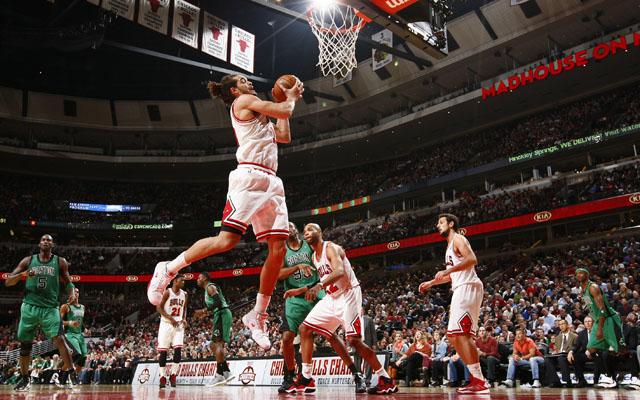 It has become a joke these days. The Chicago Bulls will be up 20 points or more with minutes to go. "Oh, so Joakim Noah and Luol Deng will be playing this one out." 
Tom Thibodeau plays his starters. A lot. Despite a physical brand of defense and multiple injuries, Deng has averaged 39.1 minutes per game this season, Noah 38.4. Yes, Derrick Rose is out. But even in games in which the Bulls are comfortably ahead or too far back to make a difference, they still play those minutes. 
Noah joked about it after Saturday's win over the Nets: 
It's not like the players have an issue or complain. But they are asked and there's usually a grin and a shrug and usually the most forthright response from Noah.

"What do you want me to say? Yeah, I'm tired, pretty tired," Noah offered with a shrug. "Working on his plantar fasciitis every day, massages, lots of treatments, doing everything possible to keep it under control. It's not really right after the game you feel tired. It's the next morning that's the roughest.

"We've got a great coach," Noah said as he began to smile and let out a laugh and you know one of those subtle, understated zingers was coming. "But he doesn't understand the whole rest thing yet I don't think. But it's all good. We all want to win. It's good."
(via Bulls crush Nets as Noah continues dominance | Blogs.Bulls.com)
And Noah has been playing some of the best ball of his career. The players aren't complaining, because they never do. 
This is all fine because they're winning. But this is going to have a cumulative effect on the health of the team. If Rose gets back, does it matter if the team is hammered past the point of oblivion?
We've seen a lot of coaches have success with a high level of demand on players in the short term. But in the long term, it wears on players and causes issues. Thibodeau is arguably the best coach in the league. His schemes are brilliant, and his team plays well every night. But, seriously, there has to be some pull-back on this at some point or it's going to reach a breaking point. 
Stephen Oh has his finger on the pulse of the Rockets and just made a pick for Wednesday night's...

Gasol doesn't seem opposed to the idea of a midseason trade

The Ball brothers better put their heads down and focus on basketball, according to Billy...
Paul George returns to Indiana for the first time since his trade to the Thunder

Also, LeBron James' historic season continues, while Kevin Durant reminds us who he is

The Rockets are looking for 11 in a row