TORONTO — Rudy Gobert likes to get Derrick Favors all riled up. It's not that he is picking on his frontcourt partner: before facing the Toronto Raptors on Wednesday, Gobert — the Utah Jazz's 7-foot-3 center from France — called Favors — their 6-foot-10 power forward from Atlanta — a great teammate with whom he'd developed great chemistry. He believes that, together, they can be "very special." He just prefers Favors when he has an edge. 
"He's a quiet guy," Gobert said. "But I know he's got a lot of pride. And when he gets pissed or angry, he plays differently. He becomes a different player. So I try to make him angry every game."
When the message was relayed to Favors, he agreed: He does play better when he's mad. He disputed, though, that he needs help getting there.
"I'm always angry," Favors said, laughing. "I'm always angry, man. I just know how to play it off. Everybody gets the wrong idea because I try to hide it, I try to walk around smiling. But I'm always angry."
Favors described himself as "an aggressive person," which might surprise you. Even if you watch NBA League Pass every night, there's a decent chance you don't know what his voice sounds like. In six seasons in the league, he has just four technical fouls. 
In December, Favors leaped past Oklahoma City Thunder big man Steven Adams and dunked in swingman Andre Roberson's face, but his facial expression didn't change. Same thing last week when he put both LaMarcus Aldridge and Tim Duncan on a poster. Favors said he has always been this way. 
"His demeanor is kind of quiet," Jazz forward Trey Lyles said, "but he's definitely a guy that can turn it up whenever he feels like it."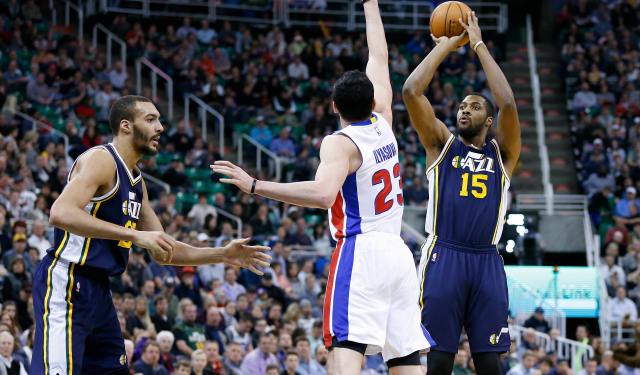 Favors might not make a ton of noise, but he has been steadily improving ever since he joined the Jazz in the franchise-altering Deron Williams deal at the 2011 trade deadline. When informed recently that it was the five-year anniversary, he was taken by surprise, saying it felt like he'd been in Utah "forever," via the Deseret News' Jody Genessy. In that time, he's gone from a promising project to one of the franchise's cornerstones, signing a four-year, $49 million contract extension in 2013 and almost immediately proving he's worth much more than that.
Some of his value is that there simply aren't many players like him. Raptors coach Dwane Casey compared Favors to Jazz Hall of Famer Karl Malone because of his size, touch and rebounding. Favors' game, though, fits somewhere in between Malone's era and the smallball world we live in now. On offense, he sets a ton of screens and loves to finish with power. He has a post game, but Utah's first option is not to dump the ball to him on the block. On defense, he's physical and can protect the rim. Unlike most "traditional" big men, he's more than capable of switching onto smaller players, too.
Utah coach Quin Snyder said people sometimes forget Favors is 24 and still evolving. This year, he's averaging a career-high 16.7 points, 8.6 rebounds, 1.4 blocks and 1.2 steals, shooting 52 percent and showing significant progress as a free-throw shooter and perimeter defender. Favors thinks he has not even come close to reaching his potential. He knows Snyder wants him to judge his performance not by scoring, but by how he impacts the game with defense, screen-setting and using his body.
"I think people really don't know how hard I work, how hard I play," Favors said. "Most of the time they just look at stats or whatever."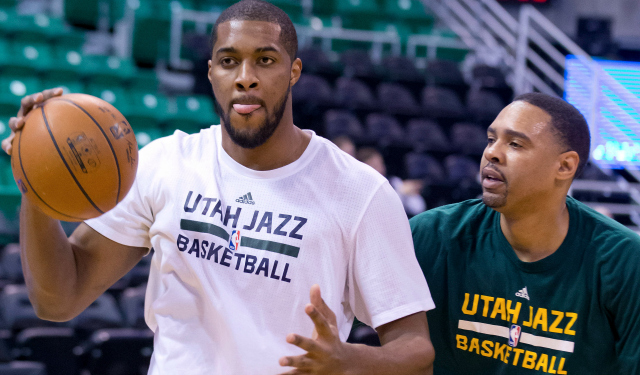 This season has been a new experience for Favors. Unlike the last few years, prognosticators had the Jazz pegged for the playoffs. They had the best defense in the NBA after last year's All-Star break, thanks in large part to Favors and Gobert protecting the paint. With young wings Gordon Hayward, Rodney Hood and Alec Burks improving, too, there were plenty of reasons to expect them to break out.
At 28-32, Utah is ninth in the Western Conference and 1.5 games behind the eighth-place Houston Rockets. Some might consider that a disappointment, even though the team has had horrible luck with injuries. Snyder doesn't want his players looking at the standings yet, but it's clear that it will be a fight to qualify for the postseason. 
"I know a lot of people were expecting certain stuff out of us," Favors said. "But it's a little different. It's something that we as a team have to get used to and be prepared for."
Favors said that, when he came into the league, he was just having fun, and now he is "still having fun, but I'm treating it as a job." It's not just his on-the-court responsibilities that have changed — in August, Favors became a father to twin girls, and he already had two dogs — a pit bull named Gotti and a teacup yorkshire terrier named Roxy — who got him on the cover of Pets in the City magazine.
"Messy," Favors said, describing his house. "Not really messy, just a lot of stuff everywhere, baby stuff everywhere, have the dogs running around. Noisy. But it's all fun."
Favors subscribes to the theory that maturation outside of basketball can carry over. Quietly, he watches film with assistant coach Antonio Lang before practices and games, looking at defensive positioning, footwork and balance. Sometimes he, said, he and Gobert will go out to eat and talk about how they are bringing "that two-frontline-player thing" back. Snyder said his biggest improvements have come from understanding the mental part of the game, and that's still the area where he can make the most strides.
Gobert declined to get specific about what he does to make Favors angry. He did not hesitate, however, when asked if people understood just how much talent Favors has. "No, no," Gobert said, and that sentiment is a common one. Lyles, a rookie, didn't know until he saw it up close. 
"When he wants to go out and do something, when he's being aggressive, he can do pretty much anything," Lyles said. "If he wants to dunk on you, he'll dunk on you. If he wants to shoot a jumper, he'll make it. Anything, when he's being aggressive, he can pretty much do."