Quote Translator: Carmelo Anthony 'embarrassed' after Knicks blowout
The Knicks were obliterated by the Spurs Sunday and Carmelo Anthony says everyone needs to be patient with them.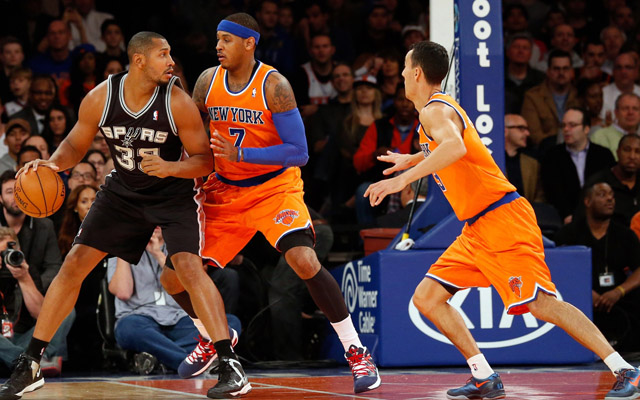 The Knicks were destroyed Sunday in Madison Square Garden. The San Antonio Spurs walked into the Garden and burned the court down. It was an epic failure. Here, let me show you. I started just looking at things in the first few minutes of the third quarter.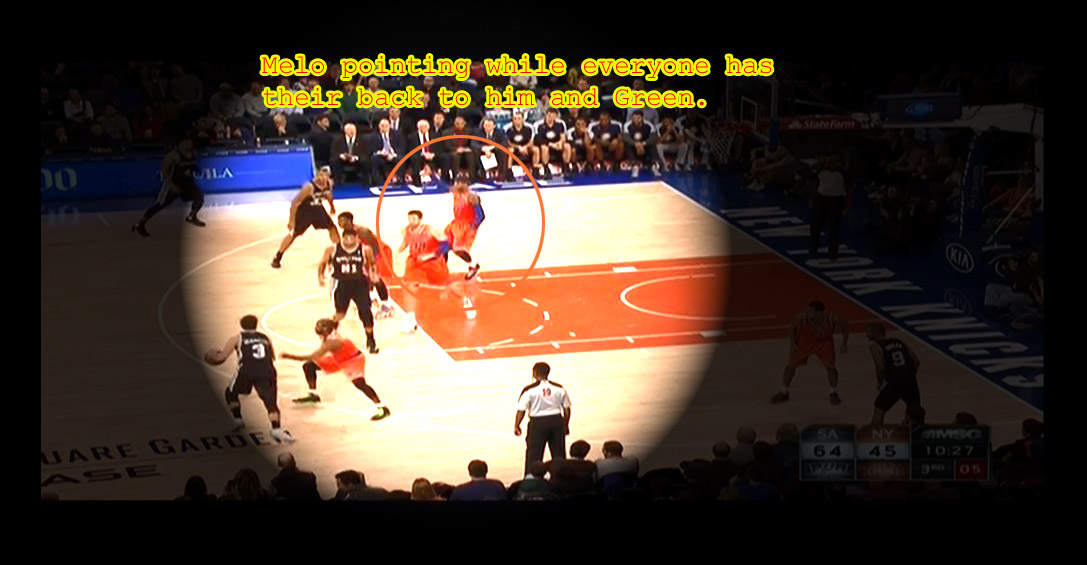 That's Carmelo Anthony pointing to Danny Green looping behind Boris Diaw for what will be an open three. Melo is the only player to see it, yet if he calls it out, no one responds. He can't really do anything here, because Andrea Bargnani is trying to stay with Tim Duncan on the pick and pop, Iman Shumpert is trying to jump the screen, and if Melo jumps out to get Green, Boris Diaw is rolling right to the rim. Shumpert's freewheeling a little much here, but in general, they're already screwed.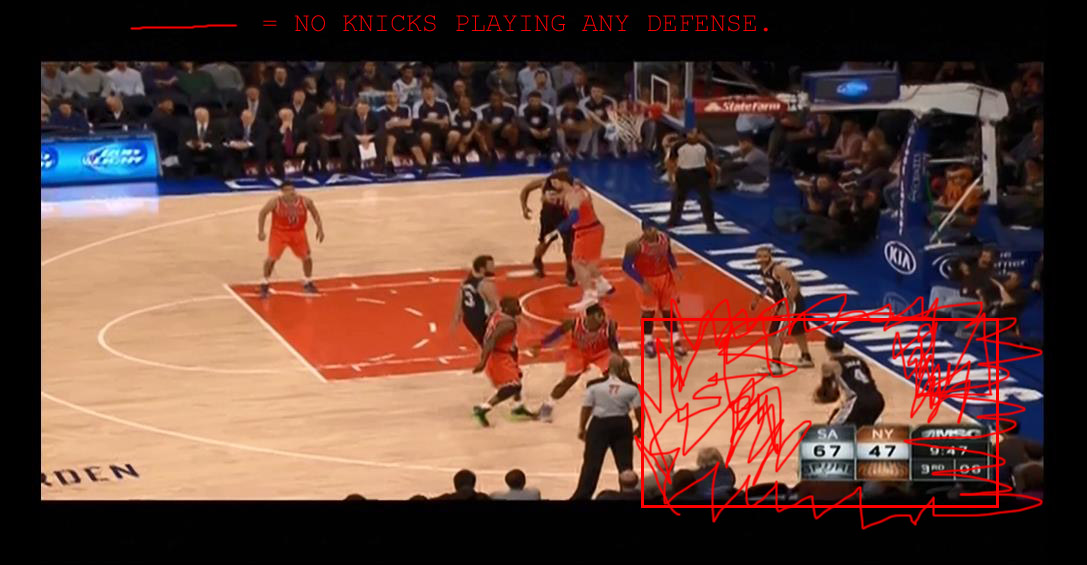 This one's pretty self-explanatory. Marco Belinelli gets the edge and drives, and for some reason, Shumpert helps over instead of trusting his weakside defense. (Not a lot of confidence in Andrea Bargnani weakide, apparently.) And that means Danny Green, you know Danny Green, Mr. "Nearly Finals MVP"? Yeah, he's wide open, in the corner, for the most efficient shot in basketball. 
And then there's this, presented without comment: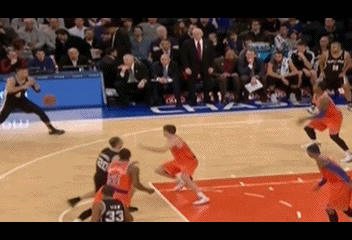 So, yeah, things were rough. After the game, Carmelo Anthony talked to reporters. Melo can opt out of his contract at the end of this season, and early on, he's not real happy with how things are going, though he's trying to stay strong. 
It's time for another edition of Quote Translator, where we give you what they said... and what they meant. (Note: Not actually what they meant, more jokes for your own amusement. But still!) Quotes courtesy of the New York Daily News and ESPN New York.
What he said: "It was embarrassing. It wasn't about losing a game. It was just how we lost the game. We didn't compete today and it showed out there on the court."
What he meant:  "There was also about a 500 points of basketball IQ differential between every player and their defensive assignment. Oh, well, we get paid more."
What he said: "I have to remain very confident, very positive for this locker room and hopefully my teammates feed off of that. I have to bring it every day, that mentality, that attitude, because if not, they follow my lead.
"If I'm in here being negative then they're going to be in here being negative, moping around, and then the morale is down. We can't have [that], not right now. It's easy to go into that place, but we're not going to allow that."
What he meant: "You know, like I did in Denver. You may remember that old chestnut from the annals of 'how to submarine your team without taking blame for it.' Related: Do you guys happen to have any suggestions for good Los Angeles real estate sites?" 
What he said: "This city and this organization is not known for being patient."
What he meant: "The sky is blue."
What he said: "But right now we have to figure it out. If patience is the way to go, then patient we have to be. There's no panic button being pushed right now. We have to figure it out."
What he meant: "I mean, this thing takes time. Not like the core of this team has been together for over a year and in some cases three years." 
What he said: "I'm not worried. "But we do have to figure it out. Whatever it is we have to figure it out quickly.
"I guess there's more that I can do," he added. "Whatever that is I don't know, but I just got to do it. We'll figure it out. I'm very confident that we'll figure this out."
What he meant: "I think the real thing we have to do is throw a lot of money at the problem. That's how you fix things, right? Hey, do you guys know anything about California real estate tax?"
Kris Dunn somehow took a chunk of the Bulls court out with his teeth, but didn't lose any in...

The fallout from the Rockets-Clippers tussle continues; no Clippers were disciplined

DH12 is picked for free throws after a teammate gets ejected. He makes both, and lets Scott...
Bell was injured defending a Robin Lopez dunk and had to be taken off the floor in a wheel...

Trevor Ariza and Gerald Green are reportedly both suspended two games

We've got all the scores, highlights and news from Wednesday night