Rajon Rondo and the Celtics' age of apocalypse
Can Rajon Rondo rise above the Celtics' rebuilding effort and maintain his place as an elite superstar or will his temper get the best of him?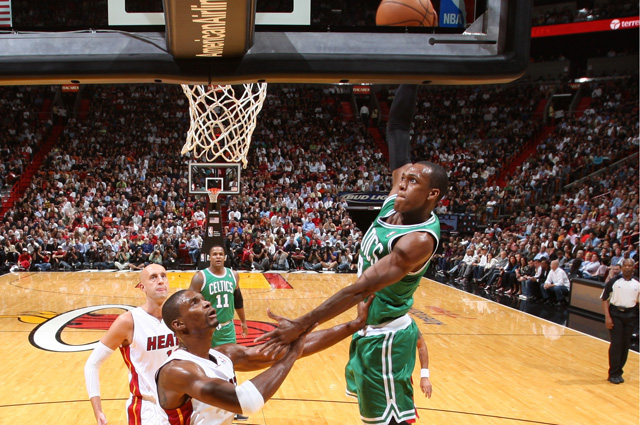 EXT. WASTELAND. NIGHT. Winds blow ashy dust through the streets of a destroyed city. A half-burned billboard for "Ubuntu: Believe!" hangs off its original signage. Suddenly, a hatch opens from the street, and from it emerges a slender figure with disturbingly long fingers. He scowls as he looks around, finding no one. A knee brace holds him steady as he leans down, and licks ash from the street. With a grimace, he reaches up and pulls a green headband on, then shuffles off into what was once a proud city. 
MAN: Truth?! Brother!
His words echo through empty streets and off abandoned buildings. He is alone, abandoned, left to rebuild.
And that's pretty much how I envision Rajon Rondo entering the 2013-2014 season with the Boston Celtics. 
---
Rajon Rondo was left behind. 
When I say that, I'm not blaming Paul Pierce or Kevin Garnett. This is a business, those players have to look out for the end of their careers, and they both provided guidance for Rondo as to what happens next in his brilliant, complicated career. But the fact remains that a team that told itself it was about brotherhood, family, ubuntu, and sacrifice saw its members scatter to the wind in search of gold when they knew the bomb was going to go off. 
And for the first time, this complicated, complex, hilariously surly point guard finds himself with no one to shoulder the weight, and a somehow-increased level of expectations on his shoulders. 
Rondo belongs to an undefined and yet iconic group of players that are described in contradicting terms. He's lauded as one of the league's best point guards, but pointed to as not being as good as the Celtics have needed. He's criticized for not being able to shoot or score enough, despite shooting 51 percent from 16 feet to the 3-point line last season, via Basketball Reference. He's the team's emotional leader, but a surly, snarky malcontent who has driven his coach to the ends of madness and allegedly helped drive Ray Allen to Miami. 
Rondo is not absolutely any of these things. Like any person, any player, it's a complicated series of elements that make up his persona through the lens of professional basketball. And he's simultaneously a huge pain in the ass and a breathtakingly brilliant player. He's one of the most efficient and creative passers in the league who has heralded a mediocre-to-bottom-15 offense the last few seasons. He's rightfully and constantly questioned for his effort and at the same time a player who has battled through dislocated elbows to play in playoff games and was more than prepared to play on what turned out to be a torn ACL last season before a doctor caught it. 
Oddly, being surrounded by All-Stars and future Hall-of-Famers stopped protecting him years ago. Somehow Paul Pierce's drift towards age and injury was cast aside under his leadership and the occasional brilliance. Kevin Garnett's fading defensive ability and slow decline has been painted over with the words "leadership" and "intensity." Rondo has been the best player on the Celtics for the past three years yet he's often considered an after-thought, and is usually the souce of debate, not acclaim. 
This is not to say he doesn't deserve it. He does drive coaches and teammates crazy. He does slide through regular season games with the intensity and drive of a stoner. He is acerbic with the media, cruel to his opponents, and shuns any and all attempts to show the genuine, caring side that endeared him to Pierce and Garnett in the first place. (Allegedly; I've never actually seen this side of him, it's like an urban legend that he's a nice dude.)
He likes roller-skating and Connect Four. That's about all I got for him off the court. 
But now, things get tough. 
Playoff games? Seven-game-series losses? Dislocated elbows? Torn ACLs? That's good pain. That's pain built off effort and success. Physical pain goes away, playoff pain motivates you. Now Rondo's facing a rebuilding effort in Boston that looks an awful lot like it could last a while. Danny Ainge isn't trying to draft a new nucleus, he's aiming for assets he can use to pounce on an available star like he did in 2007 when he formed the Big 3. 
Those are hard to get, and Ainge hasn't hit for the fences outside of two simultaneous deals with one involving a former franchise player (Kevin McHale) as GM. Ainge has done well to build around KG and Pierce these last few years, but there's a reason few GMs survive rebuilding efforts. It's exceptionally difficult and painful. 
So Rondo could be looking at a long time in this desert. He's under coaching from a man three years younger than KG, his mentor. There's no telling how this works out. Rondo and Stevens could get along great and both could struggle. Rondo could play great, Stevens could coach well, and the team could be horrible. Any combination is possible, and that relationship is one that it's impossible to predict how it will grow. 
From our Celtics offseason report: 
The question is if he can gel with Rondo. Rondo is an enigma wrapped in a riddle of a player, a unique blend of talent, emotion and crazy. He's a brilliant player who has developed a reputation for needing a little bit of coddling. Doc Rivers knew how to handle him and work with him. Will Stevens? That question will likely have answers soon, and could determine the next step Ainge and the Celtics make. Is Rondo part of the long-term future? Is he considered their building block? If Stevens and Rondo clash, who goes?
via Eye On Basketball - CBSSports.com 2013 Offseason Report: Boston Celtics.
There's always that possibility, as well. That help comes, a helicopter in the form of a trade drops a ladder and returns Rondo to the land of contention on a good team. But it's just as likely that he keeps wandering the desert for a while, the scourge of the Celtics' wasteland. 
Are things that bad? Avery Bradley, Jeff Green, Gerald Wallace, Kris Humphries, Jared Sullinger, these are all rotation players. Isn't it possible this team is actually OK, if not great? 
Here's an important lesson. Do you remember the 2010-2011 Cavaliers? After LeBron skipped town, that team still had much in the way of a championship-caliber roster. They opened that season going 7-10 through November 30th. They were four games from being in position to land a playoff spot at that pace. 
They went 1-30 through January 31st. 
The 2013 Magic? 12-19 going into the new year. Bottomed out. 
Can't you see the same thing happening here? Pierce and Garnett, even together, don't make up the same impact as LeBron James or Dwight Howard at this point in their careers, but something else happened. Eventually, teams with veterans start to understand where the season is going and things start to fall apart. Maybe it's one injury that undermines things, maybe it's coaching decisions to push the young players. But rest assured, the Celtics are going to struggle. And in some cases, mediocrity can be worse than being outright bad. 
But this wasteland belongs to Rondo now, for better or worse. He can be moved eventually, but to start the season, everyone who has wondered how Rondo would perform without future Hall of Famers around him will discover the answer to that question, myself included. Can he be an elite player with nothing around him? Will he turn on his coaches, his teammates, the fans, if things go horribly wrong? 
Should we expect this much out of a pure point with a baby-fresh head coach, little in the way of a supporting cast, and him coming off of ACL surgery? 
No, but when have we ever kept our expectations for sports players in check? 
In a lot of ways, you can see the same dynamic for Rondo in Oklahoma City, with a player who is never credited with the success, always questioned with the faults. They even bear the same disdain for the media and love playing the villain. 
Rondo is Westbrook. Westbrook is Rondo. It's somehow sadly fitting that both have to try and silence critics after a major trade coming off a severe injury. 
Rondo has never been what we expect him to be. He went from coveted prospect to disappointing head case to All-Star point guard to maelstrom superstar. Maybe that's the real reason to watch the Celtics next season, to find out how this post-apocalyptic, McCarthy's-Road-esque tale ends. 
We've never known what to make of Rajon Rondo, so we can never know what to expect. 
The MVP has better things to do with his time, but the former NFL receiver isn't taking 'no'...

Randolph was arrested last week in Los Angeles on felony marijuana charges

Bagley wants to be in the 2018 NBA Draft and should be the No. 1 overall pick
Durant helped build the court in Manhattan as part of his community outreach program

Prince will be a special assistant to Memphis GM Chris Wallace

He speaks out at a LeBron James Family Foundation event; he tweeted about Charlottesville on...