Rajon Rondo on Boston drafting a PG: 'I don't think nothing of it'
The Celtics drafted point guard Marcus Smart, and Rajon Rondo said that doesn't bother him a bit.
• 2 min read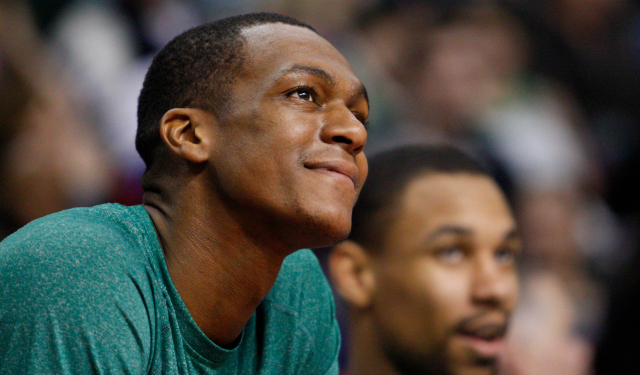 More Offseason Analysis: Coaching changes, news | Free Agency | Draft
As soon as the Boston Celtics selected point guard Marcus Smart with the No. 6 pick in the draft, there was speculation about what this meant for Rajon Rondo. Smart might have been the best player available, but on offense he's best with the ball in his hands and, well, the rumors about Rondo's uncertain future in Boston have swirled for years now.
Rondo, however, told the Boston Globe's Baxter Holmes that he wasn't worried about Celtics general manager Danny Ainge's decision:
"I don't think nothing of it," he said, shrugging his shoulders. "I am who I am."

…

Ainge said that he didn't inform Rondo on draft night that he was selecting a point guard, and he told the Globe last week that the two hadn't chatted in the days following the draft, either. (Ainge added that he hadn't talked about that with any other current members of the team.)

But Rondo said he doesn't believe he needs to hear any assurances from Ainge about his role on the Celtics.

"No. That's fine," Rondo said, adding, "I don't have too many feelings involved in this business. I've played my heart out for the game, but business is business. I can be here today, gone tomorrow. You never know. For me to get bent out of shape, or to feel threatened by the Celtics drafting a point guard, it means nothing."
In the near term, this doesn't have to be a big deal. A backcourt rotation featuring Rondo, Avery Bradley and Smart should be great defensively. Smart has the size and strength to defend shooting guards, and Rondo said he liked what he brings to the table, via the Globe: 
"What I like about Smart is that he competes. He kind of reminds me [of myself]. I like the guys that compete and remind me of myself, guys like [Kendrick Perkins]. That's not to say that nobody on the team this year didn't compete. Avery [Bradley] is one of the best competitors that we have in this league.

"But not a lot of young guys come in and you can get that feel right away that they will compete. So I think that's a big pickup for us in that aspect. I think having a guy on the wing that will defend along with Avery and myself, and has a lot more size and strength, that will be big.
The real issue is what this means in the bigger picture. Rondo is 28 years old and entering the final year of his contract. Smart is 20 and has the potential to be an excellent starting point guard. This doesn't mean Rondo is out the door -- Yahoo Sports recently reported Ainge was still in "relentless pursuit" of Kevin Love, who would immediately make Boston relevant again -- but it does give the team a replacement if an enticing deal comes along at some point. The Celtics are clearly keeping their options open.
Is this rock bottom for the Cavaliers because it sure feels like it is

Wade, as he's done so many times in his career, threw it up to LeBron for the thunderous f...

The Warriors coach added there should be no shame in being picked last since everyone's an...
We've got all the scores, highlights and news from all of Saturday's games

The two teams have reportedly not had any substantial discussions to this point

Oladipo may be getting most of the shine, but this second-year big man has been phenomenal...