Ramon Sessions to decline player option, but wants to stay with the Lakers
It's expected that Ramon Sessions will turn down his player option for next season, but he says he really wants to stay with the Lakers.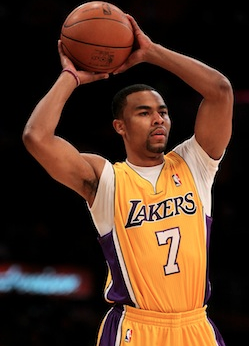 Ramon Sessions says he wants to stay with the lakers, but it'll likely be his choice.
(Getty Images)
Ramon Sessions
isn't planning on exercising his $4.6 million player option to lock in with the
Lakers
next season. But he wants to make it very, very,
extremely
clear -- he wants to stay with the team.
Via the L.A. Times
:
Sessions is expected to decline a player option for $4.6 million next season and become an unrestricted free agent.

He said he didn't want to move again, not with so much clarity in his basketball career. A return to the Lakers would seem logical if the sides worked out a multiyear deal.

"These fans really believe in me in this place and they really know basketball. They've seen the greatest of greats come through here," he said. "It's unreal. In my whole career, it's never been like this, being noticed. You're on ESPN every night or TNT. You're with Kobe Bryant out there in the backcourt.

"I want to be here. I don't know what that means or how that's going to happen. It ain't no secret. I'll tell anybody that. I tell [Lakers General Manager] Mitch Kupchak. I tell my agent. I want to be here. Period. For a long time."
There are some options for the Lakers next season as they could move players around to build flexibility and make a run at someone (
Steve Nash
?), they could make a trade, or they could just re-sign Sessions.
Sessions has immediately become one of the most popular players on the team as he's injected life into the team at the point guard position. The Lakers acquired him at the deadline but in the process had to clear a path that involved parting ways with longtime Laker
Derek Fisher
. It's obviously been for the best as the team is 11-6 since the trade and has jumped into the third spot in the West appearing to be in contention for a championship again.
Sessions is just 26 and has the potential to be a special point guard. He's averaging 11.3 points and 5.7 assists this season, but since joining the Lakers is putting up 13.1 points and 7.1 assists in 17 games. Obviously, he's been a welcome addition and an asset to the team.
He's declining the option because he sees the value he has and feels he could grab more in the open market. He says he wants to stay with the Lakers and more than likely, Mitch Kupchak will give him the opportunity. The ball is in Sessions' court. He's unrestricted, so it'll be his call. In the end, if he wants to stick with the Lakers, Sessions will probably have to put his money where his mouth is.
The Rockets are gunning for their 10th consecutive win

Victor Oladipo just wants to live his life and enjoy his breakout season with his new team

Keep it right here for all of the news, notes, scores, and highlights from around the Asso...
LeBron has a player option for next season, and is expected to opt out and become a free a...

The Pistons will be looking to snap a five-game losing streak when they host the Celtics on...

Bryant offers some advice for Ball and other rookies about having a sense of urgency in the...