Randy Wittman calls out Bradley Beal and John Wall for poor effort
Washington Wizards' coach Randy Wittman wasn't happy with Bradley Beal and John Wall over poor effort in the loss to the Charlotte Bobcats.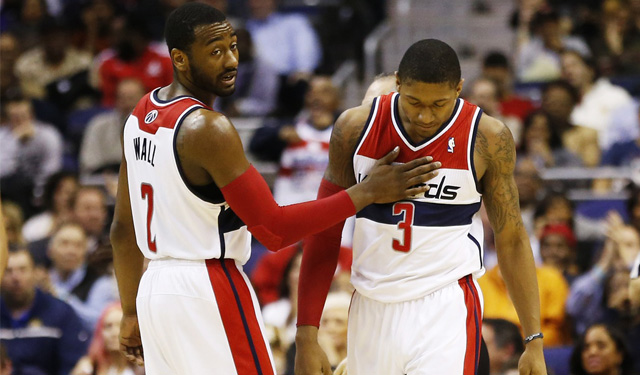 More NBA: Power Rankings | Expert Picks | Latest news & notes
The Washington Wizards are in the playoffs for the first time since 2008, but that's not going to be good enough for this group of players. The Wizards may have a young core with their dynamic backcourt of John Wall and Bradley Beal but the team is filled with veterans who are ready to win now. The goal is to avoid one of the last two seeds in the East playoffs and delay facing either the Indiana Pacers or the Miami Heat for one round if they can advance.
The Wizards dropped to the 7-seed in a recent loss to the Charlotte Bobcats, and coach Randy Wittman wasn't too thrilled with the effort his young guards showed. They shot poorly with a combined 10-of-33 from the field and the energy wasn't there, according to Wittman. From the Washington Post: 
John Wall and Bradley Beal are both learning about the intensity and challenges of battling for postseason position and Wednesday's game against the Charlotte Bobcats was a struggle for the duo. Wall, the first-time all-star, and Beal, an invite for Team USA tryouts this summer, combined to miss 23 of 33 shots in the Wizards' 94-88 overtime loss and Wittman didn't hold back when asked to critique their performances.

"When you don't put effort in, you're not going to have good showings. It just filters down," Wittman said. "You can't play with no energy or effort at one end of the floor and expect to turn it on at the other end of the floor. It doesn't work that way. That's been proven with these guys. It was almost like we were spinning our wheels in mud. We just didn't come out with any enthusiasm. I don't even know if they had a sweat broken at the jump ball."
This is a pretty risky time for Wittman to call out Beal and Wall publicly like this. The Wizards only have four games left and may need to win all four of them (including one against the Heat) in order to get back into the 6-seed. Possibly ticking off the entire starting backcourt and 36.4 percent of your scoring output each game could end up backfiring pretty easily, leading to a worse playoff experience, and eventually costing Wittman his job.
The return of Nene should help them with depth and scoring, but they're going to need leadership in order to move into the most advantageous playoff positioning possible. Wall and Beal have to give the proper effort while also joining in that leadership and going along with the game plan in front of them. Is that going to be an easy thing to do if they're worried about their coach chastizing them publicly? Even if Wittman is correct about the effort given, is this the time of the season to do this?
We'll find out soon enough.
(H/T - ProBasketballTalk)
DH12 is picked for free throws after a teammate gets ejected. He makes both, and lets Scott...

Bell was injured defending a Robin Lopez dunk and had to be taken off the floor in a wheel...

Trevor Ariza and Gerald Green are reportedly both suspended two games
We've got all the scores, highlights and news from the night's games

Jonah Keri talks with NFL and NBA broadcaster Ian Eagle

SportsLine simulated Wednesday's Nuggets-Clippers game 10,000 times