Randy Wittman, John Wall disagree over whether Wizards are selfish
Wittman says team has lost its focus on the team effort in loss to Raptors, Wall just points to opponent being more aggressive.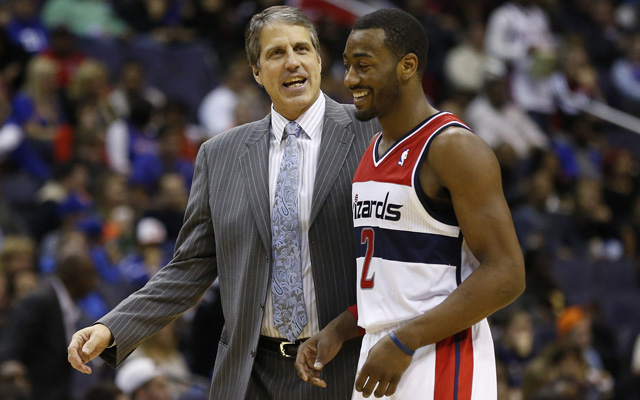 After the wizards lost Friday night to the Raptors, their second straight loss, coach Randy Wittman called out the team for playing selfishly. Point guard John Wall... didn't really agree with that assessment. 
"We've proven over the last couple of years you can't play that way," Wittman said, shaking his head. "And we're getting concerned with, 'Why am I coming out?  How many minutes am I getting? How many shots am I getting?' rather than, 'What is the team doing?' and we didn't do that tonight and that is disappointing because we're not good enough to do it that way…We have to come back together. It is not about 'me' it's about 'us' and it has to be focused on us and it was focused on individuals rather than the team."

When told of Wittman's comments about selfish play, John Wall disagreed and credited Toronto with disrupting the offense and creating poor floor spacing.

"I don't think so, I think we try and play the right way. I just give them a lot of credit, they took away things from us and then we didn't make a lot of shots," Wall said. "They just outplayed us. They played with more sense of urgency. They played with more aggressiveness, they were pounding us on the glass and making open shots and we didn't stick to our defensive concepts and we just give them a lot of credit for what they did and the game plan they had against us."
via Randy Wittman calls out Wizards for 'selfish play' in loss to Toronto.
Not a huge disagreement, or anything, but Wall doesn't exactly sound broken up over the loss. Meanwhile, Wittman railing on this matter kind of ignores the fact that it's his job to manage minutes and egos. That's not on the players, not practically speaking in the NBA. The Wizards are two games under .500... and the fifth best team in the East. 
This does provide kind of a good time to wonder whether the talent is there for the Wizards to make a run and they just need a new direction. Wittman has gone oddly under the radar for the hot seat for several seasons now. Last year's end to the season was supposed to give Wittman some momentum, but it should also have carried with it some expectations. 
With coaches like Lionel Hollins and George Karl out there, is Wittman the guy to take this team to the playoffs, where it wants to go? He's pushing for accountability, which is good. But it's hard to make an argument that he's getting the most he can from this Wizards team. Is the East's mediocrity enough to justify the status quo?
Mirotic and Portis combined for 49 points as the Bulls won their fifth straight game, beating...

Gobert, who missed 11 games earlier this season with a knee injury, will have an MRI

Get all the latest scores, news and highlights from Friday's NBA games
Porzingis is questionable for Carmelo Anthony's return to MSG on Saturday

The Spurs and Rockets will renew their in-state rivalry on Friday night

Anthony will play at Madison Square Garden on Saturday for the first time since being trad...