Randy Wittman odds-on favorite to be first coach fired
Tyrone Corbin, Monty Williams, Dwane Casey among others on list of possible first-coaches fired.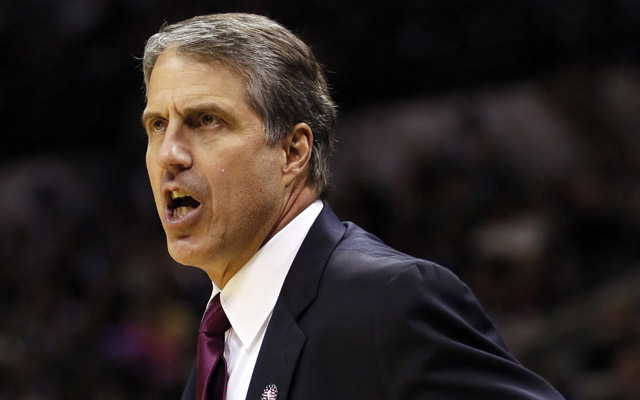 Bovada.lv released its list of odds for various coaches to be the first one fired this season and congratulations, Wizards coach Randy Wittman, you lead the way. 
Who will be the first head coach fired in the 2013-2104 Season?       

Randy Wittman (WAS)               2/1

Tyrone Corbin  (UTA)                 9/4

Monty Williams (NO)                  7/2

Jason Kidd (BRK)                     13/2

Dwane Casey (TOR)                  13/2

Mike Woodson (NY)                  15/2

Mike D'Antoni  (LAL)                  12/1

Terry Stotts (POR)                     12/1
Seems a bit extreme that Wittman should be such a favorite here. The Wizards have had a difficult schedule, and have shown some good things. Additionally, Ted Leonsis is maybe the most loyal owner in the league. He simply never lets go of things when he should. Is he going to bail on Wittman before the year is out? 
Monty Williams is looking at a lot higher expectations and his team has been considerably worse. Blowout losses to Orlando, Phoenix, and giving the Jazz their first win of the season? New ownership never signed off on him, and Dell Demps may not have a choice if this keeps up. 
Tyrone Corbin's odds are a little low, considering management knew the Jazz were going to be bad coming in. Blaming Corbin would be like blaming the drapes for bad plumbing. 
Dwane Casey's an intriguing option here. Wasn't hired by his general manager, team has struggled out of the gate, could be a total rebuilding effort. He has all the makings. 
Stotts seems like a nuts longshot, considering how well the Blazers have played to start the year. 
We've got all the scores, highlights and news from all of Sunday's games

The Rockets beat the Warriors 116-108 on Saturday night

The Cavaliers gave up 148 points in their loss Saturday afternoon to the Thunder
Blatt made the comment before coaching in the All-Star Game in Turkey

Is this rock bottom for the Cavaliers because it sure feels like it is

Wade, as he's done so many times in his career, threw it up to LeBron for the thunderous f...