Ranking NBA Playoff coaching staffs by who would win a pickup game
A look at the 16 coaching staffs in the 2014 NBA Playoffs, and how they'd fare against one another in a playground battle.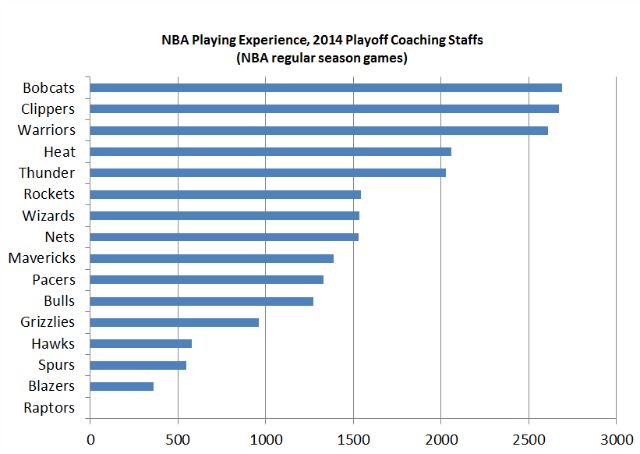 More NBA: Power Rankings | Expert Picks | Latest news & notes
The NBA hiring circuit offers no bonus points for playing ability.
Fifteen of the 16 staffs in these NBA Playoffs have multiple coaches who played in the league, but every staff in the NBA also has at least one guy whose final level of organized basketball was played below the Division I NCAA level. No matter your background, if you can coach, you can coach here.
As we proved when we ranked the NCAA Tournament coaches 1-68, there is no relationship between playing ability and coaching ability (even in a year when NBA alumnus Kevin Ollie won an NCAA title), but NBA benches over the next two months will be filled with guys who can flat-out play, some of whom the nostalgic among us wish were still out there. In the spirit of that nostalgia, we considered what might happen if these staffs went toe to toe on the court, sort of like the Channel 4 news team taking up arms against Wes Mantooth and the guys from Channel 9.
We have given none of these people physicals. We have no idea whether Gregg Popovich has shot a basketball in the last 40 years, nor have we delved into potential chemistry issues that might arise because Doc Rivers and Tyronn Lue both want to play the 1.
This is mainly for fun, though Eye on Basketball will accept a consultant's fee from whoever wants to organize this event.
(All staff rosters courtesy of NBA.com.)
16. RAPTORS
NBA playing experience on coaching staff: (none)
Others: Dwane Casey (HC), Bill Bayno, Nick Nurse, Jesse Mermuys, Tom Sterner, Jama Mahlalela, Alex McKechnie
Scouting report: The Raps have at least three guys who can presumably play a little. Casey was a backup guard on some good Kentucky teams in the late 70's; Bayno starred at Sacred Heart and went to rookie camp with the Knicks; Nurse played Division I basketball at Northern Iowa. But something tells me this group is struggling to stop Patrick Ewing.
15. BLAZERS
NBA playing experience (2): Kim Hughes, David Vanterpool
Others: Terry Stotts (HC), Jay Triano, Nate Tibbetts, Dale Osbourne, Chris Stackpole
Scouting report: Hughes, who won an ABA title and made the league's All-Rookie team in 1976, gives this group some size at 6-11. Vanterpool was a nice player at St. Bonaventure and had a 22-game cup of coffee with the Wizards in 2001. Of the others, Stotts was a
big-time player at Oklahoma, Osbourne (South Alabama) was a D-I role player, and Triano (Simon Fraser) and Tibbetts (South Dakota) starred at lower collegiate levels. So this team would not be incompetent.
14. PACERS
NBA playing experience (2): Nate McMillan, Popeye Jones
Others: Frank Vogel (HC), Dan Burke
Scouting report: The Pacers only list three assistants and a head coach in the staff directory, so you're always going to be on the power play against them and there may be a fatigue factor. But I still feel like 6-8, 250-pound Popeye Jones (3,981 career rebounds) is going to cause some problems for people, as would McMillan, a star defender and consummate glue guy in more than a decade as an NBA player. After that it may be up to Vogel (a starter at Division III Juniata), who can brush his teeth and spin a basketball at the same time but might have some trouble guarding Jason Kidd or Sam Cassell.
13. SPURS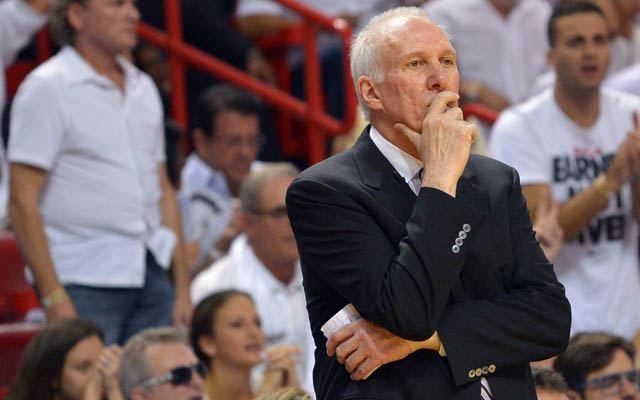 NBA playing experience (2): Ime Udoka, Sean Marks
Others: Gregg Popovich (HC), Jim Boylen, Chip Engelland, Chad Forcier
Scouting report: The 6-11 Marks and 6-6 Udoka, a couple of former NBA journeymen, offer size. Of the others, Popovich was a quality player at Air Force (the Falcons' leading scorer in 1970), Boylen was a star at Maine, and Engelland played at Duke as well as some pro ball overseas. They're not going to wow you with names but could be a tough out.
12. HAWKS
NBA playing experience (2): Darvin Ham, Jim Thomas
Others: Mike Budenholzer (HC), Kenny Atkinson, Taylor Jenkins, Quin Snyder, Pete Radulovic
Scouting report: This could be a sneaky competitive group. Ham smashed backboards at Texas Tech before an eight-year career as an NBA journeyman. Thomas played a couple seasons at guard for the Pacers. Your starting five would be rounded out by Snyder (starting guard at Duke), Budenholzer (played ball at Pomona and professionally in Denmark) and Atkinson, an all-league guard at Richmond.
11. BULLS
NBA playing experience (2): Ed Pinckney, Adrian Griffin
Others: Tom Thibodeau (HC), Andy Greer, Mike Wilhelm
Scouting report: Pinckney may be better known for his collegiate exploits at Villanova but hung around for 12 years in the NBA and was a dependable pro. Griffin played parts of nine years as a swingman in the league and was a starter on some good Mavs teams. This team might only go as far as lower-level collegiate players Thibodeau (Salem State), Greer (SUNY Brockport) and Wilhelm (Southampton College) could take them.
10. WIZARDS
NBA playing experience (2): Randy Wittman (HC), Sam Cassell
Others: Don Newman, Don Zierden, Ryan Saunders, Pat Sullivan
Scouting report: Couple of strong pieces here with Cassell, who was a star and an All-Star in a career that spanned eight different franchises, and Wittman, who was a quality player on the Dominique Wilkins-led Hawks teams of the 80's. Your third player here is probably Sullivan, who played on three Final Four teams at UNC. Saunders, the son of former NBA coach Flip Saunders, played a couple years as a walk-on at Minnesota, while Newman starred at Idaho and played in the CBA, and Zierden at Division III Mount Senario.
9. ROCKETS 
NBA playing experience (2): Kevin McHale (HC), Greg Buckner
Others: J.B. Bickerstaff, Chris Finch, Dean Cooper
Scouting report: McHale is a Hall of Famer, seven-time NBA all-star and three-time champion who oozes excellence even at the age of 56 and with a bad foot. He'll have a complementary piece in Buckner, a serviceable 10-year-pro who can presumably still get up and down the floor at age 37. Bickerstaff was a dependable Division I player at Oregon State and Minnesota, and Finch was a Division III All-American at Franklin & Marshall. This squad can beat you.
8. NETS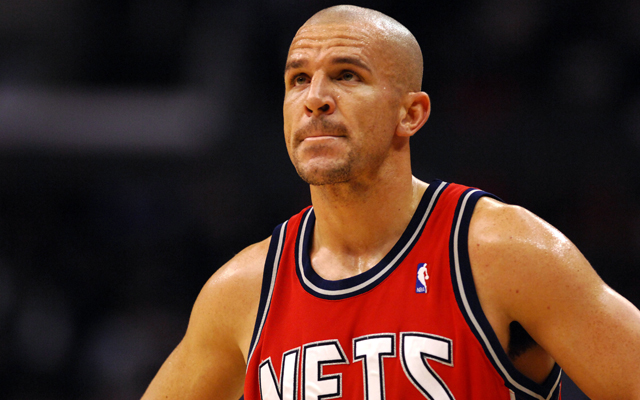 NBA playing experience (2): Jason Kidd (HC), Roy Rogers
Others: Lawrence Frank, John Welch, Joe Prunty, Eric Hughes, Charles Klask, Jim Sann
Scouting report: The future Hall of Famer Kidd was still on the court, not the sideline, at this time last year, and would have a decent running mate in Rogers, a former starter with the Grizzlies. Welch played ball as a reserve at Nevada and UNLV, and Hughes played at D-II Cal State Hayward, but this is not going to be your strongest lineup from one to five.
7. HEAT
NBA playing experience (2): Bob McAdoo, Juwan Howard
Others: Erik Spoelstra (HC), Ron Rothstein, David Fizdale, Dan Craig
Scouting report: Bob McAdoo is 62 years old but something tells me the former Hall of Famer and NBA MVP could still dominate a basketball game. Howard is a former All-Star who like Kidd, was still playing in the NBA at this time last year and would be another huge piece. Spoelstra (Portland), Rothstein (Rhode Island) and Fizdale (San Diego) were all solid D-I players and Craig (Plymouth State) was a starter at the Division III level. A lot of point guards here though ... one of these guys will need to make the opponent respect their jump shot.
6. GRIZZLIES 
NBA playing experience (3): Elston Turner, Bob Thornton, Shawn Respert
Others: David Joerger (HC), Duane Ticknor
Scouting report: This would be a pretty balanced group. Turner played eight years in the NBA, including two as Michael Jordan's teammate with the Bulls, and could star at the 3. The 6-10 Thornton was a power forward who hung around the NBA a while as a backup and started some games for the Knicks as well. Respert was an unconscious collegiate shooter at Michigan State who was too small (6-1) to be a standout 2 in the NBA but he could crush in this environment. Your 1 would probably be Joerger, who played at D-II Moorhead State in Minnesota. Ticknor played at now-defunct South Dakota-Springfield and would probably not be useless.
5. MAVERICKS
NBA playing experience (3): Rick Carlisle (HC), Darrell Armstrong, Tony Brown
Others: Kaleb Canales, Monte Mathis
Scouting report: The linch pin of this group is the point guard Armstrong, who played for five teams over a 14-year NBA career and also produced one of the best layups in dunk contest history. Brown (360 games as a 6-6 swingman for nine NBA teams from 1984-92) and Carlisle (three years as a backup two-guard on the Bird/McHale/Parrish/Ainge/DJ Celtics) would also be able to hang. Your fourth option on this team is Mathis, who played sparingly at Kansas and Toledo in the 80's.
4. THUNDER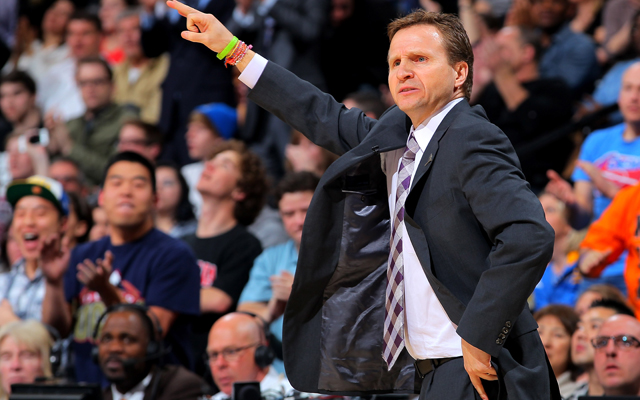 NBA playing experience (3): Scott Brooks (HC), Mark Bryant, Robert Pack
Others: Rex Kalamian, Brian Keefe, Mike Terpstra
Scouting report: Start with a good backcourt of NBA long-timers Brooks and Pack and add in the 6-9 power forward Bryant, who played for 10 teams over his 15 years in the league, and you have the makings of a squad. Keefe played on a couple of good UNLV teams as a 6-4 guard and could also contribute, as could Kalamian (East Los Angeles JC) and Terpstra (D-II Northwest Nazarene), both good players at lower collegiate levels.
3. BOBCATS
NBA playing experience (3): Patrick Ewing, Mark Price, Bob Weiss
Others: Steve Clifford (HC), Bob Beyer, Stephen Silas
Scouting report: The Hall of Famer Ewing and former All-Star Price are 51 and 50 years old, but I still don't know who's defending Ewing in the post or Price on the perimeter. Weiss was a good NBA player, mostly with the Bulls, and even at 71 is going to give you some quality minutes. Silas was a serviceable player at Brown, while Clifford (Maine-Farmington) and Beyer (Alfred) both logged minutes at the Division III level.
2. WARRIORS
NBA playing experience (3): Mark Jackson (HC), Pete Myers, Lindsey Hunter
Others: Jerry DeGregorio, Keke Lyles, Joe Boylan
Scouting report: If you believe mythical pickup tournaments are won by guards, you have to like the Warriors' chances here. Jackson was an all-star point guard and consummate winner. Hunter played 17 years in the league and was an important backcourt piece of some quality Pistons teams. Myers played parts of nine years in the league, memorably taking over two-guard duties from Michael Jordan while MJ was playing baseball. Depth and size could be a problem beyond that trio, however -- Boylan (a guard at Division III Emerson College) is the only other staff member with collegiate experience.
1. CLIPPERS
NBA playing experience (4): Doc Rivers (HC), Armond Hill, Tyronn Lue, Howard Eisley
Others: Alvin Gentry, Kevin Eastman, Brendan O'Connor, J.P. Clark, Dave Severns
Scouting report: It helps that the Clippers list nine coaches on their roster (that's a 1.4 to 1 player-to-coach ratio), but it's impossible to ignore the sheer volume of legit ex-players here. Rivers was a great pro, best known for his contributions to the Dominique Wilkins Hawks of the '80's. Hill played parts of eight NBA seasons and backed Rivers up at point guard in 1983-84. The undersized Lue stuck around for 11 NBA seasons with seven teams and Eisley played 12 years, most notably with some strong Jazz squads. Eastman (Richmond) and Gentry (Appalachian State) both played D-I basketball, while Clark (Flagler) and Severns (Chico State) played at lower levels. Not a lot of size here, but depth and talent would undoubtedly win this group a title.
The investigation detailed a hostile workplace environment

Cousins suffered a torn Achilles tendon on Jan. 26, and will miss the rest of the season

Ingram has become one of the team's go-to players with Lonzo Ball sidelined with an injury
Giannis skipped EuroBasket last summer, and has missed four games this season with knee so...

Some of the best and worst from the league as we head into the home stretch of the season

Cuban acknowledged that tanking is 'brutal' and that he will no longer do that after this...