Ranking the Finals MVP candidates before Game 5
Tim Duncan and Kawhi Leonard remain most likely to win Finals MVP after a huge Game 4 win for the Spurs.
More on Game 4: SA 107, MIA 86 | San Antonio's depth too much for Miami
Well, I was worried this wouldn't be the series for the ages that we got last year, and after a brief moment of hope after Game 2, it hasn't been, and likely won't be. The Spurs lead the Heat 3-1 in the NBA Finals, and can close it out to secure their fifth franchise title on Sunday with a win at the AT&T Center in San Antonio. 
So given the fact that we seem to be headed for the end of the 2014 Finals, it's time to take a look at the candidates for Finals MVP headed into Game 5. As you would imagine, it's a roster dominated by Spurs. 
1. Tim Duncan, F, San Antonio Spurs: Duncan's averaging 15.8 points, 10.5 rebounds and 2.3 assists in these Finals. The numbers are good, a double-double, but this goes beyond that. This provides the voters the opportunity to honor Duncan for his career with another Finals MVP, this one nine years after his last in 2005. While Duncan has made no indication that he plans to retire, nothing is certain in the NBA, and this would give one of the game's all-time greats a proper send-off. Duncan is the sentimental pick, but he's also been the most consistent Spur game-to-game.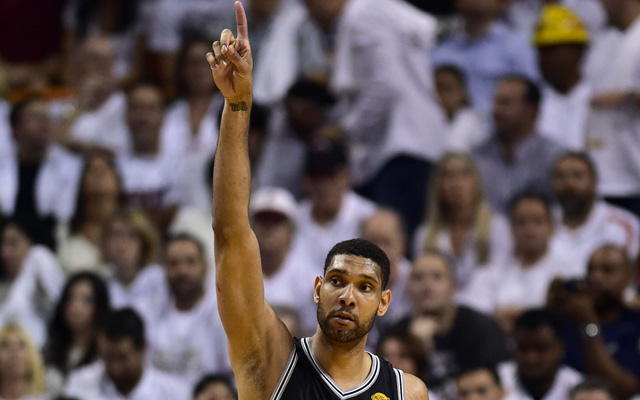 2. Kawhi Leonard, F, San Antonio Spurs: The youngest member of the new "Big 4" struggled mightily in the first two games. He was passive and rudderless, winding up in foul trouble and having little impact on the game. But in 3 and 4 he was a complete madman, and it was his effort and subsequent production that fueled the Spurs' move to control of the series. He's averaging 16.8 points, 5.5 rebounds, 2.2 assists, 1.8 steals and 1.3 blocks per game in this series. His aggressiveness hasn't just given the Spurs a chance, it's completely turned the series. 
3. Tony Parker, PG, San Antonio Spurs: Parker leads the Spurs in points per game and is second in assists per game, he's very arguably their best player. But his impact at this point seems nearly incidental. He's just the engine in this machine for the Spurs. If it wasn't him, it would be someone else. And while he operates the machine at a much higher efficiency and productivity than anyone else, the system doesn't depend on him. Throw in his weak second-halves and his odds are slim, despite Parker being maybe the biggest reason the Spurs are here. It would take a monster Game 5 to take it. But then again, he's capable of it. 
4. Boris Diaw, F, San Antonio Spurs: Diaw's stock is rising and another strong game and he might just, improbably, take this thing. He's the nerd pick for the series, as his passing and overall impact on the offense has both a visceral and intangible effect that's seen by the naked eye and in the data. The Spurs are 24.5 points per 100 possessions better than Miami with Diaw on the court, and all of their best lineups feature him on the court. It would still be surprising if Diaw walked away with the award, but he has to be on the list. 
5. LeBron James, F, Miami Heat: The only Heat player to qualify, it would take a minor miracle for James to make the list. But James has done everything he's been asked to do. The Heat aren't losing because of LeBron James, and their win was because of him. And if, somehow, by some way, the Heat were to crawl back into this series? It would be on the strength of James as well. If the Heat make the biggest comeback in Finals history, James will be the one to reap the reward. 
The speculation has been rampant, but seeing James in purple and gold is far from a sure t...

Andrew Bogut and Corey Brewer talked to CBS Sports about Ball's reserved personality

Instead, the Hornets eventually moved to New Orleans
Galin Dragiev has his finger on the pulse of Cavs basketball and just locked in a play for...

Coming off a win over the Spurs, the last-place Mavericks will try to get another upset victory...

SportsLine's Mike McClure, a DFS pro with more than $1M in winnings, gives optimal lineup...