Raptors and Kings agree to trade for Rudy Gay
The Raptors and Kings are close to completing a trade centered around forward Rudy Gay, according to a report.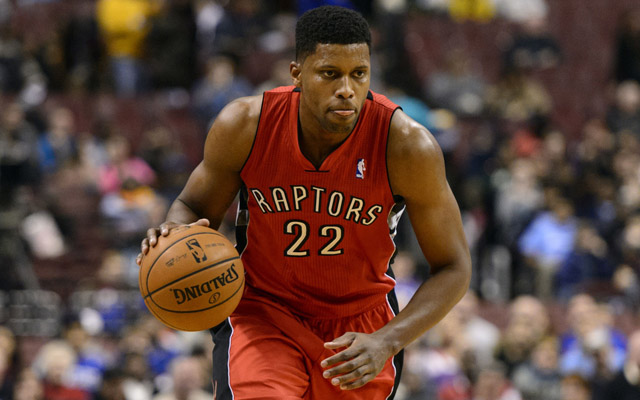 Ken Berger of CBSSports.com confirms the Raptors and Kings have agreed to a trade centered around forward Rudy Gay, a deal first reported by Yahoo Sports. 
Berger reports on the particulars of the deal:
In sending Gay, Aaron Gray and Quincy Acy to the Kings for Greivis Vasquez, Patrick Patterson and Chuck Hayes, Ujiri took back only $7 million in guaranteed money for next season. With Gays $19.3 million salary gone Gay has a player option for next season, the Raptors cleared $12.3 million in cap room and flexibility. Only $1 million of Salmons $7 million salary for next season is guaranteed.
via Once again, Ujiri trades a star and starts over - CBSSports.com.
The deal moves Gay and his massive contract off the books from the struggling Raptors, who have lost five straight. Gay is scheduled to make over $17.8 million this season. He has a player option for 2014-2015 next season at over $19.3 million. After trading Andrea Bargnani, GM Masai Ujiri has cleared a huge amount of cap space off the books. 
For the Kings, they move three players who don't make a ton of sense in their rotations. Vasquez has been good but outshined by sixth man Isaiah Thomas, and Patterson has struggled to the point the Kings traded for Wolves forward Derrick Williams. They add Gay who they reportedly want to use as a combo forward with Williams, and two competent big men in Gray and Acy. 
Gay, 27, is averaging 19.4 points on 38.8 percent shooting with 7.4 rebounds in 18 games this season.  
We've got all the scores, highlights and news for Friday night

George Hill, who is unhappy in Sacramento, could be a solution to Cleveland's backcourt si...

Shaquille O'Neal and Sir Charles cruise to an easy victory over some hot peppers
If Charlotte indeed moves its star guard, there's going to be more people impacted than just...

Trading Kemba Walker (and dumping salary in the process) may be harder than expected for C...

Our advanced computer model simulated Friday's Jazz-Knicks game 10,000 times