Raptors exercise third-year options on Valanciunas, Ross
Raptors young pups get deals locked in through 2014-2015.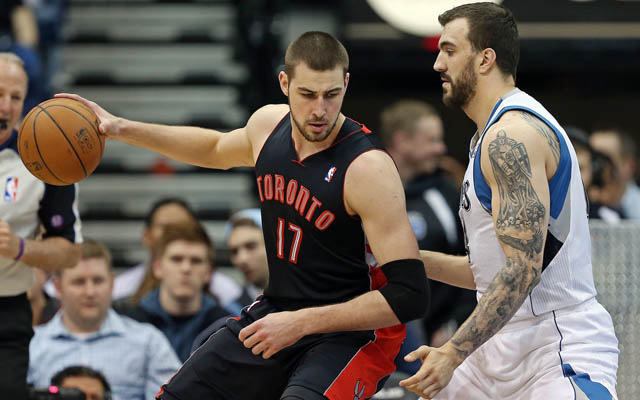 The Raptors exercised their third-year options on center Jonas Valanciunas and wing Terrence Ross on Thursday, the team announced. The moves lock up the youngsters through the 2014-2015 season. 
Valanciunas was a no-brainer; he's their franchise center of the future. This is a "let's put off having to put in the big extension for as long as possible" move more than anything, though it will be good to get two full years of the young big as a starter to evaluate him. Ross is the more interesting case. 
He's scheduled to make a reported $2.7 million this season. The Raptors have Rudy Gay who is likely to opt out this summer and bring in another high-salary, long-term deal, and they have DeMar DeRozan with $38 million left on his contract. So one of them will be moved. Locking in Ross for another year makes him a slightly more valuable asset (cheap contract, multiple years) and gives them stability in case they move DeRozan. 
You might even say the move keeps their... options open.
Yeah. 
Green helped KD through the tricky situation but not without enjoying his teammate's blund...

Vonleh reportedly suffered a shoulder strain during a pick-up game at the team's facility

OKC and Westbrook have until October 16 to agree to the deal
The league is implementing the 'Zaza Rule' and 'Harden Rule' in 2017 geared toward player...

Thunder GM Sam Presti went on to say the procedure on the MVP's right knee was "nothing se...

Hayward credited the Cavs guard as a big reason why he chose Boston in free agency