Raptors Game 2 win goes beyond series for forgotten franchise
Why the Raptors win is bigger than just evening the series with Brooklyn.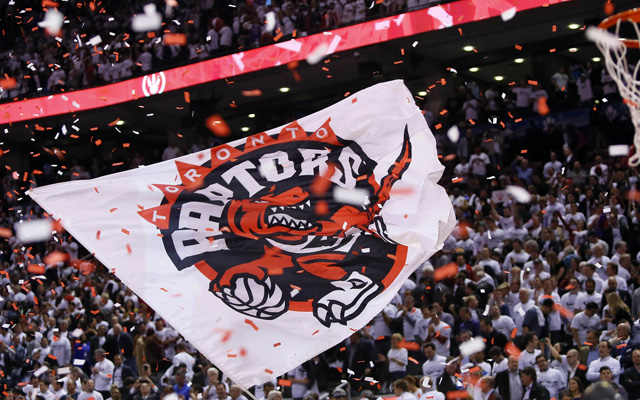 More postseason coverage: Court Vision |Raptors defeat Brooklyn 100-95
In the grand scheme of things, it'll be forgotten. A Game 2 for a non-contender vs. a non-contender in the first round. But for Toronto, this was a lot more. The crowd, the franchise, the city needed this.
In a season that started off with "let's see" for Toronto, Tuesday night became in a lot of ways, validation. GM Masai Ujiri was brought in to revitalize the franchise, and he did ... unintentionally. He traded Rudy Gay and Andrea Bargnani to clear room for the future and in doing so, unlocked this team's potential.
And it all kind of came together. The city bought in, filling not just the arena but the street outside for this game, even after the disappointment of Game 1. The GM screaming "f*** Brooklyn!" despite being one of the most polite, soft-spoken individuals you'll find in a macho industry. A roster filled with players that grew up in the same town, north of the border, forgotten by most of the NBA.
Yes, the win Tuesday was only to even the series. Yes, the Nets hung tight for most of the game with a chance to win. Yes, the series is going back to Brooklyn with Paul Pierce telling his teammates how much this series is in their control. But it doesn't matter, because Toronto got that win, they got their moment.
Sometimes you need these moments for everyone. You need them for your players, to teach them what winning in the playoffs is like, to wet their appetite and get them hungry in those environments. Your organization needs them because a winning culture has to start somewhere. And you need it for the fans because they bought in. You have to reward that.
And it was a great playoff game. Back and forth, and while the Nets' ability to keep it close in a game in which the Raptors should have blown the game open. It came down to huge shots from the young superstar, DeMar DeRozan, bouncing back from a terrible Game 1 to lead Toronto with 30 points. It took big plays from the team's heart and soul, Amir Johnson. It took Kyle Lowry scooping shots in the lane and, amazingly, Landry Fields making plays.
(Hilariously, Tuesday night was very much validation for Bryan Colangelo, fired as GM last year. His terrible contract for Fields paid off, his extension for DeRozan paid off, everything came up Colangelo. Finally.)
This isn't to condescend or dismiss the Raptors' chances. After all, Toronto did make adjustments that worked in Game 2, and the Nets' wilted after winning Game 1 against the Bulls last year. The Raptors are still in this series, at 1-1. But no matter what happens at Barclays, the Raptors accomplished something just by winning Tuesday.
Sometimes it's not about the pursuit of a title, tanking, building for the future or trying to make an incredible run. Sometimes you just have to win to give back to everyone involved. The series is tied, but Toronto got what they wee after.
Thomas took to Twitter to let the Celtics know he doesn't want to ruin Pierce's night

The Hall of Famer was a seven-time All-Star with the Celtics, and was MVP of the 1976 Fina...

It's rare to see a legit punch in an NBA fight, but this was definitely one of them
We've got all the scores, highlights and news from an NBA Tuesday

The former Slam Dunk Contest champion will take his talents to Tri-State

Do NBA players have look-a-likes from famous paintings? We found out on the new Arts & Culture...