Raptors identify Nuggets' Masai Ujiri as top GM candidate
The Raptors have identified Nuggets executive Masai Ujiri as a top candidate to replace Bryan Colangelo as GM, league sources told CBSSports.com.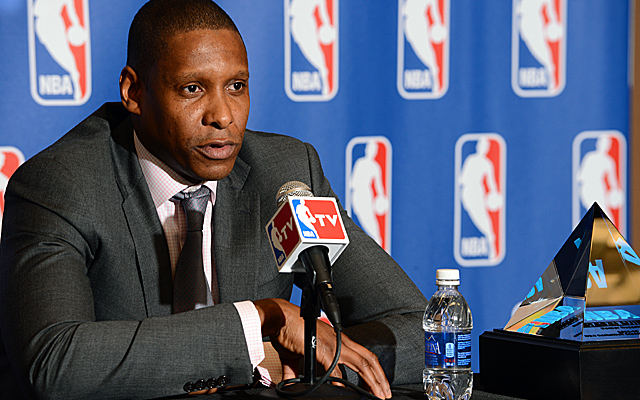 With their entire front office staff in Chicago this past week for the NBA's pre-draft combine, the Toronto Raptors have identified Denver Nuggets GM Masai Ujiri as a top candidate to take over the franchise, league sources told CBSSports.com.
Ujiri, the newly minted NBA executive of the year, last summer rebuffed overtures from the Philadelphia 76ers for their GM position and again was contacted about the vacancy in recent weeks through what sources described as backchannel conversations. The Sixers hired Rockets executive Sam Hinkie to lead their basketball operations last week.
The Raptors' ownership board, led by former Staples Center executive Tim Leiweke, held a meeting last week with front-office executives Bryan Colangelo, Ed Stefanski and Marc Eversley but did not offer any indication as to their fate.
Colangelo has an option for the 2013-14 season that Yahoo Sports reported must be picked up by Monday. According to a person familiar with the organization's internal meetings, "it doesn't look good" for the existing front-office staff to remain in place.
Ujiri rose through the Raptors' ranks to assistant GM before landing the Denver GM job in 2010. He gained notoriety for his shrewd execution of the trade sending Carmelo Anthony to New York. Ujiri, 42, also got Andre Iguodala from Philadelphia in the Dwight Howard-Andrew Bynum swap last July and had by far the best short-term results of the teams involved in that blockbuster deal.
The Nuggets and Ujiri have been in discussions on a contract extension, but those talks have yet to mature as Ujiri remains one of the lowest-paid GMs in the league. The Nuggets, led by CEO Josh Kroenke, have made it clear they want to retain Ujiri.
The NBA broke its silence with a statement related to the Lakers-Paul George tampering cha...

The Clippers big man thinks LeBron will reunite with the banana boat crew at some point

Have the Clippers reportedly found their next GM?
The NBA stayed to the point in their response to the Greek basketball federation

The Pacers believe the Lakers tampered with Paul George before they traded him

Among the questionable decisions by Jackson was signing Noah to a long-term, lucrative dea...