Raptors' Jonas Valanciunas' new physicality is on display in Vegas
Toronto Raptors center Jonas Valanciunas looks like he's added some muscle to his frame, and he could be ready to unleash on the NBA.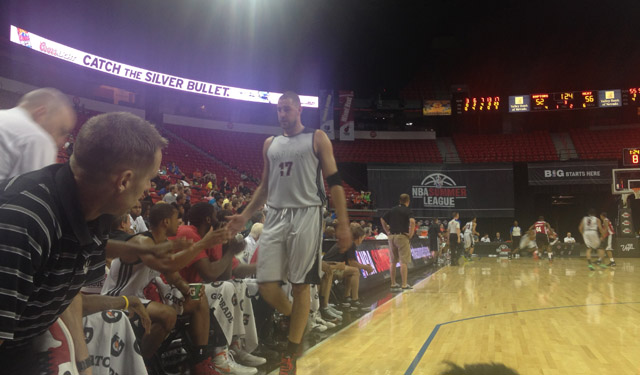 LAS VEGAS -- Usually when you get a little deeper into the summer and the offseason, you start hearing about guys being in the best shape of their life, as they get ready for the new season. You typically hear about guys shedding 15 pounds to play at a smaller position or adding 10, 15, or even up to 25 pounds of muscle so that they can play bigger.
Then there's Toronto Raptors' second-year center Jonas Valanciunas. There wasn't going to be any real need to cut weight like a boxer heading to his weigh-in; the Lithuanian big man needed to be stronger and a more physically imposing player like people have expected out of him. He's only 21 years old and most centers don't typically start truly hitting their stride until the age of 25, but a rebuilding/retooling/restructuring team like the Raptors need him to be a presence inside sooner rather than later.
Valanciunas already looks much bigger than he did when we last saw him in April. He's definitely added muscle, how much is certainly debatable. But the key with Valanciunas' added muscle is he's not only filling out his frame, he's filling out his impact in the paint.
In his first summer league appearance of 2013, he dominated the paint in the first half of the game. He showed off his added power by finding the space inside the key to crush the rim. He had several dunks early on and scored 20 points on just eight shots in the first 20 minutes of the game. He had five rebounds to go with it and a lot of "ohs" and "ahs" from the crowd as he looked like a good old-fashioned center displaying his dominance.
Raptors teammate Terrence Ross told his center to "go to work" repeatedly. When he checked out of the game with 1:25 left in the third quarter to get a breather, fans near the Raptors' bench implored him to check himself back into the game because "Kobe [Bryant] does it all the time." There seemed to be a constant reminder from Toronto's sideline to Valanciunas that he should be physically imposing.
Referees were even asking Valanciunas and the opposing post victims to be careful with how physical the play down low was. The Raptors' center was throwing his new bulk around as much as possible.
It wasn't just an aberration that Valanciunas seemed to be a new force for Toronto's interior; everybody in the arena was taking notice and celebrating it. In the second half, the Miami Heat's summer league team doubled him hard in the post almost every time he touched the ball. They tried to get him uncomfortable so he'd make mistakes instead of taking advantage of their defensive mistakes of letting him go against single coverage.
Valanciunas finished with 23 points and seven rebounds in 25 minutes of action in the Raptors' 81-72 loss to the Heat.
Looking back at last year, he had a very good rookie season. He averaged 8.9 points and 6.0 rebounds in 23.9 minutes. He made 55.7 percent of his shots, which is good but not quite dominant enough to establish the only real low post threat the Raptors might have outside of Rudy Gay deciding to take his man to the low block. For a guy like Valanciunas who is so mobile, adding power for when he's around the rim will allow him to turn a much higher percentage of his made field goals into dunks.
In 2012-13, 25.4 percent of his made shots were dunks. If he's learning how to be so effective with his strength moving forward -- starting with lesser and weaker competition in summer league to get him used to the contact -- then you'll start seeing an accelerated development in this particular center.
We're not sure if Valanciunas is in the best shape of his life, but he looks fantastic right now.
The younger Ball brothers are heading to BC Prienai, but that could spell trouble

SportsLine's advanced computer model simulated Tuesday night's Lakers-Knicks game 10,000 t...

The Reno Aces are concerned about the new WNBA franchise stealing their thunder
Hinkie parted ways with the 76ers in 2016 after drastically changing the direction of the...

SportsLine's Mike McClure, a DFS pro with more than $1M in winnings, gives optimal lineup...

LaVar Ball's sons signed with agents last week, making it impossible for them to play college...