Raptors' rebuild continues with trade of Rudy Gay, but what comes next?
With trade of Rudy Gay, Raptors GM Masai Ujiri has truly begun the rebuild in Toronto. But what comes after that move?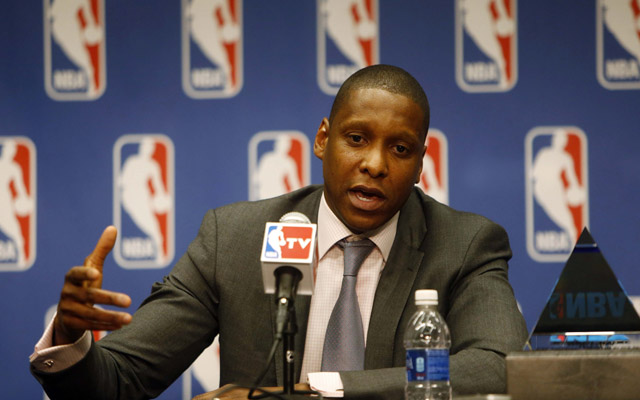 Masai Ujiri's deals over the past six months haven't been about winning. He's not woking to build the team he wants. He's working to get rid of the team he doesn't. Any rebuilding project means tearing down the existing structure, and in the NBA, one immutable rule has always been true of a real rebuild: You must deal your best players and your biggest contracts. 
Yes, even the best player part. Otherwise it's still his team, and you're trying to reload. The team will have the same tendencies, the same culture, the same construct it did when you decided to blow it up. Trading Andrea Bargnani last summer was simply a matter of prudence. They took on dead room to save some money. The environment had poisoned for the No. 1 pick in Toronto. 
But the deal made Sunday night to move Rudy Gay is a bigger deal. It's moving what is considered to be the best player on roster, in terms of ability. (The actual best player right now is DeMar DeRozan. The best player long-term is Jonas Valanciunas.) As Ken Berger of CBSSport.com reports, the money saved here is not inconsequential: 
In sending Gay, Aaron Gray and Quincy Acy to the Kings for Greivis Vasquez, Patrick Patterson and Chuck Hayes, Ujiri took back only $7 million in guaranteed money for next season. With Gay's $19.3 million salary gone (Gay has a player option for next season), the Raptors cleared $12.3 million in cap room and flexibility. (Only $1 million of Salmons' $7 million salary for next season is guaranteed.)
via Once again, Ujiri trades a star and starts over - CBSSports.com.
In the range of things, getting a talented, high-assist-rate point guard, a tough veteran center, and a few wings with marginal value is great return on a high-usage, low-efficiency, costly small forward in Gay. Gay's value to the Kings is much higher, who need to upgrade any talent they have, and can afford to gamble, especially with the prospect that Gay opts out in 2014. 
But for the Raptors, it's just about removing the road blocks in front of Ujiri's ability to build the team he wants. 
And that question, of just what he wants to build, is much harder to answer, and more important. Ujiri has been placed in two situations in his time as a GM, in both Denver and Toronto, where he's been asked to clear a big contract for a high-isolation scoring forward and remake the team. In Denver, he traded high on Carmelo Anthony and brought in versatile assets and talented players which set him up for a potential trade for a star down the line. He never reached that point, because he left Denver before reaching that point. 
But the model was always the same. Acquire assets, trade liabilities, clear space and focus on flexibility. Now the key for the Raptors will be to tank out and lose as many games as possible to reach the Andrew Wiggins sweepstakes. With a cornerstone from the draft, they'll have cap room to build slowly. Expect  Ujiri to target more draft picks, but that could take years to get the kind of core he'll want. 
We still don't know what Ujiri wants, long-term. We don't know how he would build a team around a star if he got one. Since he took over in Denver, he's been performing triage on teams, trying to lop off the bad parts to stave off infection. He's not trying to make the patient better, but to simply stop the patient from going downhill. He's got to tear everything down to get the team out of late-lottery purgatory. 
This is the part he's good at. The building part is the next step, and he could be great at that as well. We'll have to wait to see what Ujiri does when the last piece of the old house has been torn away. 
On the TNT broadcast, even Shaq finally admitted that he likes Joel Embiid's game

The Warriors new Nike classic uniforms will be revealed Thursday

Joel Embiid doesn't want to call what the 76ers are doing a minutes restriction
The Mavs played a tribute video to the American flag prior to their opening game on Wednes...

The Suns stink, but this was cool!

Melo makes it clear on Twitter that playing his ex-team is much more than just a regular game...