Raptors second-round pick DeAndre Daniels to play in Australia
Toronto Raptors second-round pick DeAndre Daniels will play for the Perth Wildcats in Australia this season, following in James Ennis' footsteps.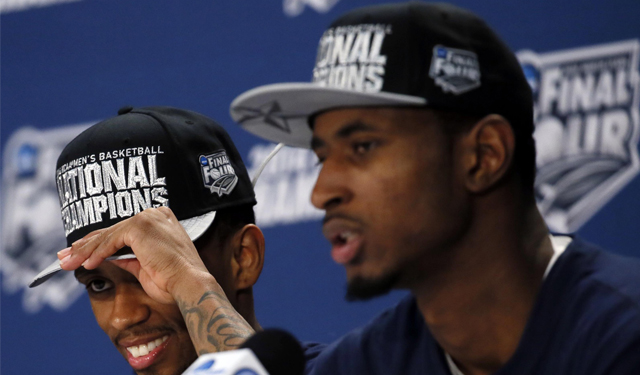 More Offseason Analysis: Coaching changes, news | Free Agency | Draft
After being selected with the 50th pick in the second round of the 2013 draft and being traded to the Miami Heat organization, James Ennis spent the 2013-14 season playing in Australia for the Perth Wildcats. He had a successful season in Perth, improved his game, and has found his way onto the Heat heading into the 2014-15 season. DeAndre Daniels looks to be following the same path as Ennis last year. 
The 37th pick of the Toronto Raptors in this year's draft is going to sign with the Perth Wildcats and fill the void left by Ennis' departure. The Herald Sun tells us Daniels is signing with Perth, looking at the experience as a long vacation, and trying to get better. He's taking the situation as a positive after hoping to be in the NBA for his rookie season in 2014-15.
Almost a year to the day after signing James Ennis, who has returned to the US to play with the Miami Heat, the Wildcats have pulled off a similar coup by landing Daniels.

"I'm going to Australia for four months, a long vacation, and I'm going back and will be with the Raptors," Daniels was quoted as saying.

"I'm just going to go out there and not look at it as a negative, but look at it as a positive.

"I'm just going to go out there and get better."
Daniels was part of the national championship-winning Connecticut Huskies and played a big part in their tournament success. He averaged 16 points and seven rebounds in the tournament and 13.1 points and six rebounds for his junior season. After shooting 27.9 percent from 3-point range in his first two seasons, Daniels made 41.7 percent from outside in 2013-14. 
Green appears to mistaken his Warriors teammate for a chair in an amusing "NBA 2K18" glitc...

The new look includes a snazzy alternate mid-court logo which recognizes history in the Philadelphia...

From Lonzo to Boban, here's a look at who to keep an eye on when the 2017-18 season begins
With 2K18 out everybody wants to know who has the 10 highest ratings in the game. Here's the...

Durant noted in an interview that all of the criticism in the immediate aftermath hit him...

Want the swagger of LaVar Ball? "NBA 2K18" lets you copy his absurd run from his WWE appea...