Raptors show signs of inexperience in Game 3 loss to Brooklyn
The Raptors showed some impressive resiliency in Game 3 against the Nets. But youth and experiences seemed to be their biggest opponent down the stretch.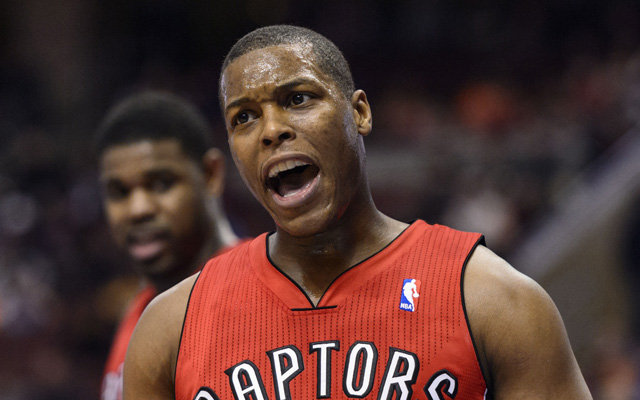 You have to hand it to the Raptors. Down 15 in the fourth quarter, Dwane Casey was imploring his team to just keep playing, to just keep defending, to just keep fighting. 
With five minutes left, the Raptors easily could've packed in their bags and just accepted what seemed inevitable. With Joe Johnson cooking and Deron Williams locked in, overcoming that deficit, against a veteran, playoff savvy team, just seemed impossible. 
Except the Raptors started chipping. And the Nets started helping. A couple missed free throws cracked the door for the resilient Raptors. But the young group, with just a handful of playoff appearances among them, couldn't help but hurt themselves.
It started with Greivis Vasquez, who has a bit of playoff experience from his time with the Grizzlies, picking up an absolutely awful technical foul with 47 seconds left that led to a free point for the Nets. After cutting it back to one with 34 seconds left, the Raptors needed a single stop to have a chance to actually steal it. 
Instead, Kyle Lowry played some curiously intense defense on Shaun Livingston, leaning his head in as if to try and bait a push off or something. It resulted in him hacking Livingston, which was Lowry's sixth foul. 
Still, they had another chance. A loose ball foul put Patrick Patterson on the line with a chance to tie the game with 19 seconds left. Except the 72 percent free throw shooter missed both. 
So here's what we learned about the Raptors: These guys can play, they can scrap, they can fight. But this is an organization that hasn't played in games of this magnitude since 2007-08, with a roster full of players with limited to no playoff experience. 
And while the Nets were the team doing dumb things to leave the door wide open, those veterans know how to make sure they finish. Paul Pierce drilled two clutch free throws, then Joe Johnson followed. 
The Raptors aren't done yet, though. Even as the higher seed, they needed to prove to themselves in some ways they belonged, that they could win. Game 2 was an impressive takedown, but going on the road is another animal. And they were right there. A few more plays, a couple better decisions and the Raptors could get the game they need in Game 4. Just got to grow up a little between now and then.
Bell was injured defending a Robin Lopez dunk and had to be taken off the floor in a wheel...

Trevor Ariza and Gerald Green are reportedly both suspended two games

Jonah Keri talks with NFL and NBA broadcaster Ian Eagle
SportsLine simulated Wednesday's Nuggets-Clippers game 10,000 times

Galin Dragiev has his finger on the pulse of the Lakers and just locked in a play for Wedn...

No more McNuggets allowed in the Barnes household