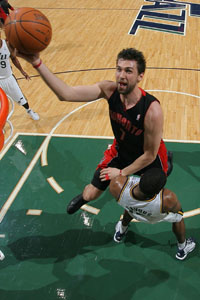 Andrea Bargnani is done for the season.
(Getty Images)
Shut it down.
That's the plan for the Toronto Raptors, who announced on Friday that star forward Andrea Bargnani will sit for the rest of the 2011-2012 season due to a calf injury.
The Toronto Raptors announced Friday centre-forward Andrea Bargnani will miss the remainder of the 2011-12 season. He exited Sunday's game in Oklahoma City at the 4:03 mark of the second quarter with left calf tightness.

Based on tests taken yesterday on his left calf and the reoccurrence of previous symptoms, Bargnani will be sidelined to eliminate any further risk.

Bargnani has averaged a team-high 19.5 points, with 5.5 rebounds and 33.3 minutes in 31 games. He led the team in scoring 13 times and recorded five games of 30 or more points. He missed 26 games with a left calf strain and one with left calf tightness. A calf injury caused him to miss time earlier this season.
This was a no-brainer. The Raptors are currently in the Atlantic Division basement with a record of 20-39. With nothing to play for and just seven games remaining this wasn't the most difficult decision in franchise history.  
Toronto started forward Amir Johnson in place of Bargnani during a Wednesday night loss to the Philadelphia 76ers. The Raptors host the Boston Celtics on Friday night.