Raptors submitting applications for new branding and colors
The Toronto Raptors are submitting paperwork to change their logo and colors, according to chairman Tim Leiweke.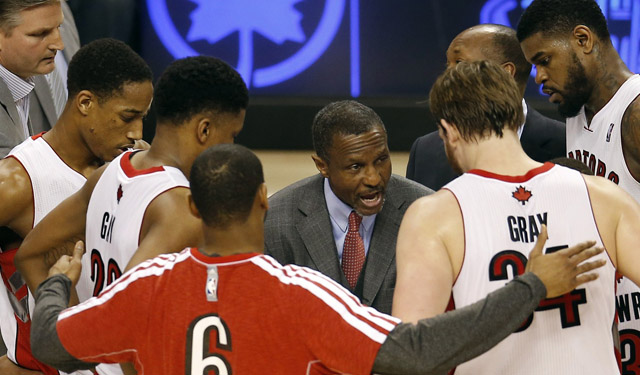 When the NBA expanded to Toronto in 1993, they franchise considered names like the Huskies, the Terriers, the Dragons, the Beavers, and the Hogs. They even considered T-Rex for a nickname. Seriously. 
But fueled by the popularity of the movie Jurassic Park and the idea that kids like dinosaurs, they decided to go with Raptors. A bold, kind of weird choice. After 20 years of existence, the name has become more acceptable because we're used to it. Still, it's kind of weird. 
So when the Raptors changed over their ownership and front office, there was a feeling they might consider a new name, much in the same way the Pelicans did. 
At a press conference Monday announcing the 2016 All-Star Game coming to Toronto, chairman Tim Leiweke said the team would not be changing its name, though. They would, however, be submitting an application to the league to change their colors and logos. Leiweke said he was in favor of changing the name, but was outvoted. 
So it's staying as Raptors. Hey, at least it means they can't change it to the Toronto T-Rex, right?
A report last week indicated Charlotte is looking to move Walker, along with one of its hefty...

Barea responds by claiming that none of Wall's teammates like him; the Wizards continue to...

Cousins finished with 44 points, 24 rebounds, and 10 assists
Love left Saturday's game, which the Cavs lost 148-124, due to illness

Kidd was fired by the Bucks on Monday afternoon

We've got all the scores, highlights and news from an NBA Monday