Ray Allen and his beautiful shooting: Journey down the rabbit hole
Sometimes you don't need to veer away from the subject in order to kill time on the internet. Ray Allen is one of those subjects as we journey down the rabbit hole.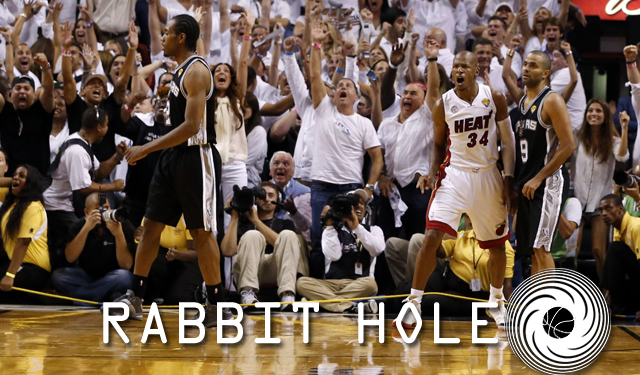 There will be plenty of times in which you're killing time on the internet and you'll bounce around from topic to topic in a tangential process that leaves you wondering how you ended up watching home security system commercials. There are other times in which you just stay on one subject and never leave it until it's time to go do some dishes, eat lunch, or pretend you're finishing up that report. 
Over the past couple of weeks, I've done this Rabbit Hole post and tried to concentrate on one subject because sometimes it's just more interesting that way. It works with historic figures in the NBA because there is often so much material to sift through that you don't really end up going other places. We'll have plenty of Rabbit Hole posts that bounce all over the place but this week we're concentrating on arguably the greatest shooter in NBA history. 
Let's journey down the rabbit hole and see where it takes us:
Miami Heat shooting guard Ray Allen is at the tail end of his career -- one of the most interesting and important careers of the last 20 years. While he was never the superstar that Allen Iverson, Kobe Bryant, and other top shooting guards were during his era, he was one of the deadliest scorers because of the way he shot the ball. When he became a member of the Boston Celtics, his role on a basketball team heightened at the same time it diminished from what he was used to.
He became the floor-spacer of every defense's nightmare. Constantly moving. Coming off screens. Waiting to square up and plunge a dagger in your team's heart. But he wasn't always that type of player. Those who remember him with the Seattle SuperSonics and the Milwaukee Bucks before that remember a high usage scorer who handled the ball and took the reins of the offense. He had young legs and incredible athleticism to go with a sweet shooting form. The shooting form is something he notices in young players that he says learn to play the game properly.
Cowbell Kingdom had quotes from Allen recently about Sacramento Kings rookie Ben McLemore. 
Allen discusses what's impressed him about McLemore's game thus far.

"He's a jump shooter, first and foremost. He looks like, I haven't seen him a lot, but every shot he takes, it seems like he duplicates the first one to the next one to the one after that. He stays consistent in how he puts the ball in the air. He has great athleticism, and he uses it on his jump shot and most players now in the NBA don't do that."

For someone his age, McLemore has phenomenal shooting mechanics. However Allen isn't surprised by this, noting that it's not rare for young players to have good fundamentals if they've learned the game the right way.

"We're creatures of habit. When you play sports a certain way, it's hard to change who you are. So, he has great athleticism, (but) you can tell whoever taught him young kept him in great form with how he shoots the ball. It really has nothing to do with age because if you're taught the fundamentals of the game when you're 15, you'll shoot the ball the right way – the way you're supposed to be (shooting). It's just we're so surprised (when) we see players come to the NBA, professional players that don't have the skill-set or the fundamentals that we know we should be seeing.

The fundamentals are lacking in our young kids growing up because the programs don't exist as much they did when I was growing up. Kids are playing more AAU.  They're not working on those fundamental things about shooting, passing, dribbling, rebounding, boxing out. So they come to the league and you see certain guys that just don't have the fundamentals.  They have raw talent."
Preach, Ray! The comments about developing fundamentals and being surprised how many players coming into the league don't have solid fundamentals is what typically separates the guys who can shoot and the guys who can't throughout their careers. You'll have plenty of guys who develop better shooting fundamentals over the course of his career but for the most part guys who don't learn it early in their development rarely find those improvements later on.
As we saw from early in Allen's career, he's always had these fundamentals.
Ray Allen was a bad, bad man
Here's a pretty incredible mix of Ray Allen's big moments over the course of his career. As you can see, that shooting stroke has always been perfect.
This video was from 2011 so it didn't have his time with the Miami Heat, but we can get into that in a minute.
While looking for Milwaukee Bucks highlights from Allen's career, I came across this 13-minute highlight package of Game 6 of the 2001 Eastern Conference finals. The Bucks were facing Iverson's Philadelphia 76ers with the Sixers up 3-2 in the series. This game showed us an incredible duel between Ray and A.I. as both players went for 40 points.
Allen finished with 41, Iverson with 46 as the Bucks staved off elimination for one game. They'd end up losing Game 7 in a blowout with Iverson going for 44. But for a while, Allen could score with the best of them.
The NBA put together a cool look back at his career after he broke Reggie Miller's record for most 3-pointers in a career. There's some overlap with the footage from the first video (THIEF!) but the comments from the players and coaches are cool.
And if you just want to study his shooting form, you can be mesmerized by this video:
Watching the work that Ray Allen and Gilbert Arenas (remember him?) put into shooting is pretty cool too (a little overlap again).
Ray Allen wasn't just a shooter; he could get up
Allen wasn't exactly Vince Carter in his day but he was able to explode to the basket and have a little power behind some one-hand dunks. He'd occasionally throw a reverse dunk in there and he was even part of the 1997 dunk contest that killed the contest for a short period. Here's a video of some of his better dunks throughout his career. You won't be blown away but it's a nice reminder that he was a complete scorer that attacked the basket for a long time.
We all remember Ray Allen for one reason though
Ray Allen is forever ingrained in our heads because of this:
The opening basketball scene in which Jesus Shuttlesworth and his high school teammates (Travis Best, John Wallace, Walter McCarty, and Hill Harper from CSI:NY) take over the court was all kinds of fun.
(WARNING: Some language that isn't suitable for young impressionable ears or a work environment)
Even after Allen made one of the biggest shots in NBA history during the waning moments of regulation in Game 6 of the 2013 NBA Finals, he was still being referred to as Jesus Shuttlesworth. This was 15 years after the movie hit theaters and yet it's still what a lot of people will call him before they utter his name. Shandel Richardson of the Sun Sentinel wrote about it this past summer:
The first thing Allen heard in the locker room was: "great shot, Jesus." It was all because he gained fame nearly 15 years ago for a character that continues to define him.

"When he does something amazing, it's always like, `All right, Jesus,"' forward Shane Battier said. "It's a cult figure, no question. Because he's played so long, he has a cult following. It was shocking because an NBA player was in a movie and he was pretty good. Any player who ever played the game watched "He Got Game." We all wanted to be Jesus."

...

Guard Dwyane Wade said it followed Allen because in many ways he was Shuttlesworth.

"It's funny because he still does certain things that he did in the movie," Wade said. "He'll talk sometimes and you just laugh and be like, `That's how you were talking in the movie.' He was that character. It was his movie. Obviously it was a movie with Denzel but he was the main guy in the movie. A lot of us can relate. A lot of athletes can relate to what he was going through."

As Allen tells it, he auditioned for the part on a whim. A friend asked him to give it a try. It was his first acting experience, and he nailed it.

"It was just like anything else I've ever done," Allen said. "You just go in and follow orders."
It's funny that even his teammates refer to him as Jesus. What's weird is I wonder if it would affect the view we have of Allen as a basketball figure if he hadn't landed the role. What if Ray Allen never plays Jesus Shuttlesworth in the movie and is just an incredible scorer with one of the deadliest shot releases in NBA history? Would he still be so revered?
Allen was never Spike Lee's first choice for the film. By Lee Jenkins' account, Kobe Bryant was the initial pick. According to this sports movies book, Allen Iverson and Stephon Marbury were the top two choices for the role but didn't want to audition for it. 
I mean, we sitting here, I'm supposed to be Jesus Shuttlesworth, and we in here talking about auditioning? We talking about auditioning. Not shooting the scenes! Not shooting the scenes! We talking about auditioning. 
The fact that Iverson and Marbury could have had the role but didn't want to audition is very Iverson and Marbury of them. 
OK, we also know Ray Allen for his clutch shooting
There doesn't appear to be a complete mix of Ray Allen's clutch shots for his career. They have clutch shots for his time with the Boston Celtics, but finding a good mix of his entire career doesn't seem to be there. It's probably because at this point it would be roughly 45 minutes long and those videos are a pain to upload to YouTube.
Since we haven't really touched on his time with the Miami Heat and the shot I called the biggest shot in NBA history, let's take a look at this excellent mix from the 2012-13 season in which opposing defenses decide to leave a Hall of Fame shooter wide-open way too often.
I'm sorry, Spurs fans, but I have to isolate it. When you saw this post was about him, I'm hoping you respectfully clicked the link and then closed it right away. 
There was some explosive guard play this week in the NBA's rookie class

With half of the season in the books, there were some clear favorites for our Midseason Aw...

SportsLine's Mike McClure, a DFS pro with more than $1M in winnings, gives optimal lineup...
Zack Cimini is 12-3 on picks for or against the Pistons ATS and locked in a play for Frida...

Both Washington and Detroit will try to snap losing streaks Friday night

The Hornets are reportedly looking to move their franchise point guard