Ray Allen buries ex-Celtics teammates Pierce, Garnett in Game 5
Miami guard hits the dagger three to put the Heat up as his former teammates are left gasping and grasping.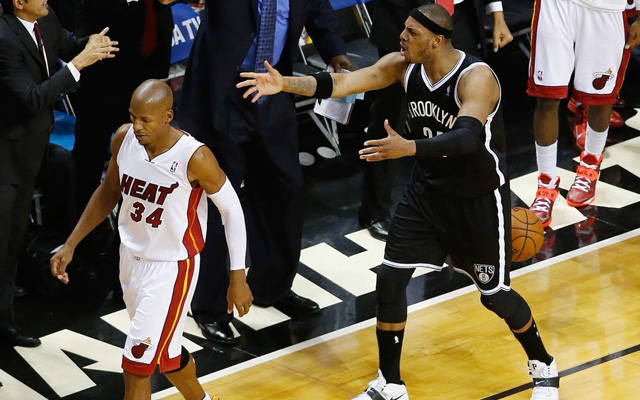 Ray Allen said he didn't see Garnett or Pierce after game

— Ethan J. Skolnick (@EthanJSkolnick) May 15, 2014
Ray Allen won't comment on it. That's not what he does. But beneath his polite mask, he knows. 
He was right. 
Allen buried the Nets Wednesday night. He hit daggers in each of the Heat wins, but most notably in Miami's closeout of the Nets in Game 5, as the Heat won 96-94. Allen buried a catch-and-shoot three to give Miami the lead late in the fourth, a lead they would not relinquish. 
And all Paul Pierce and Kevin Garnett could do was watch.
This was the first playoff meeting between the former Celtics teammates. And there were Pierce and Garnett, who blasted Allen as a traitor for leaving the Celtics after he was dangled on the trade wire for months before leaving in free agency as was his right. They left  Boston as well, trying to pull this Brooklyn branding project together. Pierce winding up threes with a shooting motion so slow it looks like it needed gear winding to function. Garnett, unable to play more than 25 minutes in an elimination game. 
And there was Allen, another championship ring to his collection, sprinting through the Nets. Allen didn't even play his best game of the series Wednesday. But he hit the shot. The shot he knew he could still hit that Boston had begun to doubt he could in 2012 as he was moved further and further from rotation minutes. The shot that helped Miami win the title last year. The titles that KG and Pierce will likely never see again. 
In the wake of Allen's decision to join Miami, Allen tried to defuse the situation in the media as Pierce and Garnett lobbed insults in the media towards him. Garnett refused to shake his hand in their first regular season meeting. Allen has talked about the decision to leave and his hurt over how Boston handled it, but he's never responded to Garnett and Pierce. 
When Garnett and Pierce decided all of a sudden it was OK for them to abandon the Celtics green when it was not OK for Allen to, Allen said nothing. LeBron James stuck up for Allen, but Allen barely commented. He got the last laugh. 
Garnett didn't speak to media after the game. These losses hurt too much for him to handle. Whether that's fair or professional or reasonable or whatever, is irrelevant. This is KG, and that's how he handles defeat, in crushing personal anguish. He didn't speak to Allen, but then he likely didn't speak to anyone. 
And at some point, he's going to think about his former teammate, the third member of the Big 3, the guy who, if you remember, was the first to join Pierce in Boston, which opened the way for Garnett to assent to his trade to Boston in 2007. He'll have some thoughts in his head about watching Allen do this, do this to him. 
You can say Allen took a "can't beat 'em, join'em," approach. You can say he joined "the enemy" if you look at basketball as some sort of moral pursuit as KG does and not as a profession as James does. You can say he took a lesser role on the Heat after balking at one in Boston. 
But you can't say it didn't work out how he wanted. 
Because Ray Allen will continue hitting daggers in these playoffs, and Pierce and Garnett will have to examine their futures in the NBA. It wasn't just a dagger that Allen dealt his former teammates Wednesday. 
It was another nail in the coffin. 
We've got all the scores, top plays and news from a busy NBA Friday

Butler didn't put any pressure on his right leg as he was helped to the locker room on Fri...

Our advanced computer model simulated Saturday's Magic vs. 76ers game 10,000 times
Several playoff contenders could use the services of Ilyasova, who's nearing a buyout agre...

Durant says he probably wouldn't have gone to college because he 'needed the money'

Ball, who has missed the last 15 games with a sprained MCL, will be on a minutes restricti...