Ray Allen chooses Heat over Celtics, ending Boston's Big Three era
Ray Allen chose Miami over Boston Friday night, agreeing to a three-year, $9.7 million deal with the Heat that closed the book on the Celtics' Big Three era and started a new chapter in a rivalry that will be even more heated than before.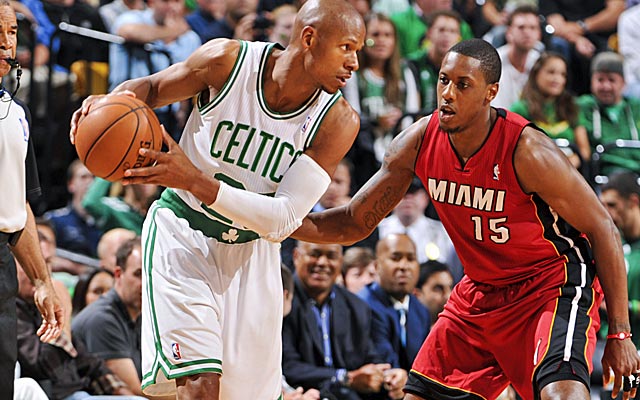 Ray Allen now finds himself on the opposite side of the Heat-Celtics rivalry.
(Getty Images)
Please excuse me while I try, and fail, to contain the rant that boils within my soul regarding Ray Allen deciding to sign with the Miami Heat.
Ray Allen is going to have to get to know a few people a little better with this career change. Bron, you ask? D-Wade? U.D.? Rio? Not so much. He knows those guys already. He's been doing this a lot longer than all of them.
Ray Allen is going to have to become acquainted with D.J. Irie, who is advertised in American Airlines Arena as the best D.J. in the NBA, whatever that means. He's going to have to become acquainted with a certain P.A. announcer who will carry on as though someone has set him afire every time Allen makes a 3-pointer. (This will happen a lot.)
More on NBA free agency
Related links
He's going to have to become acquainted with the Miami Rhythm Section, which excessively bashes its diverse assortment of drums, cymbals and other percussive devices every time the Heat score a basket or perform virtually any other mundane basketball task.
Above all, Ray Allen is going to have to get used to not being a Celtic. And he's going to have to brace for the backlash for deciding that he has a better chance of winning another championship with LeBron James, Dwyane Wade and Chris Bosh in Miami than with Kevin Garnett, Paul Pierce and Rajon Rondo in Boston.
In the end, Allen is almost certainly right about that, especially now that he's on the Miami side of things. But still ... a Celtic willingly switching sides in perhaps the only rivalry in the NBA that engenders true, visceral, competitive dislike? 
Celtics fans, no doubt, will invoke words often spoken by the great football coach, Bill Parcells: He's dead to me.
This is not to begrudge Allen's choice, earned through decades of collectively bargained agreements between owners and players, to deploy his still-formidable basketball talents in any venue of his choosing. This is not to diminish the idea that Allen didn't simply follow the money; he could've gotten more money in Boston, though not as much, evidently, as he was seeking.
The Boston Herald reported that Allen, 36, was seeking a three-year, $36 million deal from the Celtics, who were trying to talk him down to a two-year, $12 million contract. The mini mid-level deal Allen got with Miami totals $9.7 million for three years.
Allen's former teammates in Boston are businessmen enough to understand that there's nothing personal in all of this. It ain't show friends, as they say; it's show business.
But the many playoff battles between these Celtics of the Big Three era and LeBron's Cleveland and Miami teams -- those are a thing of the past. Except that Allen jilting Boston and choosing Miami only fuels the fire even further. The already sub-zero temperature of the Boston-Miami hate-fest went positively arctic Friday night, when Heat owner Micky Arison tweeted from London, "Welcome to the family, #20."
That tweet from Arison wasn't simply an enthusiastic owner going overboard; it was real. Two people close to Allen told CBSSports.com Friday night that the future Hall of Famer -- the premier 3-point shooter of his generation and probably all-time -- had informed the Celtics that he was choosing Miami.
Coach Doc Rivers' desire to "bring the band back together" will have to go on without the fourth Beatle. And questions will linger about what, besides the obvious desire to cap his career with another ring, drove Allen away.
Allen's fractured relationship with Rondo played an important role in his departure, no doubt. Being replaced by Avery Bradley in the starting lineup and lumped into every trade scenario imaginable didn't help, either. Nor did the Celtics' decision to go out and sign another shooting guard this summer, Jason Terry. But just as Allen's teammates understand that he had to do what he had to do, so is Allen savvy enough to know that the Celtics had to protect themselves, too.
The fact remained that the choice was Allen's to take his talents wherever he saw fit. And every time the Celtics play the Heat next season, that will be what matters: that Allen saw a better chance to win by joining the dark side than by staying in Boston.
That's his right, and no one should begrudge him that. Allen hadn't chosen to be traded to Boston from Seattle in 2007, and there was never any guarantee the collision of egos and talent that occurred when he and Garnett were united with Pierce and Rondo -- who, at the time, was an unproven, headstrong kid with no resume -- was going to work.
Work, it did. And now, five years later, the Celtics' Big Three era is over. And a new chapter in the Boston-Miami rivalry begins, with Ray Allen on the other side.
Ingram has become one of the team's go-to players with Lonzo Ball sidelined with an injury

Giannis skipped EuroBasket last summer, and has missed four games this season with knee so...

Some of the best and worst from the league as we head into the home stretch of the season
Cuban acknowledged that tanking is 'brutal' and that he will no longer do that after this...

Cho has been the GM in Charlotte since 2011

Fergie: 'I'm a risk taker artistically, but clearly this rendition didn't strike the intended...