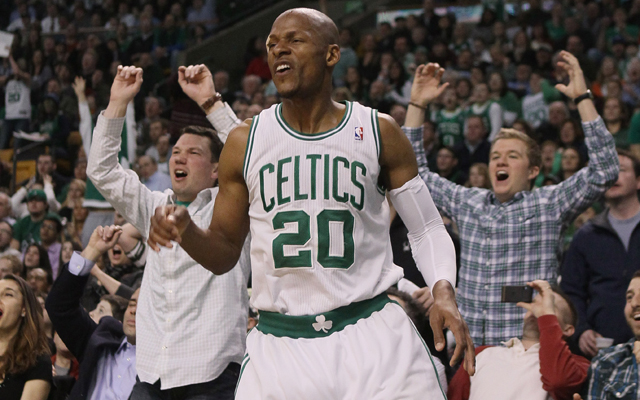 Ray Allen has decided to take his talents to South Beach.
(Getty Images)
We've seen players announce on Twitter when they decide on free agency. We've seen teams announce signings. And now, apparently, the owners are getting in on it. 
Micky Arison tweeted this Friday night: 
Its 2:30am in London and I was just woken up with great news.Welcome to the family #20!!

— Micky Arison (@MickyArison) July 7, 2012


Ken Berger of CBSSports.com along with Yahoo Sports and SI.com confirmed that Ray Allen has chosen to sign with the Miami Heat. Allen had been deciding between the Heat and Celtics, and now is taking his talents to South Beach.
More on NBA free agency
Related links
Allen lost his starting job to Avery Bradley when he returned from an ankle bone spur injury last season, and with the Celtics coming to terms with Jason Terry, there was going to be a minutes crunch. Throw in his relationship with Rajon Rondo going from bad to worse, and the ultimate factor, the Heat being the favorite to win the NBA title, and you have this.
The rivalry will get more serious. The Heat will get more dangerous. The Celtics will be roughly the same with Jason Terry. 
Allen helps the Heat more than he does the Celtics, and his defensive limitations due to age won't be as significant because of the help Miami will provide. He'll come off the bench but likely be the first shooter off, or behind Shane Battier at the seventh rotation spot. The Heat have a pure shooter to go with Battier's defense and the Big 3. It's about as deadly as it can get. 
The defending NBA Champions just got hot from downtown. 
Here's what LeBron James had to say after Team USA practice on Friday on the subject of Allen, via CBSSports.com's Ben Golliver: 
I haven't had any conversations with him personally. I talked to Pat and he said things went well. We'll see what happens. Everyone in Miami, including myself, would love to have Ray a part of the team. We'll see. He would be a great addition to our team for sure. All-time leader in 3-pointers made, he's a champion, we'd love to have him. He would fit right in with us. We're a team that likes to move the ball and we're a team that likes to penetrate and kick out to our shooters. Mike Miller, Shane Battier, if we can add Ray we can add another dimension to our team."
A very deep dimension.