Ray Allen exercises player option to stay with the Miami Heat
Miami Heat guard Ray Allen has decided to exercise his player option to stay with the Heat for the 2013-14 NBA season.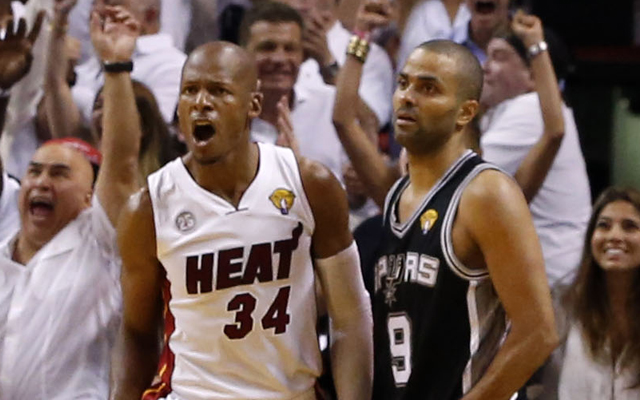 Throughout the Miami Heat's battle through the Eastern Conference finals against the Indiana Pacers and the NBA Finals against the San Antonio Spurs, Ray Allen mentioned a few times his team's success was justification for the tough decision he made last summer. Allen chose to leave the Boston Celtics to join the Heat to try to win titles.
After receiving much flak for it and being accused of being a traitor by some of the fan base, Allen helped prove it was the right decision when he saved Miami's season with his 3-pointer at the end of regulation in Game 6 against the Spurs. The all-time leading 3-point shooter will stay with the Heat next season, too. He exercised his player option for 2013-14. From the Heat:
The Miami HEAT announced today that guard Ray Allen has exercised his player option for the 2013-14 season. Per club policy, terms of the deal were not disclosed.
He's the perfect role player for the Heat. He spreads the floor with his 3-point shooting and is always a bad idea to leave open on a rotation. He's made more than 40 percent of his 3-pointers in four of his past five seasons. He made 41.9 percent of his 3s this past season for the Heat.
Greek Freak scores career-high 44 points and reaches scary level to finish the game

It was an ugly finish as the Warriors fell to 1-2 on the season -- both Curry and Kevin Durant...

Mirotic was hospitalized with facial fractures after an altercation with Portis during pra...
Irving had some choice words for a fan who heckled him in Philadelphia

Several teams were reportedly interested in Nelson after he was waived by the Nuggets

Cousins got into a heated exchange with a fan during the Pelicans' season opener