Raymond Felton pleads guilty on gun charge, avoids jail
Mavericks guard sentenced to 500 hours of community service, $5,000 fine following guilty plea in New York court in semiautomatic handgun case.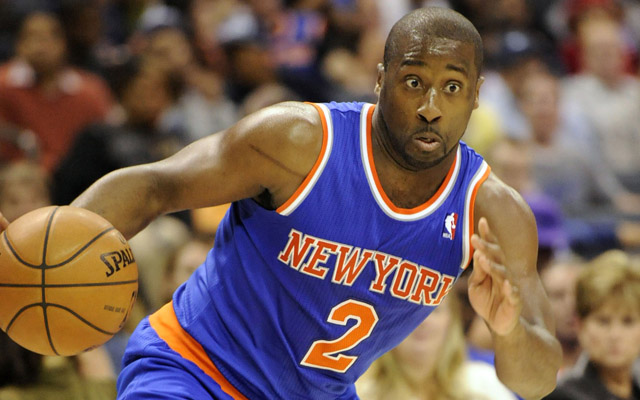 Offseason: Free Agency | Latest from Ken Berger | Rumors
It was reported in late June that Raymond Felton had agreed to terms on a plea deal to avoid jail time following an arrest on a gun charge involving a semi-automatic handgun in February. On Wednesday, the Mavericks guard plead guilty and was sentenced to community service and a $5,000 fine in a New York court.
Felton pleaded guilty Wednesday to attempted criminal possession of a weapon under an agreement prosecutors outlined last month. He was sentenced to 500 hours of community service and a $5,000 fine.

Felton was arrested in February. Authorities said his estranged wife's lawyer brought a loaded semi-automatic handgun to a police precinct and said it was his.

Felton was charged under a state law that bans many large-capacity ammunition magazines. Prosecutors said Felton's could hold about 20 rounds.
via Raymond Felton of Dallas Mavericks pleads guilty in gun case, spared jail - ESPN Dallas.
Felton was traded to Dallas last month in the Tyson Chandler trade. The NBA has said it is monitoring the case, and typically issues suspensions following guilty pleas, as was the case with Jason Kidd's DUI case last season, for example.
The Warriors used a huge third quarter to come back from a 23-point deficit to get the win

Three takeaways from Golden State's 24-point rally past the Sixers

Okafor has played only 25 minutes this season
Capela's shoe slipped off, and was sitting near the free throw line

The Magic will instead play in the Las Vegas Summer League

Ball walked away from an altercation between the Lakers and Suns on Friday night