Raymond Felton says he has lost 15 pounds, still mad at Portland fans
Knicks point guard says he has lost weight since his ill-fated days in Portland, and continues to throw shade at Trail Blazers fans.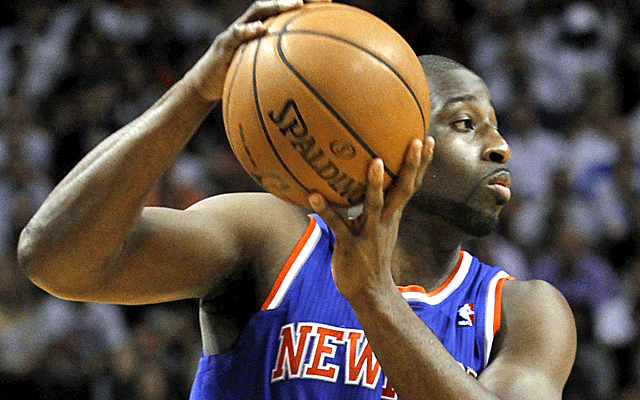 Your latest "(Player X) has lost 15 lbs. of fat/gained 15 lbs. of muscle" comes from New York, via the New York Post, where Knicks point guard Raymond Felton has slimmed down. 
Felton isn't younger this year, but he certainly is lighter. He said he has lost between 10 and 15 pounds this summer. Since his ill-fated season in Portland two years ago, he has dropped more than 20 pounds, he said.

"I feel I'm back to my old self when I was here the first time,'' Felton said. "The way I'm moving on the court, giving me extra confidence in myself.''
via Felton: Knicks were too old last season | New York Post.
Speaking of Portland, he's still running his mouth at his hold team whose fans despise him for on-court and conditioning issues after landing there in a trade from Denver in 2011. (Felton was traded to Portland for Andre Miller on draft night in 2011 after being sent to the Nuggets in the Carmelo Anthony trade.)
Felton is still bitter at the character assassination he received in the Rose City. Last March during a game there, he was booed viciously every time he touched the ball after being portrayed as the guy who cost Portland the playoffs.

He went on a long rant Monday about being portrayed as a locker-room cancer by the media and fans.

"I laughed at the crowd,'' Felton said. "We're in the playoffs. What about you all.''

Felton, who now has his eyes on the Knicks' captaincy, wants to become one of their prime leaders this season.
Felton has gotta let this go. The best way for him to approach this would be to just say "I signed with New York as a free agent, I never wanted to leave there, and the trade(s) give me some trouble mentally." He can accept the struggles in Portland while moving past it, and that's a much healthier approach than feuding with a West Coast fanbase, especially considering Portland is on the rise and New York didn't exactly wow folks in the playoffs last season.
It's understandable to take umbrage at people questioning his professionalism, and in-season conditioning is a much bigger problem than people suspect, but taking this approach isn't going to help him do much of anything. 
Felton really is a quality point guard and if he's able to keep the weight off, that's going to help the Knicks' offense a lot, which was more productive when Felton had a bigger role and was running pick-and-roll sets than just tossing the ball to Carmelo Anthony or J.R. Smith and watching them rumble. 
Frank Vogel had nothing but praise for his former star player in Paul George

The reigning MVP reiterated that he wants to be in OKC, but didn't say when he will sign the...

It was a wild summer that featured trade demands, big signings and an end to the Melodrama...
James was clear that he would love to reunite with his former Heat teammate

The Cavaliers star is not taking the power in his voice and influence lightly.

Thomas is rehabbing from a hip injury that cut short his 2016-17 playoff run with the Celt...