Reborn in Brooklyn, Garnett and Pierce take aim at LeBron again
NEW YORK -- With his enemies reborn in Brooklyn to take aim at him again, LeBron James reflects on his epic playoff battles with Kevin Garnett and Paul Pierce.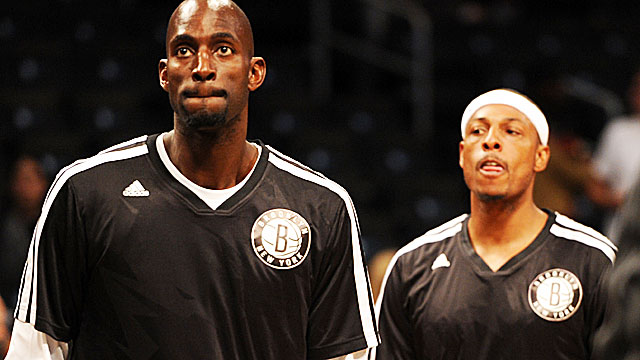 NEW YORK -- Delving into the past isn't always a rewarding exercise for LeBron James. Before he won two straight championships in Miami, there was plenty of pain, disappointment and ridicule -- much of it suffered at the hands of the Boston Celtics.
Yet here he was, about an hour before tipoff of an otherwise meaningless preseason game on Thursday night, allowing himself to be carried back to a time in his career before he'd been crowned a champion. His appreciation of those battles with the Celtics -- the ones that ended in devastation and those that finally ended in triumph -- could not have been more evident.
"It was always fun playing against the Celtics," James said before facing the remnants of that old Celtics team in Brooklyn. "Always. The chemistry, the DNA, guys having a lot of pride – you had to kill those guys, man. They wouldn't stop. They got me a few times and I was able to get them a few times. It was great fun playing against those Celtics teams."
And the way things are going early in this rebirth for Kevin Garnett and Paul Pierce in Brooklyn, it's going to be fun again. Maybe more.
Before the defending champs met the ex-Celtics for the first time since the Boston breakup, there was this little matter of some comments James had made on Wednesday about how Ray Allen was vilified for leaving the Celtics, but Garnett and Pierce weren't.
James didn't outwardly impugn KG and Pierce, and really, there's no story here, folks. Allen left the Celtics as a free agent in 2012, leaving Garnett, Pierce, Rajon Rondo and Doc Rivers behind. Garnett and Pierce were traded this past summer because the Celtics wanted to rebuild without them -- sending Rivers and the $21 million they owed him to the Clippers in the process. Not the same thing. At all.
Nonetheless, the internet devoured it, and by the time the final horn sounded on the Nets' 86-62 victory, the "story" had been marinating for hours. Garnett sat down in the postgame interview room and took a bite.
"Tell LeBron to worry about Miami," Garnett said. "He has nothing to do with Celtic business."
He thumped the table and added, "Next question." 
The bad blood still flows.
Those epic confrontations with Boston -- while James was in Cleveland and then in Miami -- shaped him. They didn't make him the best player in the world, and they don't deserve all the credit for making him a champion. But those playoff series changed him. They will always be a part of his basketball psyche.
"It was always talked about throughout the media, 'Is this their last run? Is this the last time they're going to play together?'" James said. "And the next year, they'd be together again. So I never really got into, 'Is this the last time I'd play against them,' until now basically, knowing that they're not in Boston."
Two chambers of that still-beating championship heart have found their way to Brooklyn, where Garnett and Pierce will try to become the antidote to the superteam that was created to finally defeat those dastardly Celtics. The rest have scattered -- Rivers to LA and Allen right here seeking a second straight title with Miami, with Rondo left behind to see his way through the rebuilding in Boston.
But history, geography and competitive disdain dictate that there will be no more fascinating reunion tour in the NBA this season than when the Heat face the Nets. They'll do it in a game that matters on Nov. 1 at Barclays Center, before the first week of the regular season is up. They'll meet three more times in the regular season, and if the basketball gods are generous, in the playoffs, too.
Garnett and Pierce have resurfaced -- with All-Star talent around them and with a giant of the sport as their coach -- to take aim at LeBron again. 
Jason Kidd -- the point guard who resurrected the Nets as a point guard and who now serves as their rookie head coach -- saw his No. 5 jersey raised to the rafters at Barclays on Thursday night and got an early taste of what the Heat vs. the ex-Celtics will be like all year.
With 6:46 left in the first quarter, James was in attack mode in the open floor when Pierce lined him up and delivered a right shoulder shiver for a non-shooting foul. James barely flinched. There was another hard foul from Pierce on James to prevent a dunk early in the third. It was only preseason, but it was on.
Get used to it, would be my advice.
There is no question about the Nets' talent, or about their championship pedigree with the addition of Pierce and KG. The only real question is about Kidd, and whether his basketball brilliance as a player will translate to his new job in a suit and tie.
"It's going to be easy for him as far as teaching the game," James said. "Now, obviously a new job, new situation is not easy for anyone. But I think he can do it. 
"He has a basketball mind, like Mark Jackson," he said. "Mark Jackson never coached and obviously he knew the game; he was smart when he played and it transferred to him in Golden State and they're doing some great things. Obviously, you have to have some pretty good talent around you to win, and Mark and Jason are fortunate to both be put in situations where they can win."
Otherwise in a guarded mood in the aftermath of those comments about "Celtic business," James had no trouble waxing poetic about Kidd, a teammate on the 2008 Olympic team, in his new role.
"One of the best point guards to ever play the game, from my perspective," James said. "... When you go against him, you know how smart he is. And then when you play with him, you're like, 'Wow.'"
Whatever happens with this Brooklyn team -- how much of Kidd's floor smarts translate to the bench, how much of Garnett's heart and Pierce's ruthlessness are left -- there is one thing they can count on. They are still coming after LeBron James; and he after them.
Right before Wiggins hit his shot, Carmelo Anthony hit a 3 to put the Thunder in front

The Suns firing Earl Watson three games into season is second-quickest firing in NBA histo...

Bledsoe tweeted, "I Dont wanna be here"
Giannis had his hand on McCollum's hip when he poked the ball away

Teodosic had to leave the Clippers' game Saturday night against the Suns

Irving said recently that he does not regret the profane outburst