Regardless of what happens vs. Spurs, LeBron and Big Three a success
Did we set the bar too high for Miami's Big Three? Regardless of what happens vs. the Spurs, LeBron James and Co. definitely didn't fail. They won.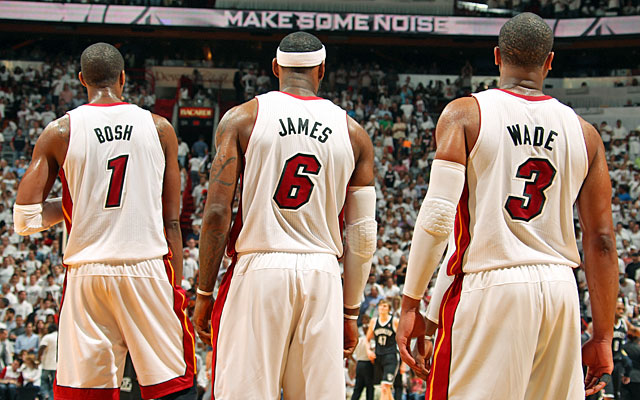 More postseason coverage: Playoff schedule, results | Latest news, notes
SAN ANTONIO -- It worked, you know. It succeeded. The Big Three, the unholy experiment that galvanized Miami and pissed off the rest of us?
It worked. No matter what happens Sunday night in Game 5 of the NBA Finals -- no matter what happens if this series goes farther -- LeBron got what he wanted. LeBron won. And that's what this comes down to:
LeBron.
From Day 1 -- the day LeBron decided to rip out Cleveland's heart on live national television and take his talents to South Beach -- that's what this whole thing was always about. It was about LeBron.
A few days later -- the day LeBron and friends met Miami with an embarrassing, jersey-popping pep rally -- it was all about him and his legacy. And four years later, he's won. His legacy won. The Big Three, they won not three, not four, not five, not six.
But they won an NBA title, and not just one. They won two, and they won them in consecutive years, and they reached the NBA Finals in each of their four years together. Whatever happens the rest of this series, whatever happens going forward -- even if the Big Three breaks up -- we lost. Because they won.
They could have won more, of course, but let's remember what it took to deny them a perfect, Celtics-like sweep of NBA titles over a span of three or four years. It took one of the best power forwards ever, Dirk Nowitzki of Dallas, averaging 26 points and 9.7 rebounds and making 45 of his 46 free throws to become a champion in the 2011 Finals. Did LeBron shrink in those Finals? Sure he did, and that's on him. But while LeBron was holding the Larry O'Brien NBA Championship Trophy at arm's length, the Mavericks were clawing it away in a hail of Dirk Nowitzki shooting and DeShawn Stevenson three-goggling and Tyson Chandler defending and Jason Terry jetting and Jason Kidd leading and Jose Juan Barea daring.
And now the 2014 NBA Finals, the return of the Spurs, the greatest dynasty of our generation -- a greater and more enduring dynasty than LeBron's Heat, assuming the Spurs finish off these Finals to claim their fifth title since Gregg Popovich started coaching Tim Duncan in the late 1990s.
Look at the context of just how much the Heat accomplished, what it took to deny them even more, and it seems plain as day. It worked. The unholy experiment paid off. The Heat shut us up, and I'm in that large group of us. People were mad, even disgusted when LeBron and Dwyane Wade and Chris Bosh gamed the system, taking a few bucks less -- they're all absurdly rich anyway; please don't use the word "unselfish" over the words "game the system" to describe what they did in 2010 -- to form what looked to be the most potent trio in NBA history.
In hindsight, it wasn't. In hindsight, the Big Three were slightly overrated. We can see that now, because we can see what age did to Dwyane Wade -- still a great player some nights, very good most others, but unable to play a full season anymore -- and we can see what a supporting role did to Chris Bosh.
Bosh is a nice man, a smart guy, a great shooter. But his media defenders come out every five games to remind us that he's great, which means they're quiet the other four when he's not. Bosh's time in Miami has shown he's not a Hall of Famer. Or he shouldn't be. That's a debate for another day, but the debate right now is over: The Big Three weren't the worst thing to happen to the NBA. They thought they were gaming the system, and up to a point I suppose they did, but the Wade and Bosh of 2010-14 were not the Wade and Bosh that led to the Big Three coming together.
Neither was LeBron. He was better.
Since leaving Cleveland for Miami, LeBron has become arguably the greatest basketball player of all time, if we're counting by such things as talent and skill and size and athletic ability. If we're counting only by NBA rings, then no, he's not the greatest ever. Michael Jordan went 6-for-6 in NBA Finals appearances, and that is that. To some people, Jordan will always be the greatest ever. Maybe he is, even if he's smaller, slower, weaker and less -- yes, less -- explosive than LeBron James. Does Jordan shoot better? No. Pass or rebound better? Of course not. He's a superior defender, and a more ruthless killer in late-game situations, but James has shown in Miami to be a better all-around player than Jordan.
Another debate for another day.
Today's debate is the Big Three, and its ultimate grade on the pass-fail report card that was always going to be how they were judged. When they came together, the idea of possibly two titles in four years sounded like failure, but only because we misjudged who Wade and Bosh were, and also because we were so angry that we set the bar too high, hoping the Big Three would fail to reach it.
Maybe what we did to LeBron and Co. in 2010 is fair considering what they did to the NBA that same summer. You're going to game the system, Big Three? Fine. So will we. We'll write things after The Decision like, "You better win five rings in five years or you're a failure." And we'll write things before that first 2010-11 season like, "LeBron better average a triple-double or he's a failure."
We set the bar so high, failure was the most realistic option. Given the rules implemented by us, LeBron and his experiment failed. Four NBA Finals in four years. Back-to-back NBA titles, a multitude of rings nobody can ever take from LeBron.
I know what failure looks like. And it doesn't look like that.
Fergie: 'I'm a risk taker artistically, but clearly this rendition didn't strike the intended...

Victor Oladipo had a successful R&B album over the offseason and Jamie Foxx is a fan

Klay Thompson makes sure he stands out during All-Star Weekend
There's no shortage of moments to choose from

The Trail Blazers almost traded for Charles Barkley, but when they didn't, it put them in debt...

The self-proclaimed ASG snub Williams may be bitter about Butler requesting to sit out Sun...