Reggie Jackson lifts Thunder past Memphis to even series
The Boston College product finished with 32 points and nine rebounds in the Thunder's win at FedExForum that evened this best-of-7 series at two games each.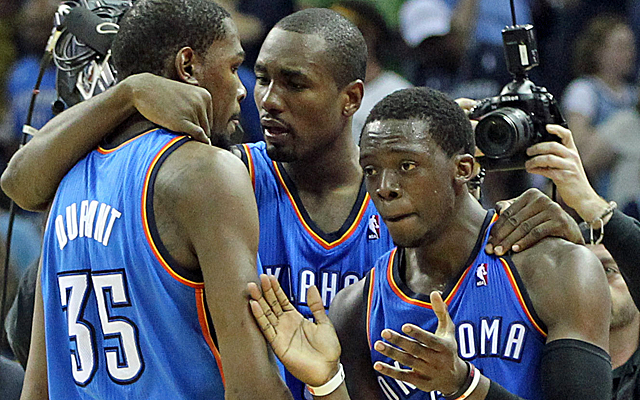 More postseason coverage: Playoff schedule, results | Latest news, notes
MEMPHIS, Tenn. -- More than six minutes had ticked off the clock, and Kevin Durant had taken only one shot, and the score was tied 10-10 when a Grizzlies fan sitting in the front row late Saturday caught the attention of the NBA's soon-to-be Most Valuable Player.
"Hey Durant! Hey Durant!" the fan yelled. "You better start taking some shots!"
Durant looked directly at the man and said just two words.
"Don't worry."
You could almost hear the surrounding fans gulp.
The exchange, at the time, felt like something that would come back to haunt this fan and the home team because, you know, what Memphis fan in his right mind would dare Oklahoma City's best player (not to mention the NBA's scoring champion) to start taking some shots? That's like daring Peyton Manning to start throwing some passes, like daring Floyd Mayweather to start throwing some counterpunches. It's dumb, plain and simple.
But I digress.
Anyway, predictably, KD did eventually start taking some shots.
But that's not what hurt the Grizzlies.
And, believe it or not, Russell Westbrook didn't hurt the Grizzlies, either.
The two All-Stars, arguably two of the best 10 players on the planet, combined to shoot just 11 of 45 from the field, including 2 of 13 from 3-point range. They were bad. And yet the Thunder still escaped FedExForum with a 92-89 overtime victory that tied this best-of-7 series at two games apiece, and the reason was a 24-year-old reserve named Reggie Jackson.
"He is their Kevin Martin or James Harden," said Grizz coach Dave Joerger.
He ie also their savior.
And I'm not exaggerating.
The Thunder were down 2-1 in this series and 80-75 in this game with less than a minute left in regulation, which means, statistically speaking, they were on their way to a loss and 3-1 deficit that wouldn't have necessarily been insurmountable but certainly would've felt that way. Then Jackson hit a 26-foot jumper with 59.2 seconds remaining to cut things to 80-78, and then, after a turnover on the other end, the former Boston College standout sank the runner that forced an overtime period for the third straight game in this series. Jackson got six more points in OT, watched Mike Conley miss a 3-pointer at the buzzer that would've, if good, tied the score again, then hugged Durant and Westbrook as the sellout crowd of 18,119 filed out after witnessing the Grizz lose a home game for the first time since Feb. 5.
Add it all up, and Jackson got 32 points and nine rebounds in 37 minutes, and 17 of those 32 points came either in the fourth quarter or OT, when Oklahoma City coach Scott Brooks was legitimately calling plays for the Thunder's third guard. Jackson finished 11 of 16 from the field, meaning he made just as many shots as Durant and Westbrook combined to make, and scored two more points than Durant and Westbrook combined to score, despite the fact that he took 29 fewer shots than Durant and Westbrook combined to take.
"I knew his moment would come," said OKC's Caron Butler. "He was ready for his moment."
Bottom line, what a night for sports' other Reggie Jackson
He'll never be "Mr. October," quite clearly.
But, at least for a night, the nickname "Mr. April" sure seemed to fit.
Thomas has a target date for his return, and with the Cavaliers scorching, this could be h...

LeBron James once again is using his platform to be socially active

Not many games, but still plenty of action and intrigue Sunday in the Association
Kobe Bryant had a solid piece of advice for back in 2016 when he left OKC for Golden State

An old rivalry is reignited between LeBron James and the Cavaliers and John Wall and the W...

SportsLine's Mike McClure, a DFS pro with more than $1M in winnings, gives optimal lineup...