Report: 76ers interested in injured Joel Embiid at No. 3
Is it a smokescreen or is Philadelphia really looking at another injured center?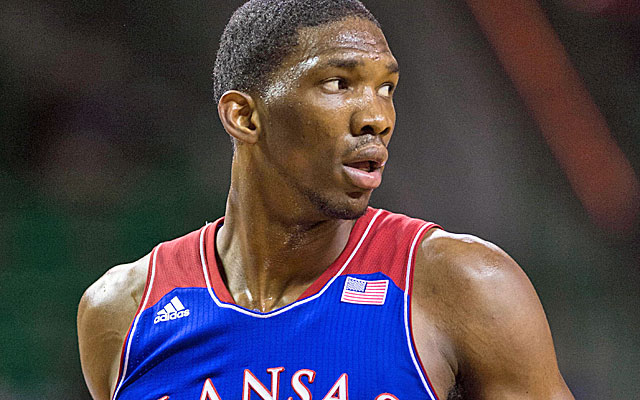 More Offseason Analysis: Coaching changes, news | Free Agency | Draft | Rumors
The Philadelphia Daily News reports that even after Joel Embiid's foot surgery to repair a stress fracture Friday, the Philadelphia 76ers are now "very much interested" in drafting Embiid at No. 3.
Source says Sixers are very much interested in grabbing Embiid at No. 3 should he fall to them.

— Bob Cooney (@BobCooney76) June 22, 2014
The talk about the Sixers has mostly been centered around Andrew Wiggins, who CBSSports.com reported Saturday is being targeted by the Bucks at the No. 2 spot.
So are the Sixers really going to pursue drafting Embiid? Well, a few things to keep in mind. They just spent a year rehabbing and rebuilding the shot of Nerlens Noel. Do you want to play Embiid at power forward and establish a twin towers approach? But it also shows that Philly is willing to be patient and wait for players to get healthy. Second, the Sixers need the best talent available. And if Embiid is that player, that could be enough for them to go that direction.
But then there's this. There's a good chance that the Sixers are putting out a smokescreen. If Philadelphia wants to try and raise the value of their pick for a potential trade, or to show Cleveland and Milwaukee they're happy at No. 3 and don't need to trade up, there's reason to show this card.
It's all part of the ridiculousness of draft week, but if the Sixers are serious, that's a pretty stunning idea for a team that traded for Andrew Bynum then drafted Nerlens Noel.
The Suns firing Earl Watson three games into season is second-quickest firing in NBA histo...

Bledsoe tweeted, "I Dont wanna be here"

Giannis had his hand on McCollum's hip when he poked the ball away
Teodosic had to leave the Clippers' game Saturday night against the Suns

Irving said recently that he does not regret the profane outburst

Wade is having a rough start to his first season playing in Cleveland